Maruti Baleno is not your typical off-roader that you would normally associate with climbing high passes of the Himalayas but there are always exceptions.
A Maruti Baleno owner shares his recent adventure trip to Rohtang Pass in Manali, Himachal Pradesh. Being a premium hatchback, it is not the first option that comes to mind while planning a trip to the treacherous mountains. However, with experience and a bit of precaution, one could take it to the parts of the Himalayas that are not that difficult to access. A Baleno owner shares his experience of his expedition with the Baleno on the 13000-ft Rohtang Pass.
You may also like: Maruti Ignis at Khardungla Pass in -8 Degree Celsius – Will it Survive?
You may also like: DTC Bus Flattens Maruti Baleno in Major Accident, All 3 Occupants Survive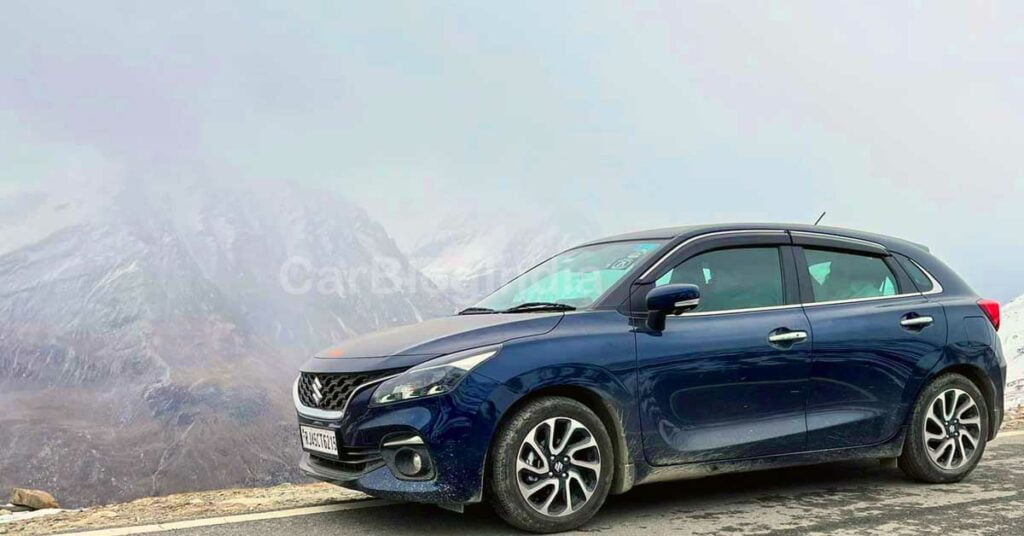 You may also like: IDIOTS Test Maruti Dzire and Baleno Build Quality by Kicking and Pushing
Maruti Baleno at Rohtang Pass
The owner of the premium hatchback has a lot of advice for people who would want to attempt something like this. He mentions that the temperature was as low as -5 degree Celcius which is normal for the Rohtang Pass, especially during this time of the year. Since the road leading up to the pass is broken in patches, he encountered a few underbelly scratches but the overall performance was impressive, reports the owner. Finally, he mentions that the car is just 2 and a half months old and has already done 8,500 km.
You may also like: Maruti YTB (Baleno Cross) Interior Spotted While Testing
Mileage
The most impressive part of any Maruti Suzuki product has to be its mileage. He was able to sequester a mileage of 22 km/l on the highway during this trip and around 12-15 km/l on the mountain roads, which is decent. The key to achieving that is light-footed driving. People have the tendency to press the accelerator pedal completely as soon as they see an empty patch of road. This is not advisable in the mountains as you will anyway have to slow down for the corner. Light-footed driving leads to consistent speeds maximizing mileage.
You may also like: Maruti Baleno Seen Carrying Heavy Load on Roof – Why AVOID It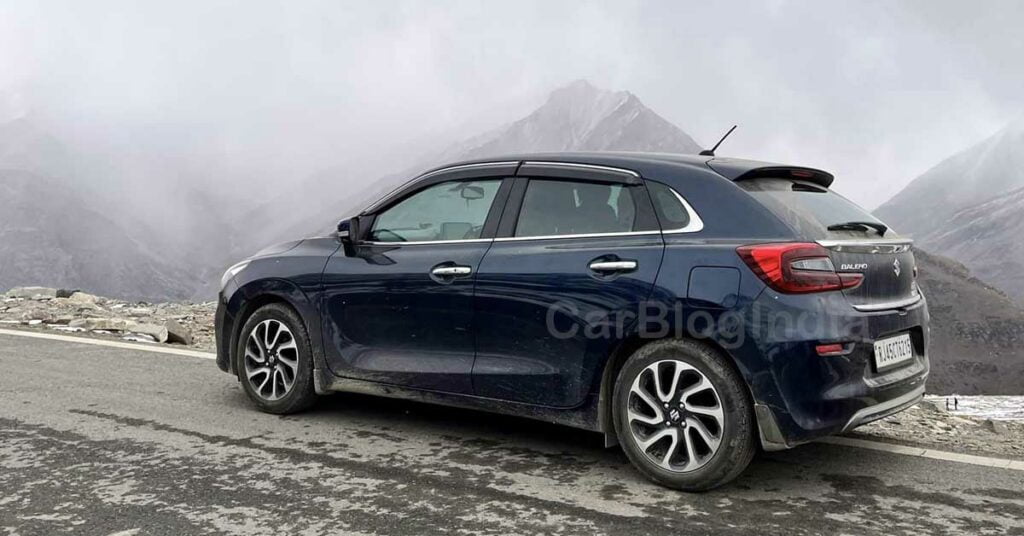 Specs
The 2022 Maruti Suzuki Baleno is powered by a 1.2-litre, 4-cylinder K-Series petrol engine with mild-hybrid technology. This engine can churn out 88 hp and 113 Nm of peak power and torque. As standard, Maruti is offering the Baleno with a 5-speed manual transmission. However, a 5-speed automated manual transmission is available in select variants. The fuel tank is a decent 37 litres and the ARAI mileage stands at an impressive 22.94 km/l. The prices of the Baleno range from Rs 6.49 lakh to Rs 9.71 lakh, ex-showroom.
Join our official telegram channel for free latest updates and follow us on Google News here.