Maruti Baleno will not be the first name to pop up in your head if you are in the middle of a discussion about vehicle safety in India.
In this latest horrible accident, a Maruti Baleno was flattened on the road after colliding with a DTC bus in New Delhi. Note that the Baleno featured in this video is the last-gen model. It has not performed well in such unfortunate incidents. Maruti Suzuki has made a few changes to the latest model but the actual picture will become clear only after the official GNCAP crash test ratings are available. Let us check out the details of this shocking crash.
You may also like: New Maruti Baleno Seems to be as Strong as Tata Altroz in the Latest Accident
You may also like: IDIOTS Test Maruti Dzire and Baleno Build Quality by Kicking and Pushing
DTC Bus and Marut Baleno Accident
This video has been uploaded by Prateek Singh on his YouTube channel. He frequently posts such content in order to raise awareness among Indian car buyers regarding the importance of safety ratings in cars. As per the information in the video, this accident has been reported from Connaught Place (CP) in New Delhi. The exact details of how this happened are not available. However, it looks like the driver of the Baleno was careless and didn't see the huge bus and ended up colliding with it at high speed.
You may also like: Woman Drives Her New Maruti Baleno Into Sewer Soon After Delivery
Reportedly, the 3 passengers in Baleno survived with injuries. However, the condition of the premium hatchback is quite astonishing. One can't even recognise which model it is. The entire vehicle has been flattened like paper. The side pillars, door panels, bumper, windshield, etc. have all been destroyed completely. Lying on the road, one is barely able to find any solid component that is still intact. It is a miracle how the passengers were able to make it out alive.
You may also like: Maruti YTB (Baleno Cross) Interior Spotted While Testing
Obey Traffic Rules
Finally, we would like to divert the attention of our readers toward striving to become responsible drivers. This involves respecting and following the traffic rules vehemently. In particular, overspeeding remains the major cause of almost all road accidents which seems to be the case in this crash too. Therefore, drive within the speed limit and discourage people around you from overspeeding. What are your thoughts on this?
You may also like: Maruti Baleno Seen Carrying Heavy Load on Roof – Why AVOID It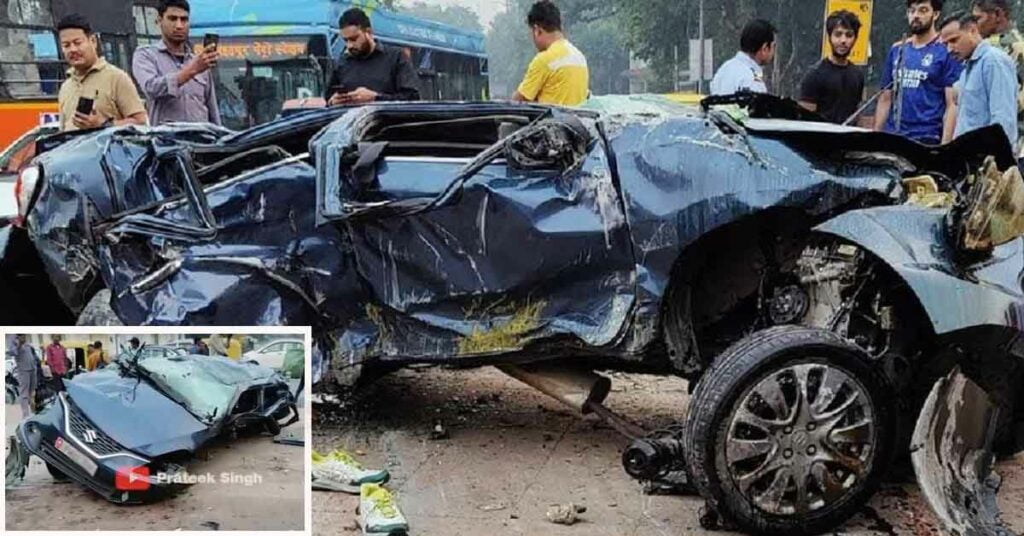 Disclaimer- The embedded videos/ external content is/are being used as a convenience and for informational purposes only; they do not constitute an endorsement or approval by Car Blog India of any of the products, services, and /or opinions of the corporation or organization or individual. Car Blog India bears no responsibility for the accuracy, legality, and/or content of the external site or for that of subsequent external videos/ external content. Contact the external publisher for answers to questions regarding its content.
Join our official telegram channel for free latest updates and follow us on Google News here.