High mountain passes are meant to be crossed with adequate preparation in terms of personal health safety, as well as the vehicle you travel in.
Here is a Maruti Ignis trying to conquer the Khardungla Pass in -8 degree celsius. Now, Ignis is not an off-roader by any stretch of the imagination. Nevertheless, people take what they have to the mountains without thinking about the challenges such decisions can pose. Ignis is a crossover hatchback or micro-SUV, as you want to consider it that is most definitely meant for urban usage. Khardung La is one of the highest motorable mountain passes in the world. Let us see what happens to the Ignis.
You may also like: New Maruti Baleno in -5 Degree Celsius at Rohtang Pass – Owner Shares Experience
You may also like: WATCH Ford EcoSport Pwn Tata Nexon in -7 Degree Celcius!
Maruti Ignis at Khardungla Pass
This vlog has been shot by V Kaliraman Explore INDIA YouTube channel. The YouTuber reaches a place in the mountains where snow is falling and ice is frozen on the road. After consulting a local, he decides to wrap the tyre of his Ignis with a chain. It is a common phenomenon on mountain roads in order to prevent the tyres of cars from slipping and skidding. Since he has to go down the slope, having a chain around the tyre becomes critical, especially because Ignis is not a 4×4 vehicle. He begins his descent with the chain wrapped on the tyre.
You may also like: Mahindra Thar Taken to -30 Degree Celsius – Will it Survive?
As a result, there is significant vibration seeping through to the steering wheel. However, it is not uncommon, but the vehicle has to be driven extremely slowly to keep traction. He somehow manages to climb down despite the thick sheet of ice on the road. On the way, he sees trucks getting stuck on the road as their tyres were skidding and there was no traction.
You may also like: Will MG Hector Pass Cold Start Test in -3 Degree Celsius?
Sleeps in His Car
Finally, he managed to cross the road of the ice and enter the unmetalled road leading to the Nubra Valley. Since there is no more ice on the road, he takes off the chain from the tyre. He shows the instant difference in the way the steering wheel is now devoid of massive vibrations. However, the road is now so bad that it takes him a lot more time than he had anticipated. Finally, he had to sleep in his car due to the lack of visibility and distance. We would like to advise our readers NOT to take regular vehicles on such roads.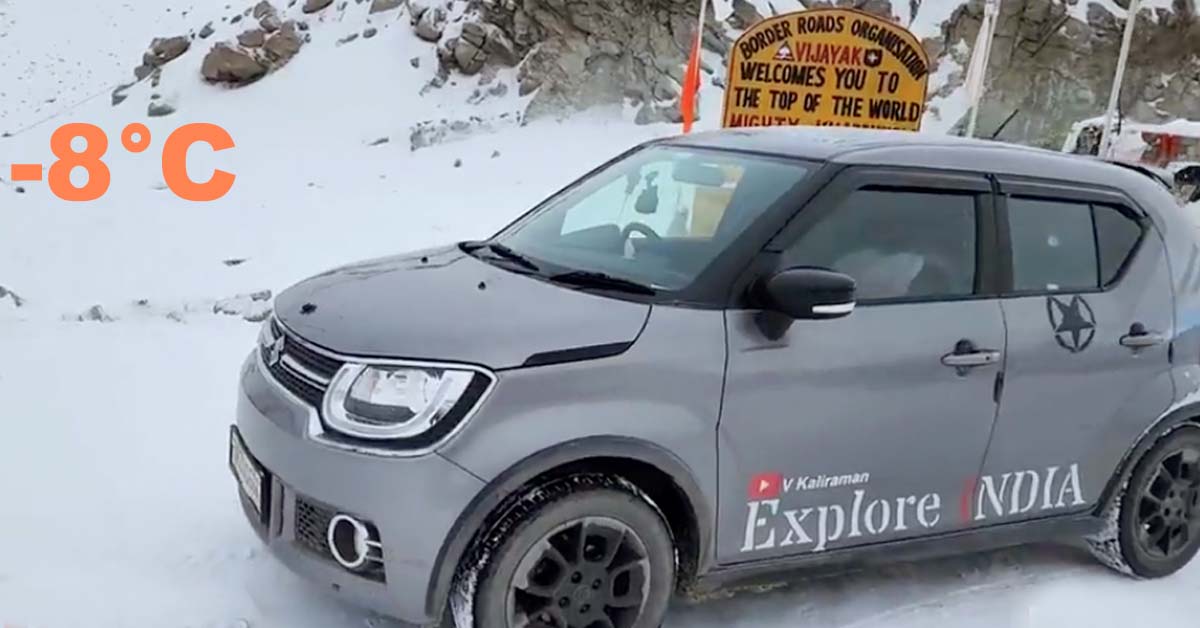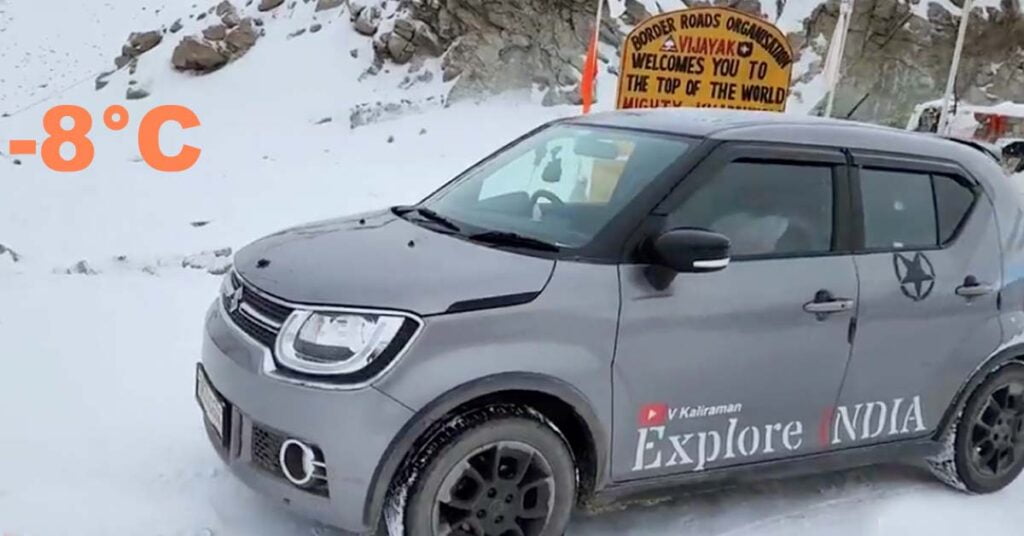 You may also like: Watch Mahindra Thar As Perfect Camping Partner at -20 Degree Celsius
Disclaimer- The embedded videos/ external content is/are being used as a convenience and for informational purposes only; they do not constitute an endorsement or approval by Car Blog India of any of the products, services, and /or opinions of the corporation or organization or individual. Car Blog India bears no responsibility for the accuracy, legality, and/or content of the external site or for that of subsequent external videos/ external content. Contact the external publisher for answers to questions regarding its content.
Join us for FREE NEWS Updates on our Whatsapp Community or our official telegram channel.