Oh Lord, won't you buy me a Mercedes Benz?
My friends all drive Porsches, I must make amends. . . . 
These are the opening lines of "Mercedes-Benz," a song from the 70s that pokes fun at the sin of materialism and a commoner's desire for an opulent lifestyle. Quite ironically, however, I found myself humming these very lines even hours after bidding adieu to the Cavansite Blue 2015 Mercedes CLS 250 CDI that Team CarBlogIndia recently spent an entire day with. Intrigued to know what sets this car apart from various premium machines that we've driven in the past? Read our Mercedes Benz CLS 250 CDI Test Drive Review here to find out more about our rendezvous with the very captivating CLS-Class in our Mercedes Benz CLS 250 CDI review here.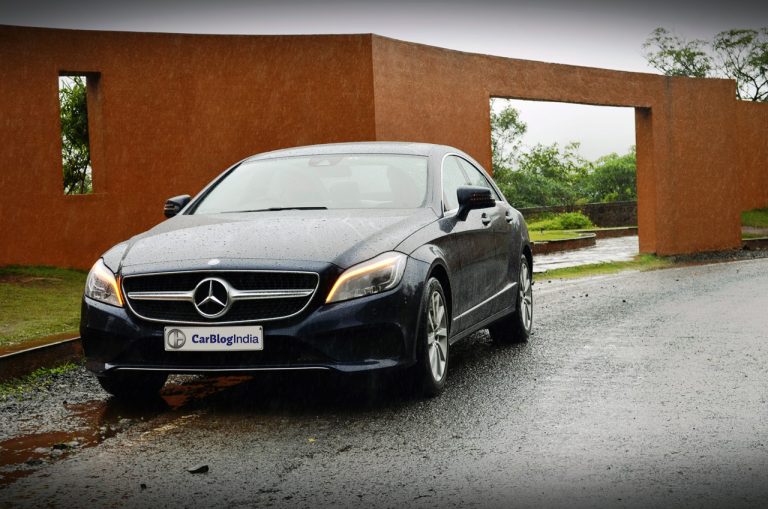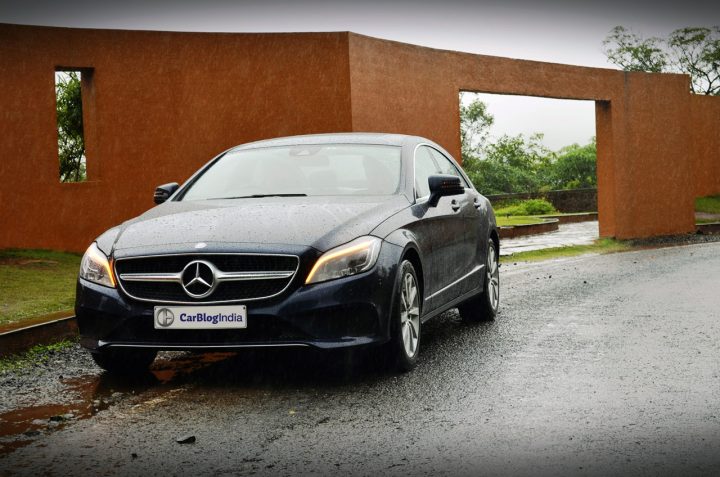 Video Review
Design
Much before its Bavarian rival came up with the BMW X6, Mercedes-Benz surprised the entire automotive world by unveiling the Vision CLS Concept at the 2003 Frankfurt Motor Show. A design study whose raison d'être had seemed to leave the show audience weak in the knees, the Vision CLS again left everyone spellbound when it gave birth to the gorgeous W219 CLS Class. Thus was born the world's first 'four-door coupe sedan', a new car body type that blurred the lines between a traditional four-door three-box and a two-door coupe. For those with a technical bent of mind, the CLS came across as more of a re-skinned W211 E-Class. But for everybody else, especially those who know a gorgeously styled car when they see one, the CLS Class ushered in a new era of luxury cars that appeal to not just the young and the rich, but also to the fast balding middle-aged business tycoons looking to impress the fairer sex.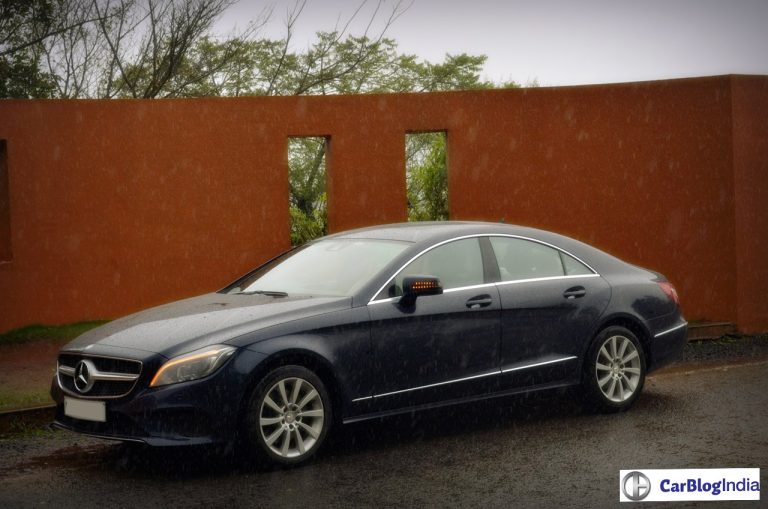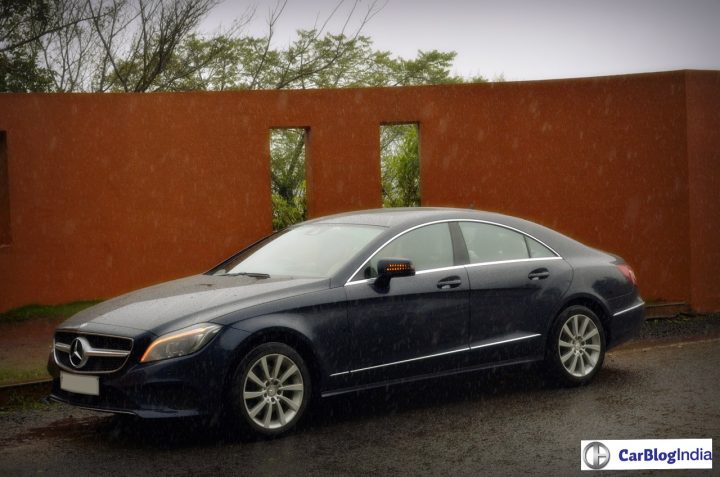 And the second generation CLS perfects the blend of ceremonious design elements with the intimidating persona that characterizes this car. The new CLS boasts of the typical new-age Mercedes family look, which is in turn highly reminiscent of the now defunct SLS AMG. Thanks to the sharper and more muscular design cues, the CLS now looks much better differentiated from the W212 E-Class, a close relative that is being lapped up by those wishing for a relatively discreet profile on the road. Highlights of the 2015 CLS include the avantgarde Multibeam LED headlamps, which don't look too different from the pre-facelift units, while the other noteworthy details here include the slightly flared wheel arches and the sporty radiator grille. Also, the front bumper for the refreshed CLS has been re-sculpted to render the CLS with a wider chin that adds some visual mass to the car's front-end.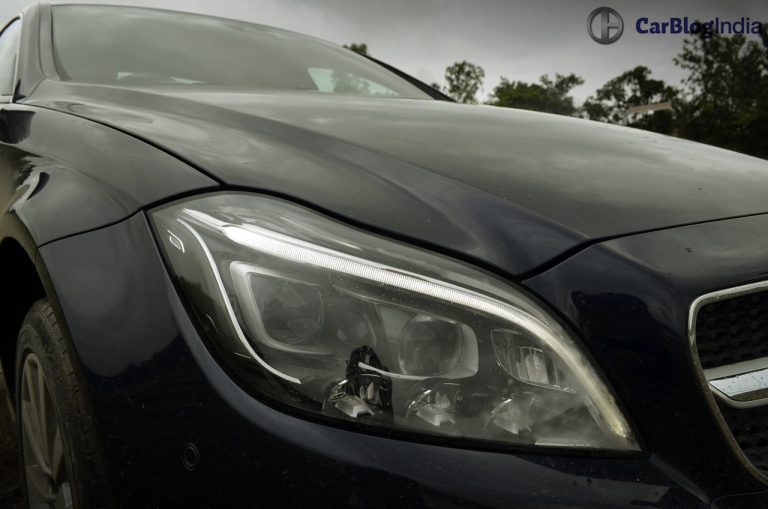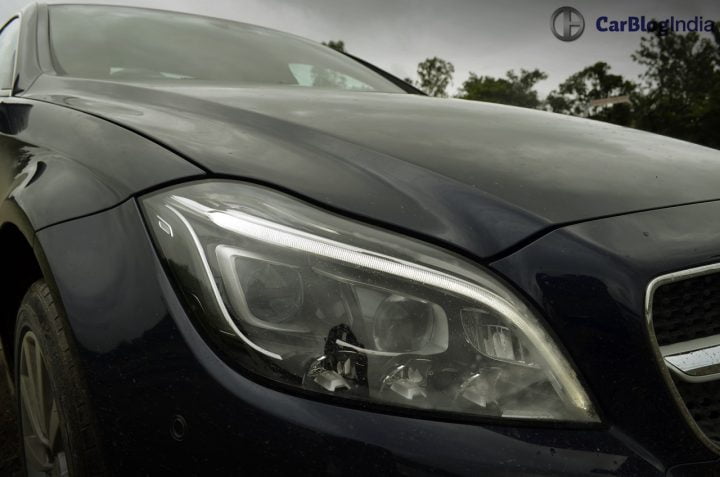 When seen from the side, this Teutonic chariot impresses with the dynamism on offer. Look at this car in its side profile and the 2015 CLS impersonates the pre-facelift model, especially if you ignore the minutely restyled side skirts, but there's really no denying the fact that this car, armed with a sharply raking roofline and a well-pronounced shoulder line, is dressed to allure.


It's at the rear-end where the Botox treatment is more apparent. The 2015 CLS boasts of a new rear bumper and the taillights now come with a darker tint. True, the updates aren't remotely radical, but the slight nip and tuck treatment does infuse some freshness with an already striking design.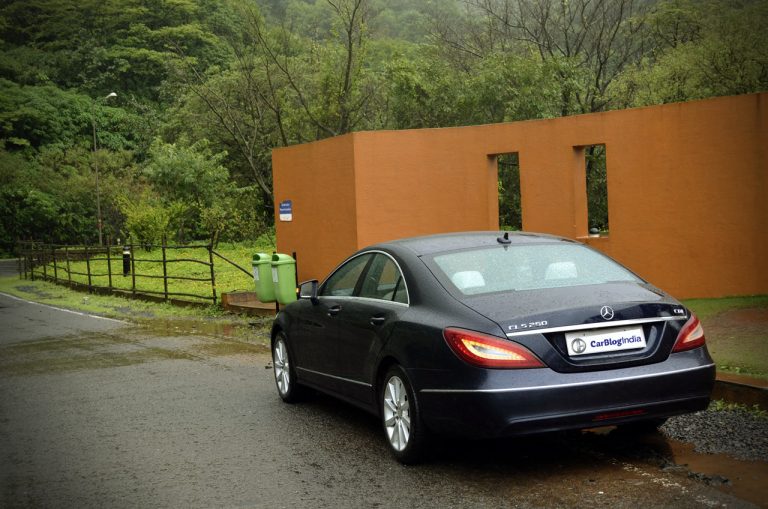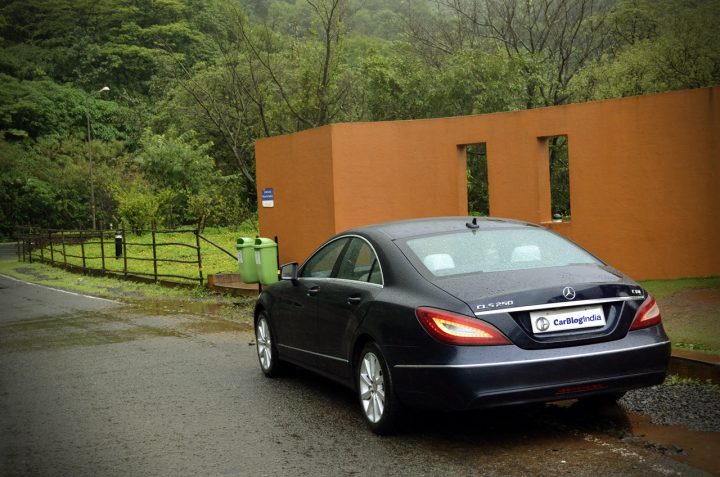 In contrast to this car's flashy exterior is a very soothing and a classy interior. The cabin comes draped in a light shade of beige and there is ample usage of high-quality wood trim and some brushed metal accents. Visual enhancements that this CLS carries over the pre-facelift model include a new steering wheel, a new gear shift lever that is mounted on the steering column, an updated control panel for the COMMAND infotainment system and a new free-standing 8″ TFT display that looks way cooler than the previous model's dashboard-incorporated unit. The cabin is as plush as this car's price tag suggests it to be. The occupants are surrounded by high-quality materials and there are enough gizmos to put Inspector Gadget to shame.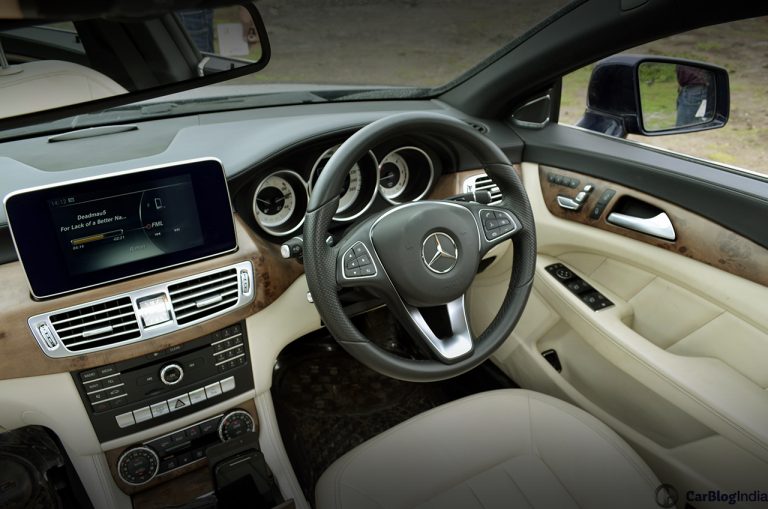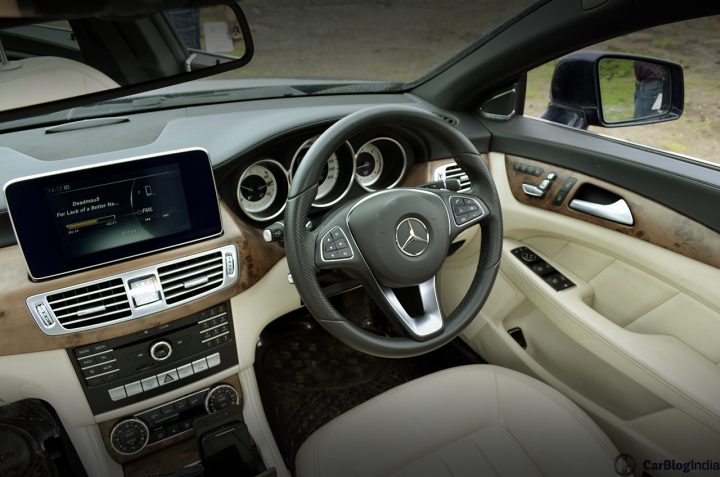 Engine and Gearbox
Many people will go for this Merc because of its looks, the high levels of comfort and equipment or maybe, quite simply because it has a three-pointed star on its hood and that's what they really fancy. But it is when you start getting over the 'come bed me' looks and the revered badge that you realize that under the hood of this sassy set of wheels is a Diesel-sipping four-banger that displaces just 2.1 litres and requires the services of a turbo to cough up a debatably 'respectable' power figure. Yes, India is too fond of Diesels and moreover, 'kitna deti hai?' is something that is on the tongue of most car buyers. However, one must not forget that this car's name is not meant to be taken in the same breath as of some tiny Japanese hatchback. In the name of V6s and everything that dreams are made up of, the boy racer in me, for one, can't seem to fathom the presence of just a 2.1-litre four-pot behind a radiator grille befitting of a modern-day AMG, especially since anyone with almost a crore rupees to splurge won't be looking for stellar fuel economy figures.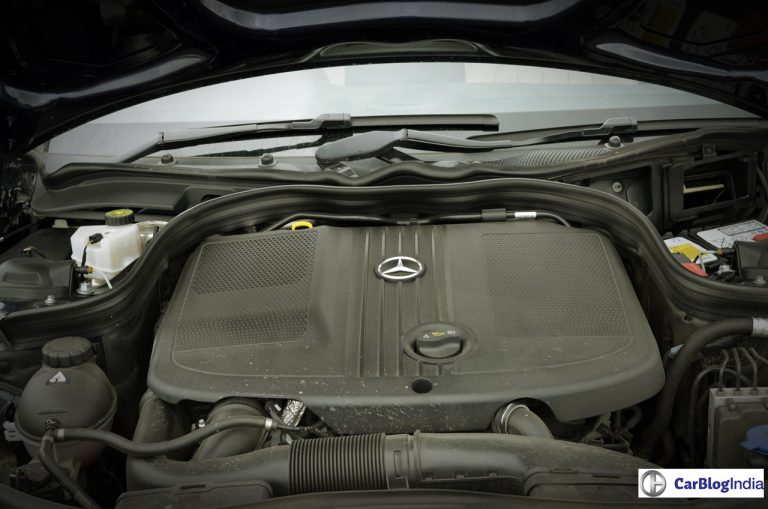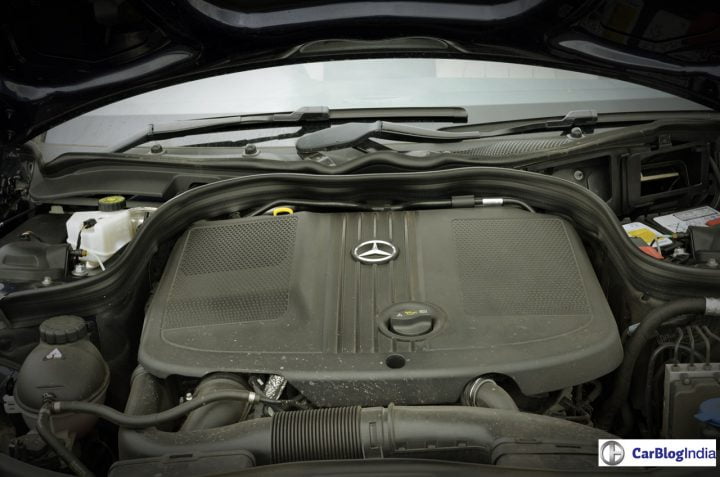 Speaking of the numbers, this oil burner belts out a max. power figure of 202 Bhp and a peak torque number of 500 Nm. Out on the roads, both in the city and on the highways, all that torque ensures that the turbo-diesel motor, which comes mated to a 7G-Tronic seven-speed dual clutch auto transmission, feels adequate to power a car of this size and stature. The 7-speed auto 'box offers smooth and quick shifts and in the 'S' mode, it holds on to every cog for a wee bit longer. You can also shift gears using the steering-mounted paddles. Refinement levels, even by Mercedes standards, are impressive and under most usage conditions, the lack of outright power is hardly apparent. However, it is when you finally put the pedal to the metal that you have this recurring thought of the more potent rivals (Read: 313-bhp/630-Nm BMW 640d Gran Coupe for starters).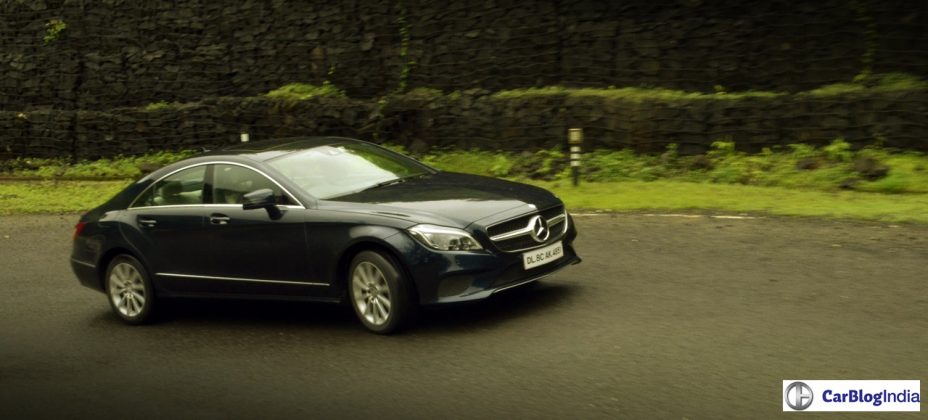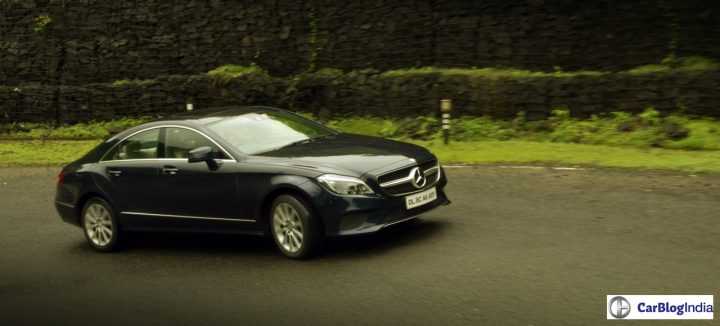 All is not lost, though, for the company figures claim that this car will dismiss 100 km/h from standstill in 7.5 seconds, which is not supercar-rivaling quick, but what really impresses is the effortless manner in which the engine goes on about its business. It is only beyond, say, 200 km/h when the engine starts feeling a bit stressed. Still, the CLS 250 CDI will thumb its nose at the 'lesser' machines and hit an electrically-limited top whack of about 250 km/h. All this means that under most driving conditions, the lack of outright power will not be felt and the owners won't really have a reason to complain. Of course, the racetrack duties are best left to the AMG cousins, but that said, what really leaves us a tad disappointed here is not the engine per se but the choice of engine for this car.
Ride and Handling
As with most Mercedes cars that I've driven, this car too offers a comfortable ride. The CLS 250 CDI comes equipped with an air suspension, which offers 'Comfort' and 'Sport' ride settings. Select 'Comfort' and it is not a bad idea to forget about most of the potholes. The CLS dismisses most of the craters with ease and the occupants remain very comfortable. Also, the ride height of this car can be increased to deal with all those nasty speed humps.


The 'Sport' mode comes to your aid during those apex-hunting sessions. The CLS is certainly among the better handling Merc sedans on sale today. Of course, it would be rather stupid to hope for Porsche-like handling characteristics, but it is surely fun to push this car into the corners. The 'Sport' mode actually firms up the suspension and the car feels really poised while corner-carving. In spite of the long wheelbase, it is rather easy to flick this car into a corner and even mid-corner corrections are pretty easy. However, the steering, which is, fortunately, not feather-light, can do with enhanced 'communication skills'. The feedback from the steering wheel is almost conspicuous by its absence, so much so that even on hitting a pothole, nothing is transmitted to your fingertips. There is also a hint of some body roll, but overall, the engineers seem to have struck a good balance between great ride quality and sporty handling manners.
Verdict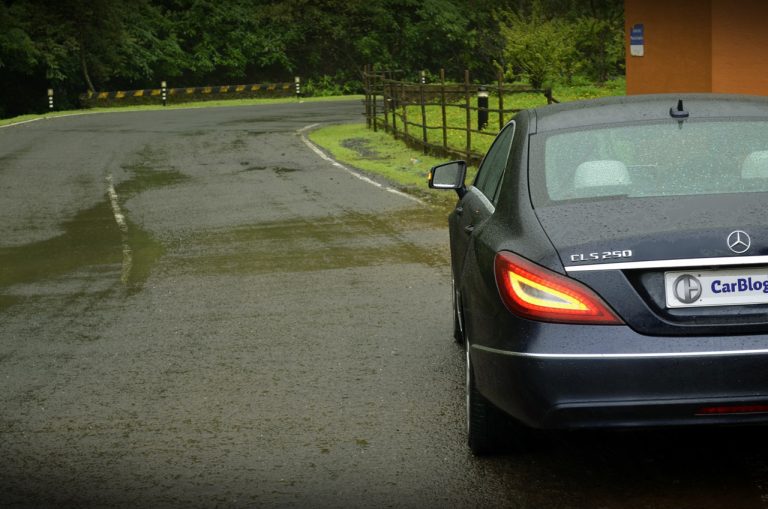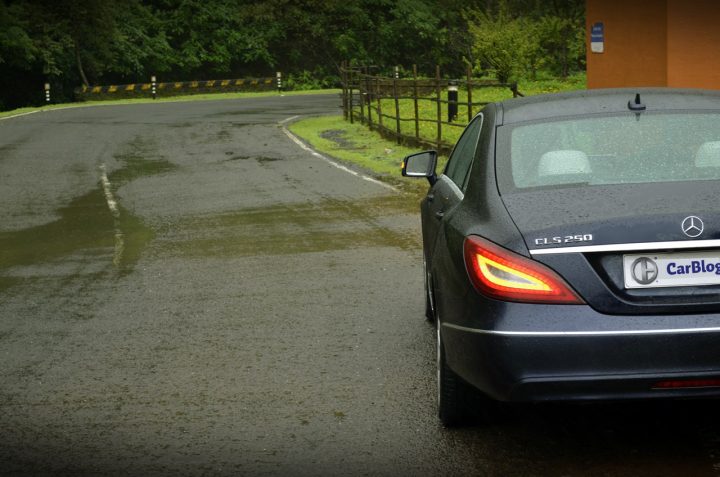 With drop-dead gorgeous looks, an opulent cabin and respectable ride and handling manners, the 2015 CLS ticks most of the right boxes on a prospective luxury sedan customer's wishlist. True, the insatiable performance junkies would crib about the lack of a punchier motor and a talkative steering, but what's more important here is that the 2015 CLS 250 CDI, at INR 76.5 lacs (ex-showroom, New Delhi), should attract anyone looking for a comfortable and a feature-loaded sedan that looks much more stately than, say, an E-Class. And the fact that the unadulterated flamboyance of the CLS-Class will ensure the owner is propelled to overnight stardom can be viewed as an added bonus!
2015 Mercedes Benz CLS 250 CDI Review Image Gallery
So, what do you have to say about our Mercedes Benz CLS 250 CDI Test Drive Review? Do let us know by penning down your thoughts in the comments section below.
Join us for FREE NEWS Updates on our Whatsapp Community or our official telegram channel.