We seldom come across the wonders that are present in the world due to our busy lives. But there are places in India that could defy the conventions that you hold true.
In a mind-boggling video clip, a Maruti Baleno is seen rolling backwards on a descent seemingly defying gravity. This place is a famous tourist location situation in Ladakh known as the Magnetic Hill. The surrounding terrain and slopes of the mountains give an illusion that you are travelling down a slope when in reality, it is the opposite. People are seen putting their bikes, cars, bicycles, skateboards, etc on neutral and the vehicle automatically starts moving 'up the hill'. That is precisely what this Baleno owner experiences. Check out the details of this entire saga here.
You may also like: New Maruti Baleno High-Speed Rollover Hints at 5-Star Safety
You may also like: New Maruti Baleno Lowrider with Wide Body Kit Looks Track-Ready
Maruti Baleno Defying Gravity
The driver of the Baleno mentions on the video that he is currently driving down the slope and the image in his rearview mirror also confirms a slope towards the back. However, once he stops his car, puts it in neutral and releases the brakes, the car automatically starts moving backwards which seems mind-numbing. There are signboards in the vicinity explaining this unique phenomenon. That is the reason why the cars and vehicles appear to move up the slope even if the engine is shut. In reality, it is the opposite and the slope is always towards the rear which is why they move in that direction. You could read more about the Magnetic Hill on the internet or just visit the place on your next trip to Ladakh.
You may also like: Top 5 New Maruti Baleno Cars with 16, 17 & 18-inch Alloys
Maruti Baleno
The recently updated Maruti Baleno comes powered by a 1.2-litre K Series petrol engine that produces 88 hp and 113 Nm of peak power and torque respectively. Complementing this engine is the option of choosing between a 5-speed manual or an AMT gearbox. The prices of the new Baleno range between Rs 6.49 lakh and Rs 9.71 lakh, ex-showroom. With the new Baleno, Maruti has made significant changes to the engine, suspension system, steering and clutch to make it even more engaging to drive.
You may also like: This Maruti Baleno Exemplifies After-effects of Cheap Modifications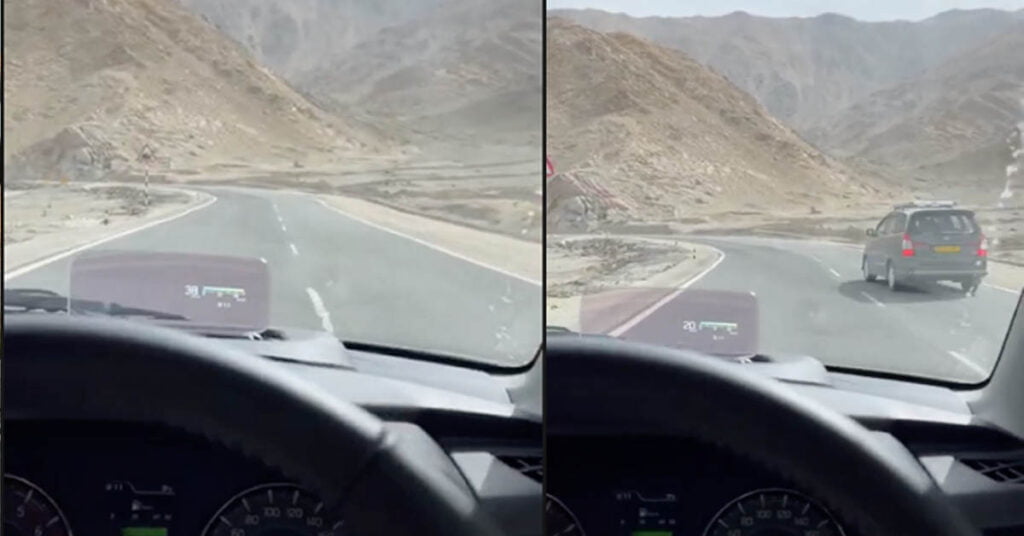 Let us know if you have been to Magnetic Hill or wish to go there after watching the Maruti Baleno defying gravity.
Join our official telegram channel for free latest updates and follow us on Google News here.