Hyundai has announced a highly efficient 1.2 Litre next generation Kappa Engine with turbocharged Gasoline direct injection or GDI Petrol Engine technology. The displacement of the new engine is 1248 CC and it produces less than 110 grams of CO2 per Km which is a very clean emission and also indicated that the engine features high fuel efficiency. The "T-GDi Kappa Engine" by Hyundai is a turbocharged engine which means it is likely to deliver better power output compared to naturally aspirated 1.2 Litre engine. The present generation of Kappa 1.2 Litre MPFI Petrol engines deliver close to 80 BHP, it is expected that a turbocharged engine with GDI with VVTI Technology will be capable of delivering anywhere between 95 to 120 BHP of peak power depending on the way Hyundai plans to tune the engine.
The new Hyundai T-GDi 1.2 Litre engine is likely to debut in the 2012 Hyundai i20 Fluidic which is due for launch in a few months. The global version of Hyundai i20 Fluidic has already been revealed and a lot of test mules have been already spotted on Indian roads with LHD options, LED daytime running lights etc. The twist in the tale is that Hyundai India may not get the T-GDi or may get it in the top most premium variants like the 1.4 Gamma Engine is used in the present lineup. The reason for the same is the small car tax rules in India. The engine displacement limit for small cars is 1200 cc while the displacement of the 1.2 T-GDi engine is 1248 CC. It is a possibility that Hyundai may reduce the displacement for Indian version, but it is unlikely.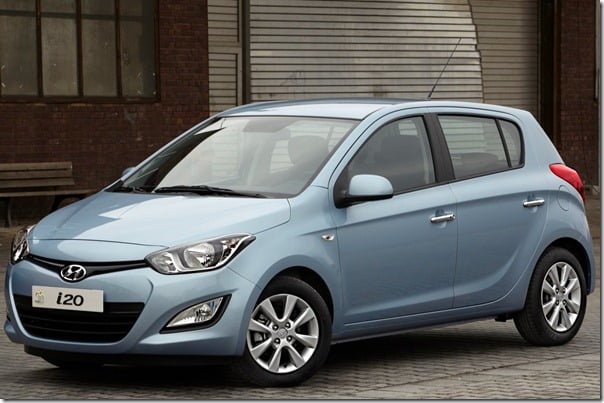 image – 2012 Hyundai i20 Hatchback
Hyundai i20 is also available in European and Australian markets and they may get the T-GDi engine before the end of 2012 as the rules there are different from Indian tax rules. Apart from the Hyundai i20, the engine may also be used in Hyundai i30, Kia Picanto and other small cars from Hyundai and Kia Motors. Hyundai engines are quite refined and fuel efficient which is quite evident form the performance of the engines used in Hyundai i0 and i20 in India. Thee smallest displacement engines of these is the 814 CC IRDE Engine used by Hyundai India in Hyundai Eon small car which has a fuel efficiency rating of over 20 KMPL.
We will keep you posted on any new developments on this front, do stay tuned to us by signing up for our free email newsletter and like our official Facebook Page.
Check out more-