Nitin Gadkari has made yet another big announcement about electric vehicles in the country. The EVs will now cost less than half.
Nitin Gadkari has been a champion for the cause of EVs in the Indian market. He has been quite vocal about the required improvements in the transportation sector. Recently, he claims that up to 30 million EVs will be sold in India in the next two years. Now, the Union Transport Minister has made yet another big announcement regarding electric vehicles. He stated that the price of electric vehicles will drop drastically in the country and hinted at a new government package. Let's take a close look!
You May Also Like: At Rs 70/month, Man Charges 4 EVs & Home Appliances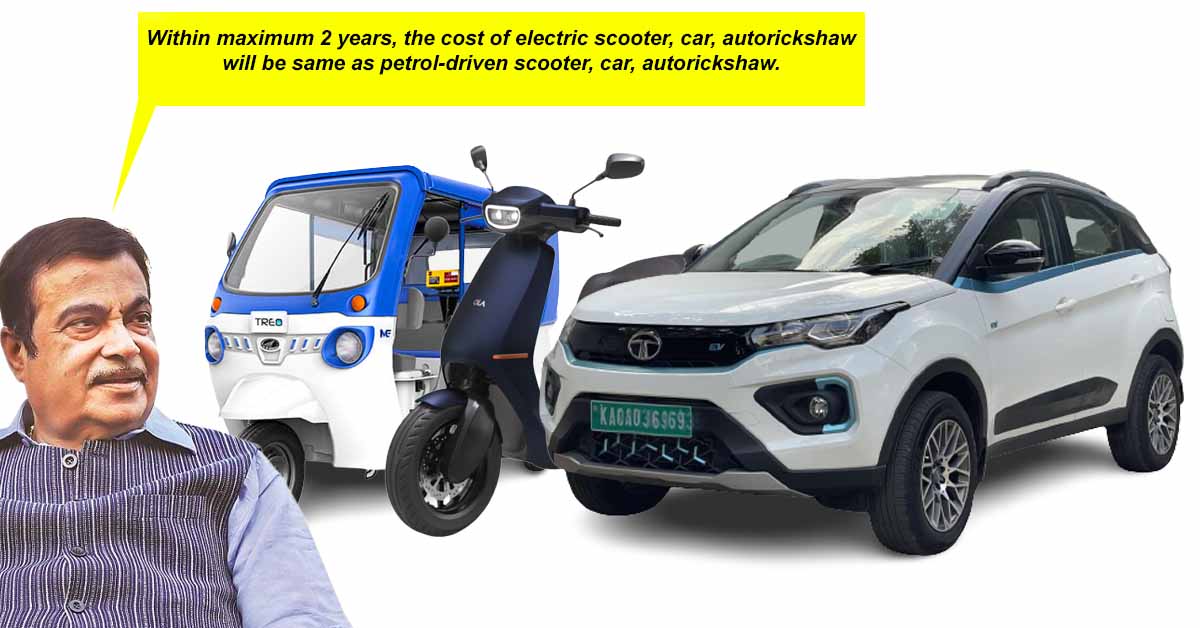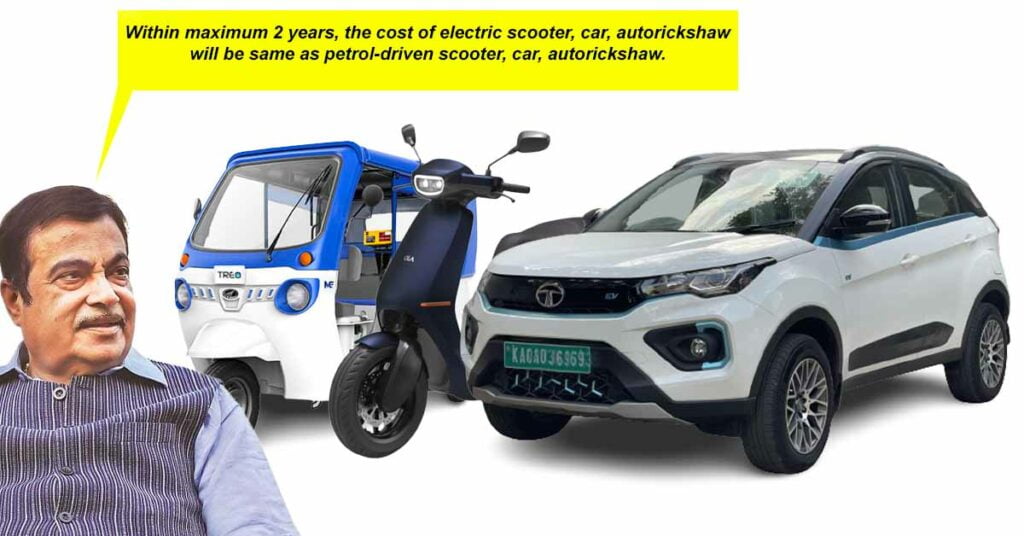 You May Also Like: Top 5 Electric Cars for Indians in Canada- VW ID.4 to Tesla Model 3
Mr. Nitin Gadkari is very optimistic about the future of EVs in India. The Indian government has been supporting car companies that manufacture electric vehicles in India. Now, the Minister for Surface Transport & Shipping has said that a government package will be given to the buyer of electric vehicles as well. While there has not been any official statement as yet, this is big news for EV enthusiasts. Such a package is bound to make electric vehicles very cheap in the country.
You May Also Like: Indian Army Goes on Himalayan expedition with Ola S1 Pro
With growing fuel prices, consumers are actively looking toward alternatives. While CNG cars are still the best option in the Indian market, the EV segment is steadily growing as well. The government subsidy will further encourage the adoption of electric vehicles in India. As the consumers move away from Petrol/ Diesel vehicles, this will also impact the air pollution in the country. Mr. Nitin Gadkari claimed that the cost of electric vehicles will soon become at par with their petrol variants.
You May Also Like: 3 New Tata EVs Coming Soon- Updated Nexon EV to Altroz EV
Gadkari said,"I can say within maximum two years, the cost of electric scooter, car, autoricksahw will be same as petrol-driven scooter, car, autorickshaw. Prices of lithium-ion battery are coming down. We are developing this chemistry of zinc-ion, aluminium-ion, sodium-ion batteries. If petrol, you are spending ₹100, then on electric vehicle you will spend ₹10 (for using)."
You May Also Like: Ola CEO Bhavish Aggarwal to Elon Musk: Thanks, But No Thanks
Additionally, the Union Transport Minister said that the government is working to expand the EV charging facilities in the country. More than 600 charging points will be added to major highways. Such moves will make EVs more accessible to the common man within 6 months. The government hopes to revolutionize the electric vehicle business by 2023. Since the cost per km of electric vehicles is less than half that of petrol-diesel, the new move will surely lead to an increase in the purchase of electric vehicles. While several cases of electric scooters catching fire have built a bad image of EVs, government checks will go a long way in gaining the trust of the people.
Join us for FREE NEWS Updates on our Whatsapp Community or our official telegram channel.