It is often surprising to see what overspeeding can cause but somehow people still don't learn from such incidents.
This is an instance where an overspeeding Mahindra Thar crashes into a stage where Navratri celebrations were going on. Thar is an off-roading SUV with decent driving capabilities to be used as an everyday vehicle. However, this doesn't warrant careless driving. Let us check out the details of this bizarre incident.
You may also like: Mahindra Thar Gets Stuck in Gurugram Rains, Rescued By A Crane
You may also like: India's 1st Hulk Green Mahindra Thar with Chrome Rims and Spinners
Mahindra Thar Crashes The Stage
The video has been uploaded by Nikhil Rana on his YouTube channel. He posts such content regularly in order to raise awareness among car owners regarding the importance of buying cars with high safety ratings. This incident has been reported from Bhayandar, Mumbai. As per the information in the video, the driver of the Thar was overspeeding. Due to unknown reasons, he lost control and hit an auto-rickshaw parked outside the stage. Thereafter, the SUV went on to crash the stage that was created on the side of the road.
You may also like: Mahindra Thar Pickup and 5-Door Visualized
As it was festival time, there was a stage set up for the pooja ceremony. Perhaps, it was the occasion of Navratri and people had gathered to worship the Goddess. Thankfully, no one was injured in this crash. The SUV entered the stage area from the corner where no person was sitting. However, the auto that it hit sustained severe damage. We hope that it will be repaired under insurance and by the Thar driver so that the auto-driver doesn't suffer.
You may also like: India's ONLY Mahindra Thar with an 8-inch Lift Kit and 38-inch Wheels
Avoid Overspeeding
Finally, we would like to make our readers aware of the harmful effects of overspeeding. In India, we lose thousands of lives each year due to road accidents. Overspeeding and drunk driving continue to be the two most common reasons for such unfortunate instances. We urge our readers to ensure that you don't disobey traffic rules and always drive within the speed limits. What are your thoughts on such drivers that overspeed and cause damage to others?
You may also like: Mahindra Thar Conquers Flooded Bangalore Bridge Like a BOSS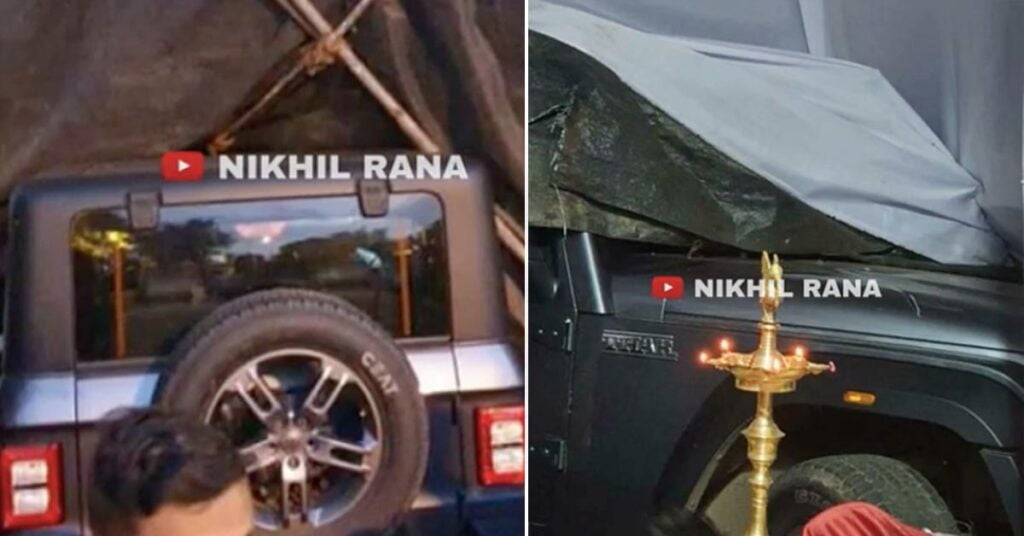 Disclaimer- The embedded videos/ external content is/are being used as a convenience and for informational purposes only; they do not constitute an endorsement or approval by Car Blog India of any of the products, services, and /or opinions of the corporation or organization or individual. Car Blog India bears no responsibility for the accuracy, legality, and/or content of the external site or for that of subsequent external videos/ external content. Contact the external publisher for answers to questions regarding its content.
Join our official telegram channel for free latest updates and follow us on Google News here.