While the Maruti Dzire has received flak for questionable crashworthiness, it kept everyone safe in a crash with Tata Nexon
Tata Nexon has undoubtedly been one of the safest mainstream cars around, with the B-SUV repeatedly managing to keep its occupants unhurt even in some of the more severe mishaps. The high safety standard offered by this SUV is even reflected in its 5-star rating by Global NCAP. On the other hand, the Maruti Dzire has often been questioned for its crashworthiness, though we totally understand one can't judge the build quality of a vehicle just from the pictures of a crash-site. Anyway, an accident that took place recently between a Tata Nexon and Maruti Dzire would dismiss the pre-conceived notions of many as both the cars have kept their occupants safe in spite of being involved in a high-speed collision.
You may also like: What Happens When Tata Harrier and Tiago Have a 'Close Rendezvous'
You may also like: Tata Harrier Cocoons Occupants as Metal Sheet Falls on SUV
The recent accident is similar to another mishap that took place a while back wherein a high-speed Maruti Dzire had rammed into a Tata Harrier. Even back then, occupants of both the vehicles were unhurt but it was clearly the fault of the sedan's driver. This time around, though, it was the fault of the Tata Nexon as it was being driven above legal speeds and hit a last-gen Dzire. But what's heartening to see is that in spite of the cash seemingly being quite major, occupants of both the vehicles escaped with minor injuries. While visuals of the front-end of the Dzire aren't available, it looks like the car has absorbed the impact pretty well and its A-pillars have stayed intact even on being under the weight of the sub-compact SUV.
On the other hand, the Tata Nexon has sustained some damage to its front RHS. Its front right fender has been deformed and even the doors have got some dings. Also, the hood has been badly damaged in the accident. The latest mishap highlights the perils of overspeeding and rash driving. This collision took place in Delhi. It's been reported that the Nexon got out of control over a speedbreaker and ended up on top of a commercial Maruti Dzire that was travelling next to the sub-compact SUV.
You may also like: Rs 80 Lakh BMW Z4 Rams into Humble Tata Tiago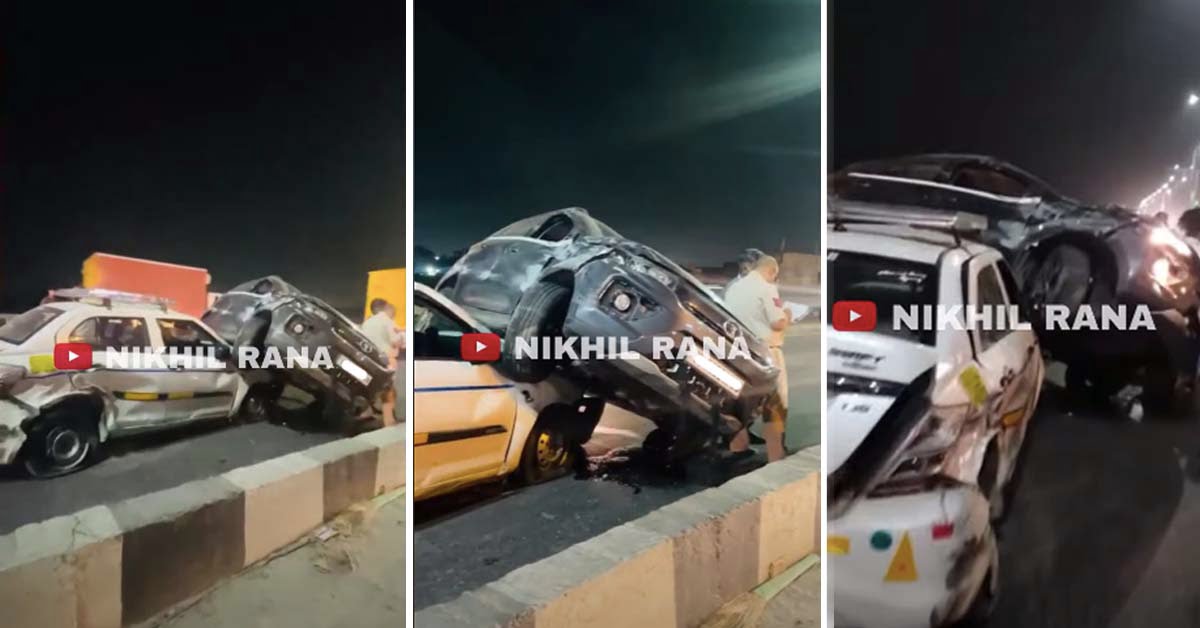 You may also like: Tata Harrier Pickup Concept Is a PROPER Xenon Replacement
We're really happy that no one was seriously injured in this freak accident. We're also pleased to see that the Maruti Dzire, which has time and again been criticized for not being safe enough, has kept its occupants safe from harm. Finally, we urge all our readers to practice safe driving and avoid over-speeding.