With soaring fuel prices, local players are emerging in the market that are offering to convert existing motorcycles into EVs.
This is a video where a YouTuber has converted a regular petrol bike into an EV. The exponential rise in fuel prices, especially in the last few years has become a huge problem for the common man. People are desperately looking for alternatives to beat the astronomical fuel prices. Buying an outright EV makes less sense with all the challenges associated with it including high initial purchase costs, range anxiety and the sheer lack of infrastructure. Aftermarket EV conversion kits are the next best option.
You may also like: Top 5 Petrol to Electric Car Conversion Kits With Prices
You may also like: KTM Duke Converted Into A Hi-Speed Electric Bike with 130km Range
Petrol Bike Converted Into EV
The YouTuber is quite popular for creating such unique projects. For this one, he has managed to convert a Suzuki AX100 into a fully-functional electric bike. He takes the viewers through the entire process of this conversion. They have installed a brand new seat, taken out the engine and its components, developed a specific frame to hold the battery in place, and created a housing for the battery and electronic components like the controller and cables. At the rear, the LED taillights and integrated turn indicators are installed to offer a modern look.
You may also like: Old Hero Splendor Converted to EV for Rs 37,700 – 151 km Range
The Lithium-Ion battery lends a range of around 200 km on a single charge which is quite impressive. One could easily reach a top speed of around 50 km/h if they installed lighter wheels. You have the option of modifying the range by changing the battery capacity to make it more affordable. The single seat design has also been specifically made using the seat of Suzuki AX100, while the fuel tank has been borrowed from RX100 to give it that Cafe Racer look. If you want, you can get the double-seat arrangement too.
You may also like: Mahindra XUV500-to-XUV700 Conversion Kit Launched For Loyal Customers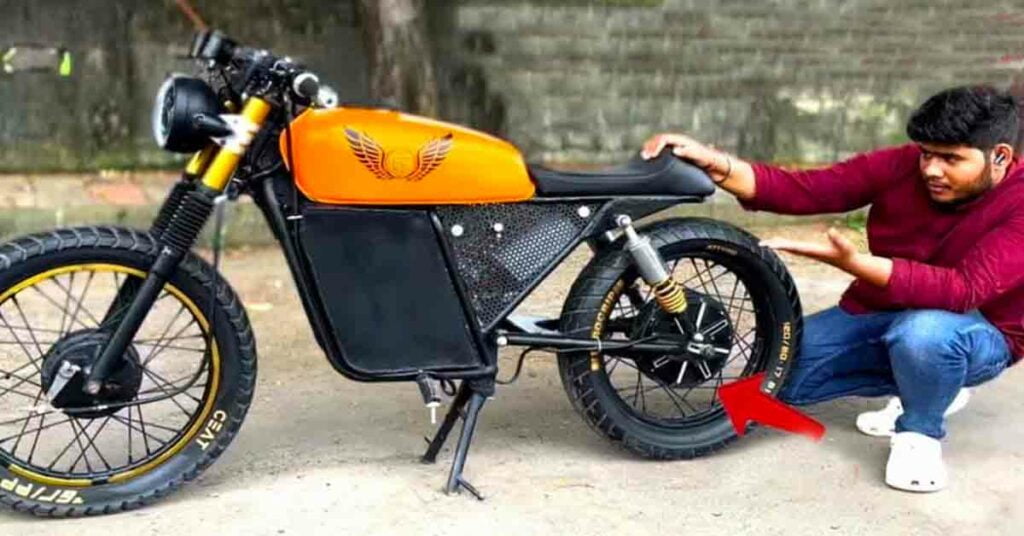 If you read through the description of the video, the total cost of this conversion kit is Rs 18,500 including GST. This is not that expensive, especially considering how much you will end up saving in the long run. However, the YouTuber mentions that this is not road legal as there are a ton of formalities like taking permission from the RTO and getting it tested by ARAI (Automotive Research Association of India). Hence, you could use it as a passion project or maybe use it on private roads.
Join our official telegram channel for free latest updates and follow us on Google News here.