A guy in Pune tested the Tata Nexon EV extensively and got us the real world driving range. To say, the results were quite impressive.
Tata Nexon EV is among the most affordable electric vehicles that you can buy in India now. Priced from Rs 13.49 Lakhs, it is just Rs 80,000 costlier than the top-spec XZA(O) variant of the regular Nexon. Recently, Tata Motors also rolled out the 1000th unit of the EV from its Pune plant.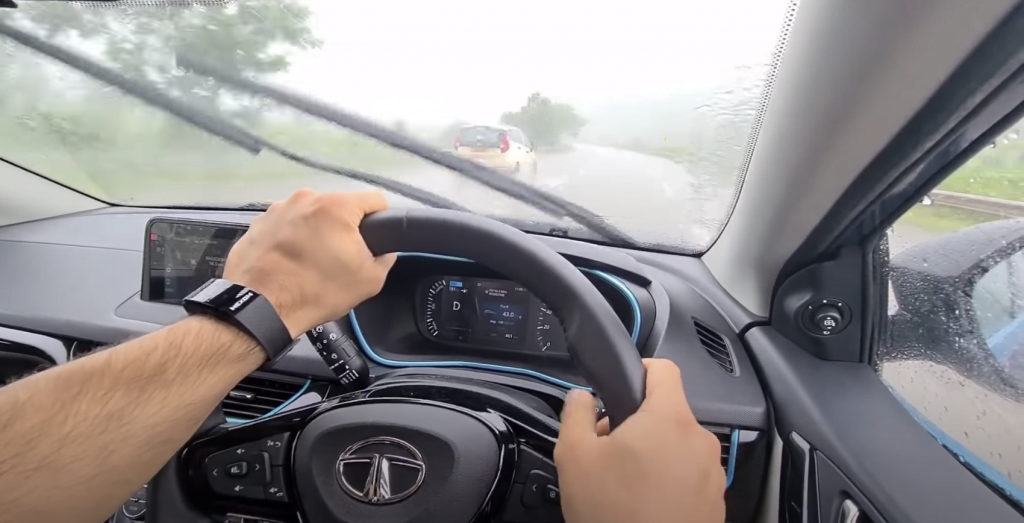 Northway Motorsport EV, a community based in Pune, tried out the Tata Nexon EV to determine its real time driving range. After picking it up from the dealership, the reviewer takes it out for some 16 kilometres in the city of Pune. He has engaged the Eco mode and the AC has been switched on.
Also Read: Check Out This Tata Nexon EV Going Through The Mumbai Floods Easily
Then he goes on to the expressway and continues his testing. The rains get stronger and the wipers of Nexon EV are at full speed. Even the headlamps have been switched on due to low visibility. To note, all these things also have an effect on the range and battery. Because, all the things run on the same battery.
As the battery charge reaches 50%, the owner starts to find an EV station. Most of us do have the range anxiety and therefore, our inclination towards EVs would be a bit low. Unable to find one, the owner directly heads out to the dealership with 21% charge still left. Till now, he has covered 110 kilometres in total.
On full charge, the owner could have gone up to 150 or 160 kilometres, probably. The owner has also used the Sport mode in between which gives a 60% torque boost. With the Sport mode and electricals working inside full time, the range achieved is quite impressive. If probably, the AC would have been off or the wiper was off, it could have given even more range.
Also Read: The Electric Vehicle Policy Makes Hyundai Kona, Tata Nexon EV and MG ZS EV Much Cheaper for Delhi!
Nexon EV gets a 30.2 kWh electric motor with an IP67 rated lithium-ion battery pack. The motor is capable of producing 129 PS and up to 245 Nm of peak torque, paired with a single speed transmission. It also gets drive modes and regenerative braking which help in increasing the range. The ARAI-claimed driving range is 312 kilometres.