Maruti Suzuki Jimny has been in news in the Indian market as the 5-door version is about to be launched. In South Africa, it was seen having a stare-down with a wild elephant.
Here is the latest video of a Suzuki Jimny staring down a wild elephant in South Africa. Jimny is a popular lightweight off-roading SUV that has been around in the international markets for a long time. It offers an affordable solution for off-road enthusiasts with impressive capabilities. That is also the reason why it is used so frequently in jungle safaris and other such off-the-road excursions. Let us take a look at the details of this unique event.
You may also like: Maruti's New Jimny Ad Captures SUV's Rich Legacy
You may also like: This Suzuki Jimny-Based Mercedes G-Wagon Replica is Barbielicious
Suzuki Jimny Faces a Wild Elephant
The video has been uploaded by Wild Africa Sightings channel on YouTube. As per the information in the description, this incident occurred in the Kruger National Park in South Africa. It captures a white Jimny in a wild safari setting. There are other vehicles on the dirt track as well. But the main attraction of the video is a massive and majestic wild elephant. It is walking leisurely on the track. Since it looks like a safari ride, the cars are stopped to admire the wildlife.
You may also like: Maruti Jimny 5-door Seen on Road for First Time, Street Presence Revealed
However, the wild animal starts walking toward Jimny. It doesn't appear to be aggressive. The driver of the parked Jimny wanted to be sure about the animal not getting alarmed by their presence there. Hence, he starts the SUV and slowly starts reversing it. Applying the presence of mind, he drives slowly to ensure his safety without getting the animal agitated.
You may also like: Suzuki Jimny Electric Variant on Anvil, Launch Timeline Revealed
He is successfully able to get the SUV away from the elephant. Now, this might seem dangerous but such encounters are the reason people opt to go on jungle safaris in the first place. Still, one needs to be careful around the animals since they can get agitated if you poke them too much or get too close to them. What are your thoughts on the Suzuki Jimny encountering the wild elephant?
You may also like: Jimny vs Hummer H2 Off-Roading Challenge – VIDEO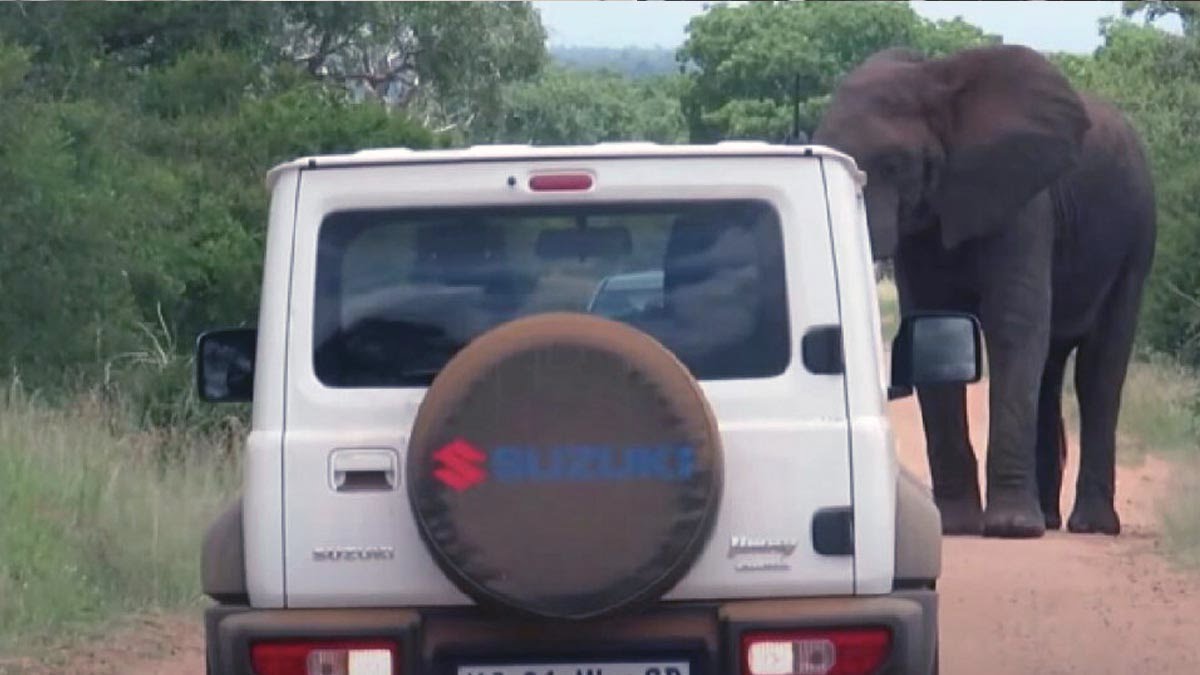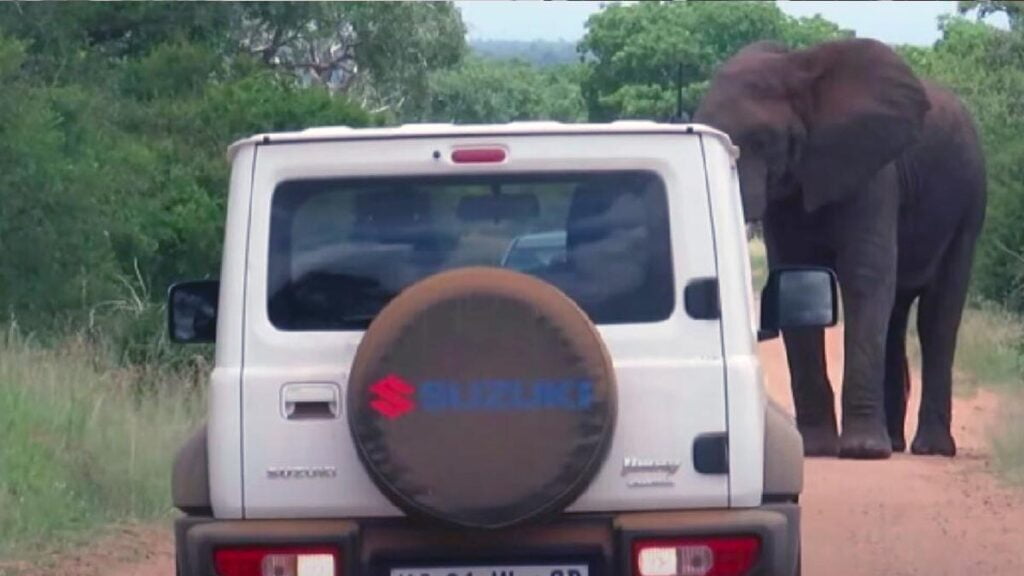 You may also like: Woman Scooter Rider Scares Wild Elephant Off The Road
Disclaimer- The embedded videos/ external content is/are being used as a convenience and for informational purposes only; they do not constitute an endorsement or approval by Car Blog India of any of the products, services, and /or opinions of the corporation or organization or individual. Car Blog India bears no responsibility for the accuracy, legality, and/or content of the external site or for that of subsequent external videos/ external content. Contact the external publisher for answers to questions regarding its content.