First fleet of Tata Ace EV delivered to Amazon, Delhivery, DHL (Express & Supply Chain), FedEx, Flipkart, Johnson & Johnson Consumer Health, MoEVing, Safexpress and Trent Limited.
Comes with 5 Years comprehensive maintenance warranty package
After enjoying the first mover's advantage in the small car market with its Tiago EV and Tigor EV, Tata Motors, the country's largest-selling CV manufacturer, has today commenced the deliveries of the Ace EV. The Tata Ace electric is being touted as the country's most advanced, zero-emission four-wheeled small commercial vehicle. It's priced at Rs 9.99 lakh onwards (ex-showroom). The first batch of the new model was handed over to e-commerce, FMCG and courier companies, and their logistics service providers: Amazon, Delhivery, DHL (Express & Supply Chain), FedEx, Flipkart, Johnson & Johnson Consumer Health, MoEVing, Safexpress and Trent Limited.
You may also like: How Tata Motors Became World's 2nd Largest Truck Manufacturer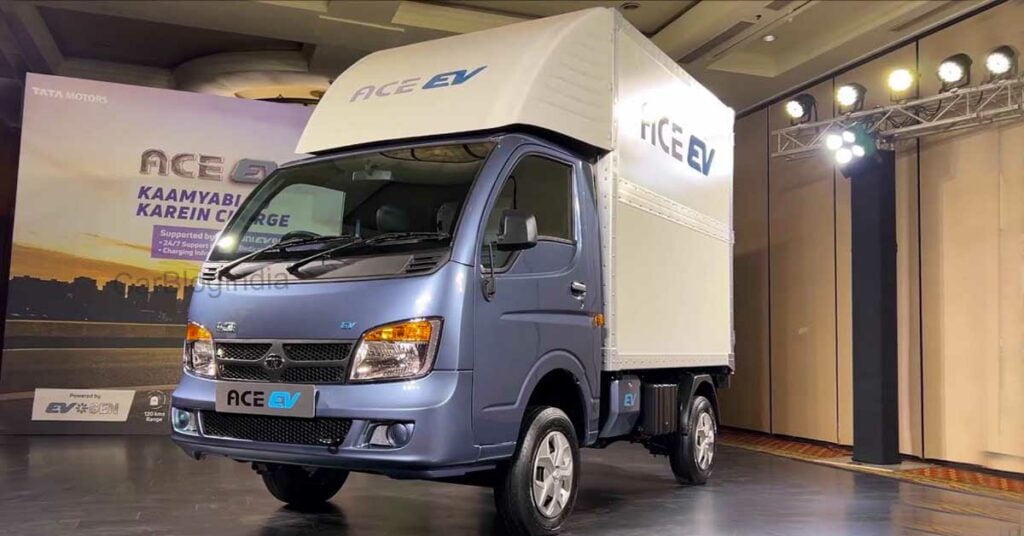 You may also like: GreenCell Mobility Unveils NueGo Intercity Electric Bus Brand
Tata Ace Electric Powered by EVOGEN Powertrain
The Tata Ace EV is its manufacturer's first product to feature the EVOGEN powertrain. It offers a certified range of 154 km. The highlights of the new powertrain include an advanced battery cooing system, regenerative braking system and all-weather capability. The battery supports both standard and fast charging, thereby ensuring low downtime. The Ace Electric is powered by a 36 hp motor that offers 130 Nm of peak torque. The commercial vehicle offers the highest-in-segment cargo volume of 208 ft³ and grade-ability of 22%. This should lead to effortless ascent even under loaded conditions. The new EV's container is made of lightweight and durable materials.
The Tata Ace Electric was first unveiled in May 2022 and is jointly developed with its target users. The manufacturer claims to have conducted stringent real-world market trials. The small e-CV offers 5-years comprehensive maintenance warranty package to offer peace of mind to first-time EV users. Tata Motors plans to develop and deploy charging infrastructure, setup Electric Vehicle Support Centres and deploy Tata Fleet Edge fleet management solution to ensure maximum uptime. Meanwhile, it will even partner with leading financiers for helping small- and medium-scale businesses easily purchase the new EV.
You may also like: Tata Motors Bags Order of 1,300 CVs from VRL Logistics Ltd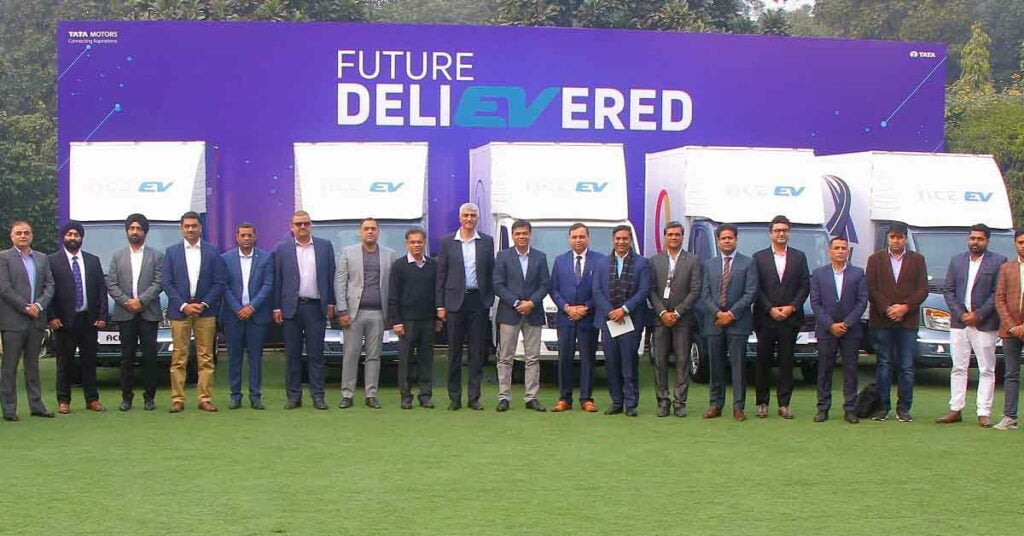 First Batch Flagged off by Mr Girish Wagh
Flagging off the first fleet of Ace EVs, Mr. Girish Wagh, Executive Director, Tata Motors, commented, "The introduction of the Ace EVs on Indian roads marks a big step forward in the journey towards zero-emission cargo mobility. The holistic solution co-created with our partners effectively caters to a variety of intra-city distribution needs and delivers a superior value proposition to all stakeholders. We are grateful for the trust and support of our customers. Their encouraging response to Ace EV inspires us to accelerate our endeavour of sustainable mobility and support the nation's net-zero aspirations."
You may also like: Watch Indian Girl Ace Canada's Expert Truck Driving Test Like a PRO
Join our official telegram channel for free latest updates and follow us on Google News here.