Think electric cars and good chances are that the car that will come into your mind will be a Tesla. Responsible for single-handedly revolutionising the world of EVs, the local launch of the Model 3 is still some time away from us. However, Indian car buyers have had access to world-class EVs, albeit, not as premium, through models like the Tata Nexon EV, Hyundai Kona Electric and MG ZS EV. Next, we'll soon have the Tata Altroz EV that made its debut at the last Auto Expo. In a fresh development, it has come to light that the electric version of the Maruti Baleno-rival would offer a driving range of 500 km, which is almost 150 km more than what the standard Tesla Model 3 offers!
Also Read – First-ever Tata Nexon With Matt White Paint Protection Film – This is IT!
The Tata Altroz EV will make use of the carmaker's Ziptron electric powertrain but the hatchback will be sold with an additional battery pack option that will increase the car's driving range by up to 40%, thereby helping the car drive up to 500 km on a single charge. This large battery option will even make it to the Nexon EV. Currently, the electric version of the sub-compact SUV comes with a 30.2 kWh battery pack and a 127bhp motor. At present, the e-Nexon has a driving range of 312 km.
Meanwhile, the Tesla Model 3, which will become the renowned carmaker's first offering in India, offers a standard driving range of only 423 km. The Long Range Performance model, however, boosts the range to 568 km. But what's clear is that in terms of driving range the Tata Altroz EV and even its sub-compact-SUV sibling will have a clear edge over the standard Model 3.
Also read: Tata Nexon To Model XZ+ Problems Detailed On Tape by The Owner!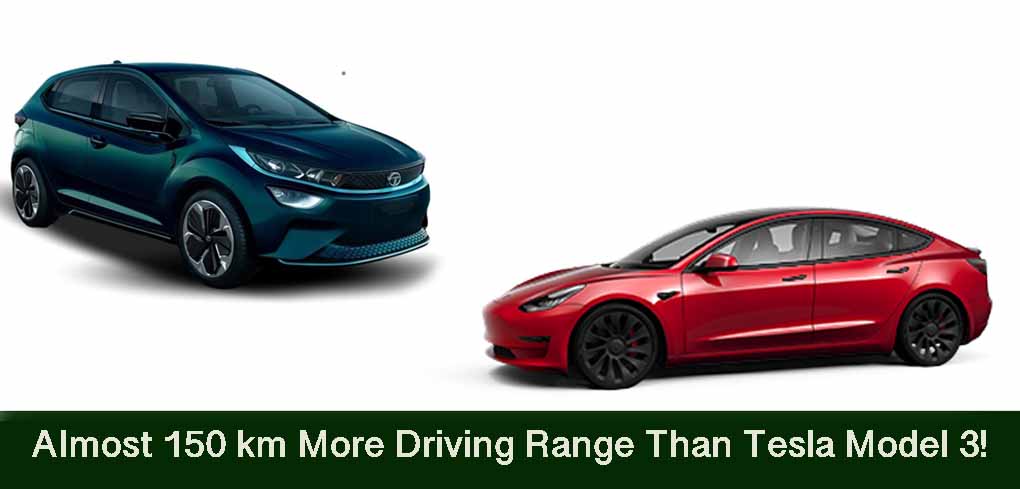 Also read: Fearing Range Anxiety, Tata Nexon EV Owner Fits A Windmill On The Roof!
The Tata Altroz EV will share its electric powertrain with the Nexon Electric, which means it will get the same electric motor producing 127bhp of maximum power and peak torque of 245Nm. The base-spec battery pack will also be shared with the Nexon EV and will be an IP67-rated liquid-cooled lithium-ion unit. Of course, the bigger battery pack that will be available on both the EVs will also offer similar levels of protection from water damage. The upcoming model should even offer the company's ZConnect app that is already being offered on the Nexon EV. This connectivity suite offers as many as 35 useful applications that can help you monitor things like battery charging history, battery charge levels, location of charging stations, etc.
Stay tuned to CarBlogIndia for more such interesting stories from around the world!