Remember India's first indigenous car, the Tata Indica that contributed immensely to what Tata Motors has become today. Check out this build quality test of the Harrier.
Tata Indica is seen testing the build quality of Harrier in this video. Now, the Harrier is Tata's most advanced SUV. It has been built on a platform that has been derived from Jaguar Land Rover (JLR) L-550 global platform, the engine is sourced from Fiat which is world-class, the automatic transmission has been borrowed from Hyundai and the engineers at Tata Motors have incorporated various drives modes and modern interiors and features to make the flagship SUV (in its Safari from) worthy of its title. But what happens when the Indian carmaker's first car crashes into its most advanced SUV, let us find out?
You may also like: India's First Tata Harrier With Safari-Like Interior Styling – VIDEO
You may also like: Tata Harrier's Dashcam Shows SCARY Driver's POV of Contact With Truck
Tata Indica Tests Build Quality of Harrier
The video has been uploaded by Nikhil Rana who keeps coming up with such instances to raise awareness regarding the importance of safety ratings and features among Indian car buyers. This incident has been reported from somewhere in Pune where the Indica and Harrier are involved in a head-on collision. The visuals show the damage each of the cars faced. While the Indica seems quite damaged by the impact at the front bumper and bonnet, the Harrier carries a minor scratch on the bumper. This reflects how far Tata has come in terms of the build quality of its products. That is also the reason why people are buying Tata products in such large numbers.
Specs
Tata Harrier comes with a 2.0-litre diesel engine that belts out 170 PS and 350 Nm of peak power and torque respectively. The transmission duties are carried out by either a 6-speed manual or an automatic gearbox. The prices of the Harrier range between Rs 14.49 lakh and Rs 21.34 lakh, ex-showroom. There is no option of a 4×4 drive system yet. But the architecture on which the Harrier is built supports the incorporation of a 4×4 drive system at a later stage if required.
You may also like: Tata Harrier Splits Into Two in High-Speed Crash – Perils of Overspeeding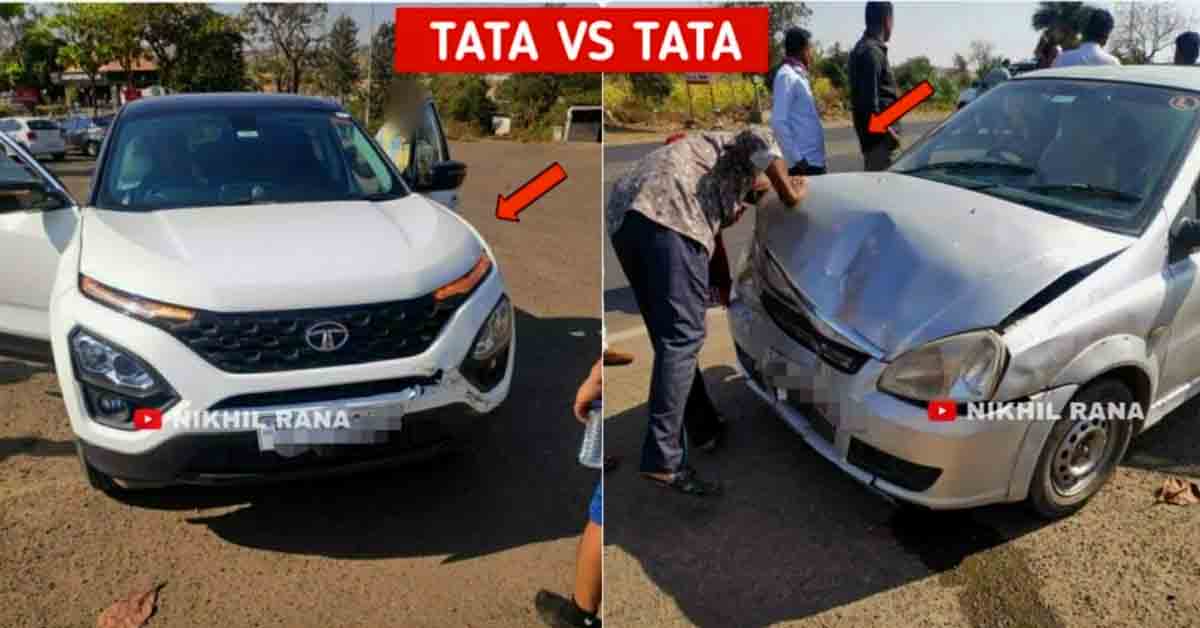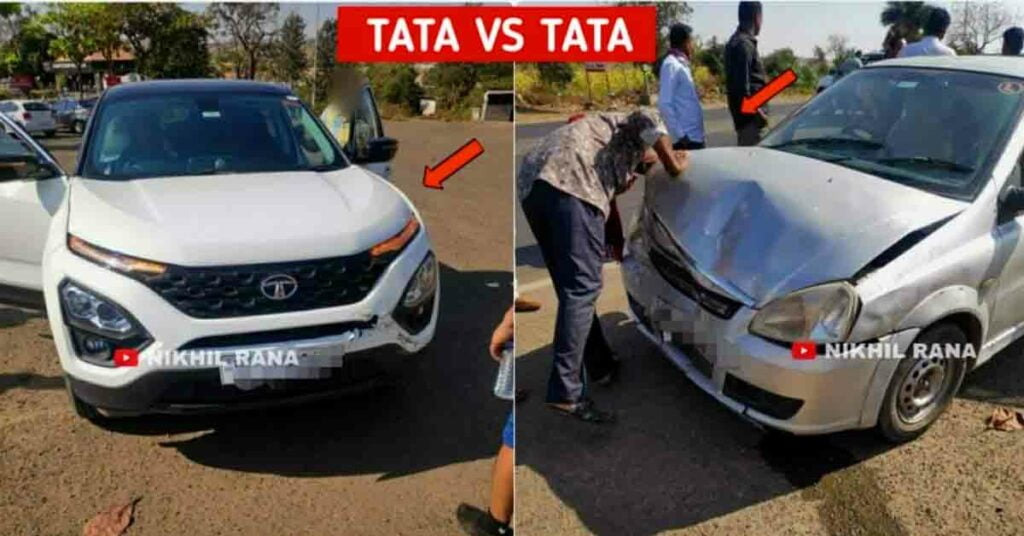 You may also like: This Tata Indica Came Powered With a 3.5L V6 Engine with a Top-Speed of 270 km/hr!
Such accidents are unfortunate and could be avoided if all of us follow traffic rules and drive safely. Also, investing in a safer car could be the difference between survival and fatality.
Join us for FREE NEWS Updates on our Whatsapp Community or our official telegram channel.