This video shows the most detailed review of the Tata Nexon EV by its owner. Nexon EV is the most popular EV in India. It has single-handedly captured over 60% of the market share. It has been performing consistently over the last many months. The only real rival is the MG ZS EV but it is significantly more expansive than the Nexon EV. We have not had many honest reviews from the EV owners until now. This is among the first occasions where an EV owner gives his detailed ownership experience and review of the vehicle. Let us find out what are the challenges and advantages of owning an EV in India directly from him.
Also read: Tata Nexon EV Only Electric Car to Have Achieved 33/Day Sales Target
Tata Nexon EV Review
The name of the Nexon EV is Manish and he takes the YouTuber on a ride in his Nexon EV who has uploaded this video on YouTube. Manish has been driving this vehicle for around 26 days and shares his experience until now. He starts by informing the YouTuber that EVs are not the future of mobility but the present. Manish drives primarily around the Delhi NCR region and the daily running is in the ballpark of around 50 km. He charges his EV at his home with a regular charger. It takes around 10 hours for the EV to get charged from around 15% to 100%. The range that he has been getting regularly is around 210 km. It costs him around Re 1 per km in terms of the running cost. This is because his commute is primarily in the city. EVs tend to give a better range in cities due to regenerative braking technology associated with electric cars. According to this, the battery keeps getting recharged when the driver steps off the accelerator pedal.
Also read: Aggrieved Tata Nexon EV Owner Highlights Unprofessional Service Experience & Range Issues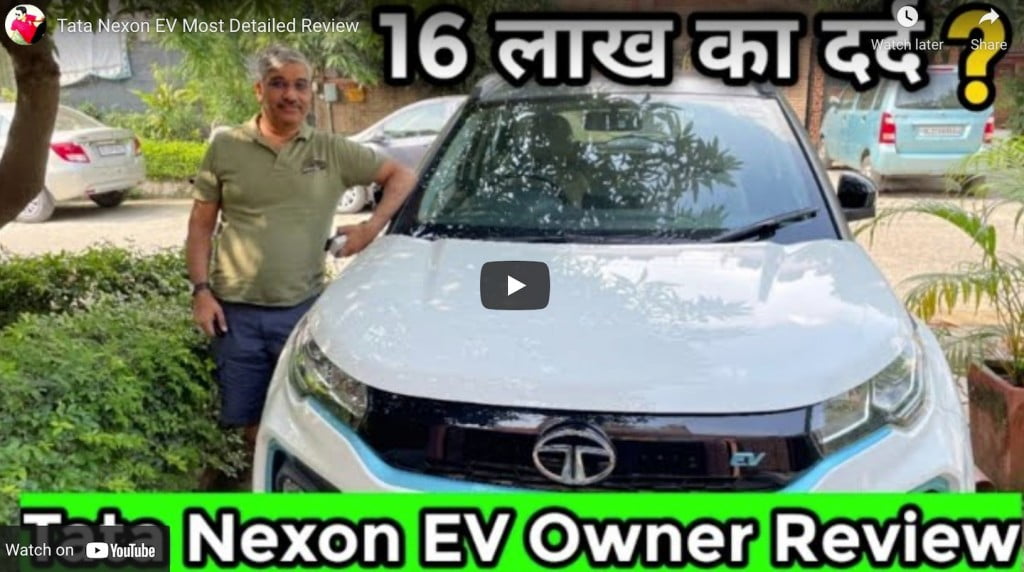 Manish mentions that some state governments are indeed very supportive of the people to promote the rapid adoption of EVs. This includes Delhi, Punjab, Gujarat, Maharashtra, etc, while some others are lagging too far behind. For instance, if you want to travel from Delhi to Ludhiana, there are multiple charging stations in Delhi, Karnal, Chandigarh, etc. However, if you wish to travel from Delhi to Lucknow, which is a popular route, you won't find much infrastructure. That is the case with most state governments who are not giving enough subsidies or incentives to encourage the general public to opt for electric cars. Hence, a bigger push is needed to ensure the rapid growth of this sector of the Indian automobile market.
Also read: Tata Nexon EV Pikes Peak Concept Is A Hill Race Monster!
Join our official telegram channel for free latest updates and follow us on Google News here.