The intense summer heat tends to get the better of AC systems of most cars and the same issue was faced by a Tata Punch owner
Every year, the summer heat at most places of the country leaves many car users wanting for a stronger AC performance. However, in most cases, there's not much that the vehicle owners do other than bearing with the heat and waiting for their car's aircon to cool down the cabin. A Tata Punch owner, though, decided to take matters in his own hands. In an interesting move, he installed a window AC in rear of the cabin of the car.
You may also like: Maruti Baleno Owner Installs Samsung LCD TV in His Car
Bluestar Window AC installed in Tata Punch
You may also like: Tata Punch Convertible is the Perfect Beach Partner
Tata Punch Installed with Bluestar Window AC
The video starts with the owner of the Tata Punch sitting in a park and talking about the summer season. He talks about how the intense heat has most car owners bothered. He then shows the the temperature of the spot where he was seated. It showed a pretty high temperature of over 41 degree Celsius. Next, he moves to his Tata Punch and resumes talking about how the intense heat has him bothered every time he gets into his vehicle. He goes on to show how the temperature inside his car takes over 20 minutes to drop by roughly 10 degree Celsius. He even shows how the dashboard top, which tends to receive the most heat, continues to be over 40 degree Celsius hot at that point.
You may also like: Tata Punch Keeps Film Actress Safe in a Freak Accident
To combat this heat, the owner comes up with a rather interesting solution. He installs a Bluestar window AC at the rear of his Tata Punch. Next, he shows how the home AC unit cools down the vehicle with supreme efficiency. He even asks others about what they think about his experiment. Clearly, the AC unit takes much lesser time to cool down the cabin. However, as can be seen, it eats up almost all of the boot space. In fact, it even eats into the rear cabin and renders a lot of space pretty useless. While effective, this solution for faster cooling is totally impractical. Not only does it take a lot of space but even puts a load on the electrical system of the car. Moreover, this is a rather dangerous modification because the occupants are exposed to a higher risk in an event of a mishap.
You may also like: 5 Reasons Why Tata Punch is India's Most Successful SUVish Hatchback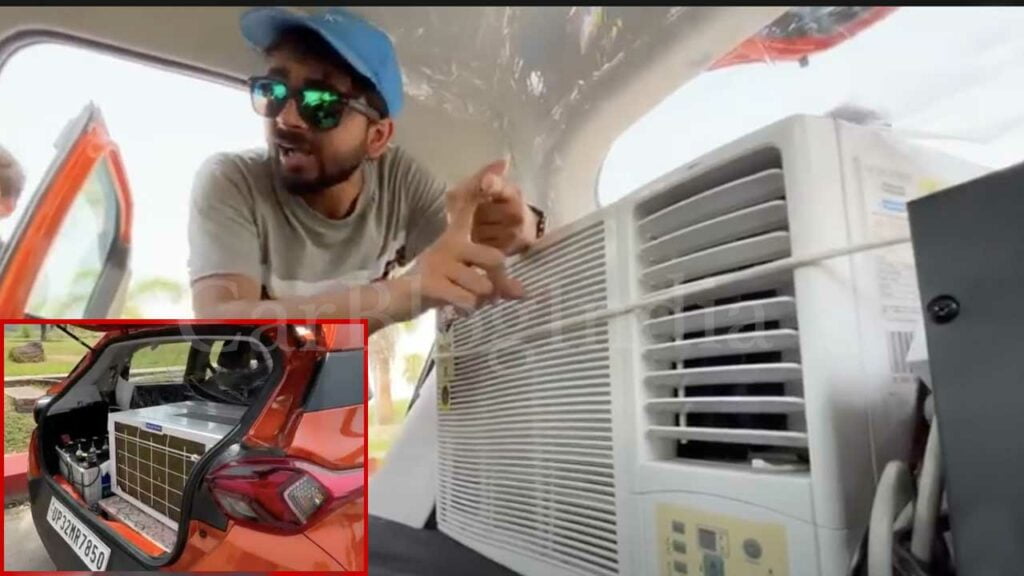 You may also like: Citroen C3 vs Tata Punch Comparison
Specs
The Tata Punch shares its 1.2-litre naturally-aspirated petrol engine with the Tiago and the Altroz. It generates a maximum power of 86 hp and a peak torque of 113 Nm. Transmission options for this SUV-inspired hatchback include a 5-speed manual and a 5-speed AMT. Prices of this model range from Rs 5.93 lakh to Rs 9.49 lakh, ex-showroom. The Punch has been awarded a full 5-star safety rating from NCAP. However, a modification like the one shown above is something that is sure to affect the safety quotient. Hence, we advise you to not follow the example above and view it merely as an interesting experiment conducted by someone.
Disclaimer- The embedded videos/ external content is/are being used as a convenience and for informational purposes only; they do not constitute an endorsement or approval by Car Blog India of any of the products, services, and /or opinions of the corporation or organization or individual. Car Blog India bears no responsibility for the accuracy, legality, and/or content of the external site or for that of subsequent external videos/ external content. Contact the external publisher for answers to questions regarding its content.
Join our official telegram channel for free latest updates and follow us on Google News here.