Not only India's, but also the world's most affordable car, Tata Nano has stopped its production completely. Now it will be only available on specific order-basis. For some time, there were various rumours about the production of Nano coming to a halt, due to its very fewer sales figures. Here we explain the reason for this. 
Recent reports suggest that Tata Motors has stopped the production of its beloved Nano hatchback. Now, the hatchback will be only available on specific order basis. The main reason for this event is because of the poor demand. The sales figure of Nano has been declining for a long time. In June, the hatchback manufactured only 1 unit compared to the last year June's figure of 275 units. During the same month, it sold only 3 units, which stood at 167 units last year June. Also, the exports of the hatchback were also very low, resulting in stopping the production of the car. Furthermore, the production cost for the hatchback had increased very much, forcing it to extend its top-spec variant up to Rs 3.36 Lakhs. However, some models started at Rs 1 Lakh.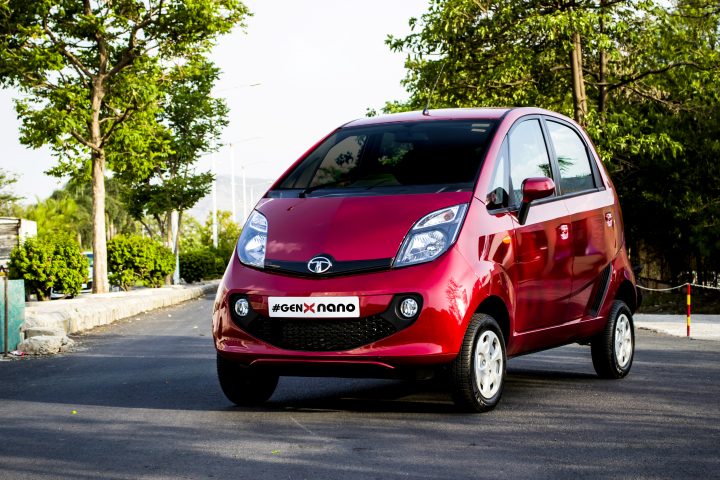 Also Read: Tata Nano Might Soon Discontinue As Sales Witness A Massive Drop
Tata Nano was launched in India in 2008 as the Rs 1 lakh car. It had an oddly-shaped tall stance with the dangling engine and no storage cabin. However, it did not make much mark because it was oddly shaped and still couldn't attract the targeted audience. Also, there were problems in its West Bengal plant and they had to shift its plant to Gujarat. As more variants rolled out, the production costs increased and it was no longer a Rs 1 Lakh car. But, as was the promise, the first few models were sold at Rs 1 Lakh. Also, in 2015 it launched the Nano GenX which was better looking and feature loaded, starting at Rs 1.99 Lakhs (ex-showroom). Now the car starts at Rs 2.36 Lakhs (ex-showroom).
Also Read: Tata Harrier (H5X) SUV – Expected Price, Launch Date, Features And Specs
Features of the hatchback include tip tap ORVM's, Front Fog Lamps, Music System with Bluetooth connection, Remote Keyless Entry, Mobile Charger and a Digital Clock. The safety features of the car include Booster assisted brakes, Impact Cushioning Crumple Zones and Side Intrusion Beams. It also gets an AMT variant on the top-spec trim. However, the lowest-spec variant does not even get Electric steering, central locking and Remote Keyless entry. The lowest variant is priced at Rs 2.36 Lakhs (ex-showroom).
Also Read: Tata Nano Electric (Jayem Neo) Price, Launch Date, Range, Specs & Features
Recently, Electric Variant of Nano was spotted testing. Tata Motors has tied up with Jayem Auto for EV versions. It will mostly run for cab services and the first 400 batches might be given to OLA for testing. Reports say that, currently, the EV will only be used for commercial use and not for private use. The expected launch date for the EV version is by end of 2018.
Join our official telegram channel for free latest updates and follow us on Google News here.