A test drive unit of Tata Nexon was recently sandwiched between two trucks on a highway near Nellore, Andhra Pradesh
It's not uncommon to come across reports of accidents of test drive cars. Often, customers who are sampling a car they wish to purchase end up in a mishap owing to rash driving and/or loss of control over vehicle. The video we have with us today, though, presents a slightly different case. A recent mishap that took place in Andhra Pradesh involved a Tata Nexon test drive vehicle that was sandwiched between two trucks. The sub-compact SUV was being driven by a showroom executive. True to its 5-star NCAP score, the most affordable SUV in the homegrown carmaker's lineup kept its occupant almost totally safe.
You may also like: What Happens When Tata Harrier and Tiago Have a 'Close Rendezvous'
You may also like: Tata Harrier Cocoons Occupants as Metal Sheet Falls on SUV
Tata Nexon Sandwiched Between Trucks
This accident recently took place on a highway near Nellore, Andhra Pradesh. As per the details shared in the video, a test drive unit of the Nexon was in the hands of an executive of a Tata Motors dealership. It's said that the vehicle was being driven under the speed limit but it was hit by a truck from behind. As a result, the sub-compact SUV rammed into a truck driving ahead of it and ended up being sandwiched between the two lorries. The severity of the impact can be estimated from the condition of the test drive unit. Its entire rear-end has been damaged beyond recognition. Even the front section of the vehicle has sustained a severe damage. The video above offers visuals of the vehicle stuck under the truck.
Its windscreen has shattered and the roof has caved in. However, at both the ends, the pillars are totally fine, thereby showcasing the structural rigidity of the Tata Nexon. The sales executive travelling in the vehicle escaped with merely a minor injury on her hand. This could have been due to the shattering of the front windshield. However, she walked out of the damaged SUV almost completely unhurt. The Nexon has time and again proven to be a highly safe car that has kept its occupants completely unhurt even in severe mishaps. The latest incident is no different and goes on to validate the 5-star NCAP score.
You may also like: Rs 80 Lakh BMW Z4 Rams into Humble Tata Tiago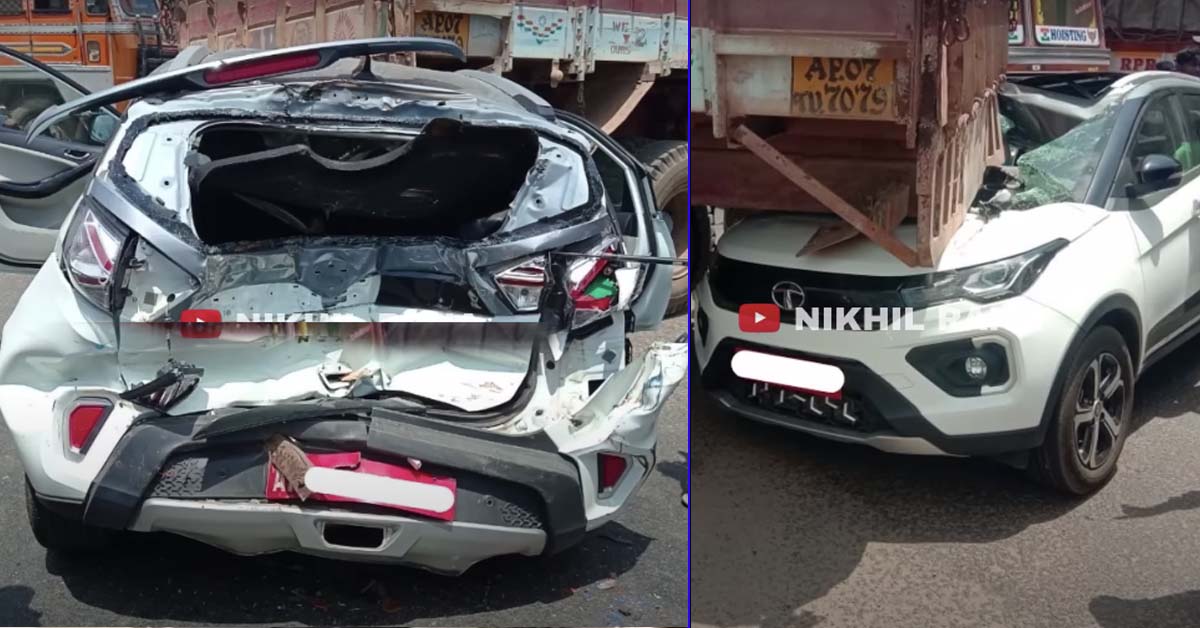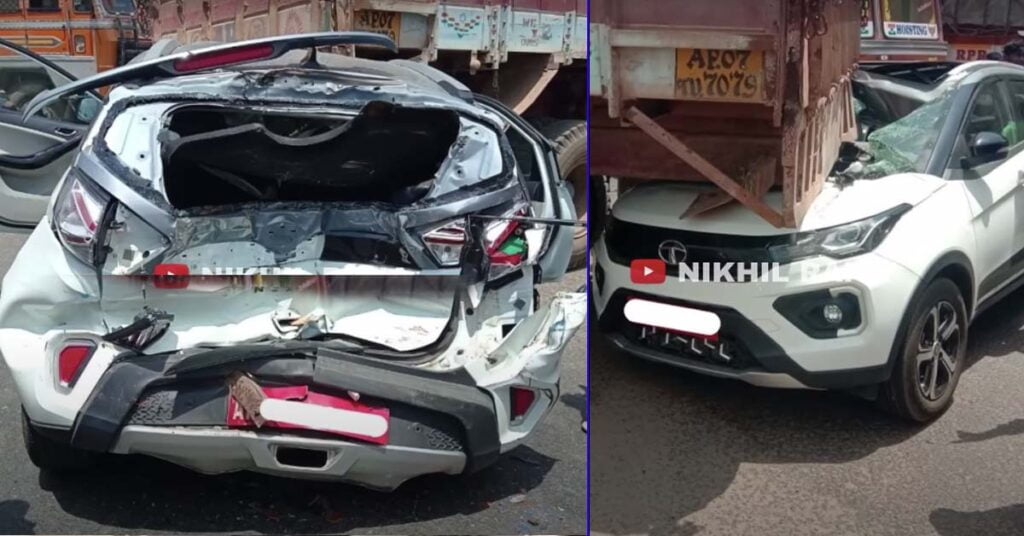 You may also like: Tata Harrier Pickup Concept Is a PROPER Xenon Replacement
We are glad that the sales executive escaped the mishap with a really minor injury. We are even happy note that the Nexon has once again shown high crash-worthiness. The high safety standard provided by the SUV is reflected by its 5-star rating by Global NCAP.
Join us for FREE NEWS Updates on our Whatsapp Community or our official telegram channel.