Toyota products are known for their low maintenance costs and reliability and this service experience of a Fortuner that has been driven for over 1,30,000 km will surely leave you pleasantly surprised.
You might think that the service cost of a big SUV like the Toyota Fortuner might be too much but this video suggests otherwise. Fortuner is one of the most popular and highest-selling full-size SUVs in our market. The sales have seen a boost after its arch-rival, the Ford Endeavour was discontinued (Ford quit manufacturing all cars in India in September 2021). After that, Toyota launched multiple special editions of the Fortuner claiming the throne to itself.
You may also like: This 3-Door 4×4 Toyota Fortuner Is Unlike Anything You've Ever Seen
You may also like: Here's How to Save Rs 24 Lakh on Rs 47 Lakh Toyota Fortuner
Service Cost of Toyota Fortuner
The YouTuber bought this Fortuner as a second-hand model which explains why this SUV has already clocked over 1,30,000 km. He takes the viewers through the entire service procedure from inside the workshop. Most of the tasks involving the service are regular that you would find with any car like AC filter change, engine oil change, etc. However, the YouTuber had mentioned certain specific issues like the handbrake being a bit soft and the clutch being a bit heavy. The mechanics fixed all these issues and assured the YouTuber that there is no need to change the clutch. This genuine advice from the service centre is pleasing to see.
You may also like: 2010 Toyota Fortuner Modified to 2022 Legender – VIDEO
The entire process went smoothly and the workers explained the things that they were doing. This ensured that the owner is always in the know of what parts are being replaced or fixed by the service centre. In the end, the service cost came out to be around Rs 15,900 which is reasonable for this SUV.
You may also like: Watch Toyota Fortuner vs Ford Endeavour in Water Race!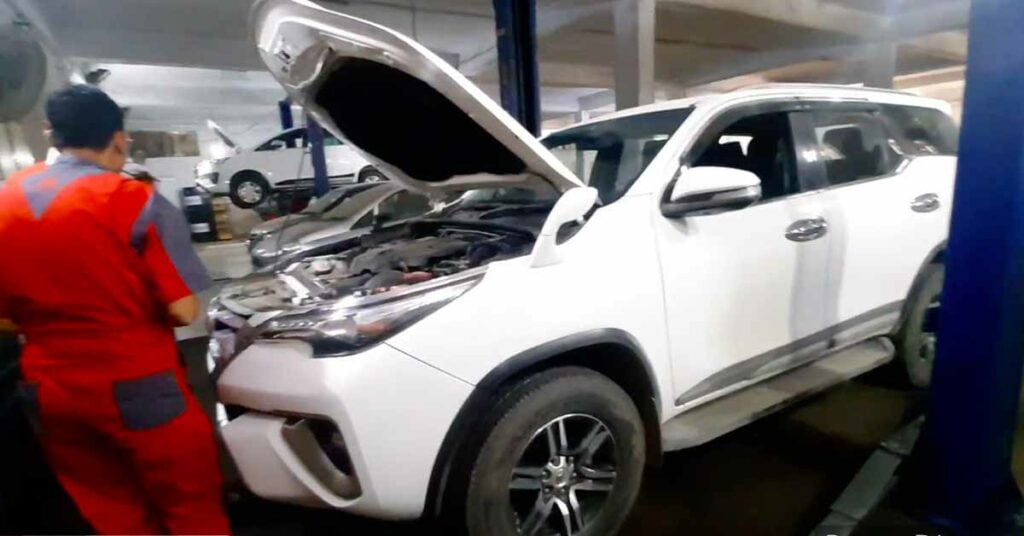 Specs
The Toyota Fortuner is powered by a 2.7-litre petrol unit (164 bhp / 245 Nm) and a 2.8-litre turbo-diesel engine (201 bhp / 420 Nm). It is paired with a 6-speed manual and automatic transmission options. With the automatic transmission, the torque produced is a massive 500 Nm with the diesel mill. There is plenty of off-roading equipment on offer to make it immensely capable in terrains without tarmac roads. The prices of the Fortuner range from Rs 31.79 lakh to Rs 48.43 lakh, ex-showroom.
Join our official telegram channel for free latest updates and follow us on Google News here.