It isn't every day that one gets to witness two of the biggest celebrities in India riding a humble Suzuki Access 125 unless it is an advertisement.
Virat Kohli and Anushka Sharma were recently spotted riding a Suzuki Access 125 scooter in Mumbai. Now, both these celebrities need no introduction. In fact, automobile enthusiasts are envious of the car collection of each of them. Virat has been a brand ambassador for Audi for a long time now and has some of the most expensive cars in the world. Therefore, to see them on a scooty is quite refreshing and interesting. But even they became victims of the massive potholes on Indian roads.
You may also like: WATCH Honda Activa vs Suzuki Access 125 In A Tug of War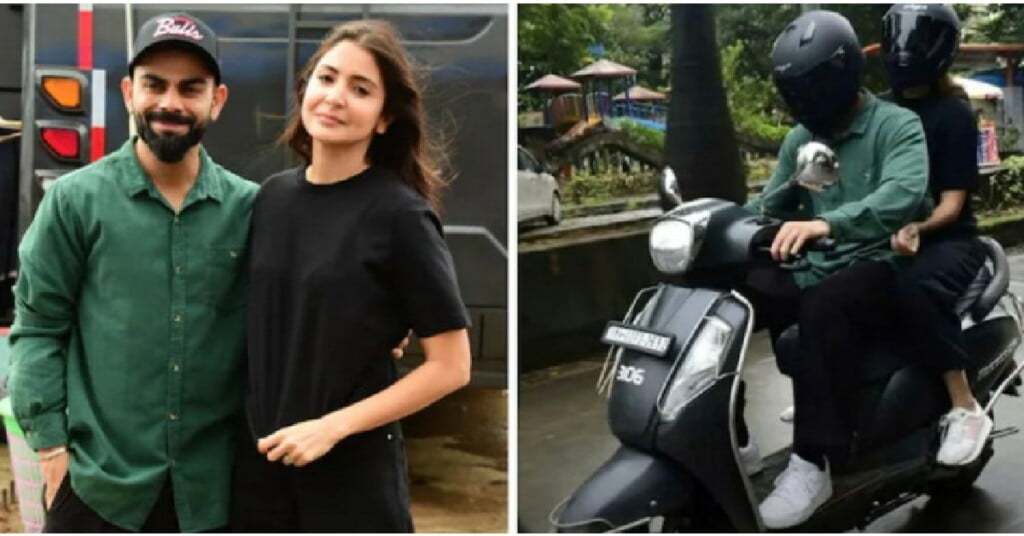 You may also like: Watch Ekta Kapoor's Reaction To Smriti Irani Riding Honda Activa to Work
Virat & Anushka Ride A Suzuki Access
As per some reports, it was during an ad shoot that these two got together. Many details are not available. But they decided to slip out for a ride out of the shooting location in Madh Island. But it is impossible for them to go out as themselves as people will mob them for selfies. Aiming to prevent the crowds, they wore helmets with black visors allowing them to stay unnoticed even in a dense crowd. However, they were found by some people who took to social media expressing their opinions about the celebs also being unable to escape the poor road conditions of Mumbai.
You may also like: 400cc Diesel Bajaj Chetak Scooter Offers 80 Kmpl
Specs
The Suzuki Access 125 is one of the most popular scooters in the country. Its automatic transmission is a boon for the people living in cities. One can easily manoeuvre it around the city without having to work the gears which is the main reason for its popularity. It comes with a 125-cc fuel-injected engine that produces 8.7 PS and 10 Nm of peak power and torque. The transmission duties are carried by a CVT automatic. It costs Rs 77,600, ex-showroom.
You may also like: Police 'Airlifts' Honda Activa and Its Rider from No Parking Zone
We really appreciate the big celebs taking such common means of transport at times. It reflects the humble side of this power couple. It may just be because of an ad commercial but they actually went out to the city just to spend some quality time while having fun. That is the reason why Virushka (as they are popularly known) is a cool power couple that a ton of people love and adore. However, we sincerely hope that the road conditions in our country improve which would also enhance the safety aspects.