YouTube vloggers have a tendency to make prank videos and this particular one is something we would cherish a lot.
A famous YouTuber offered her BMW X7 as Uber and Ola to capture people's reactions. This video was shot in and around Delhi where the popular vlogger resides. She has a BMW X7 and in a bid to post some unique and interesting content, she collaborated with an actual Uber/Ola driver and took his rides. The aim is the surprise people and then actually transport them to their destinations in the premium luxury SUV.
You may also like: BMW X6 Owner Dumps His Rs 1.3 Crore SUV into River
You may also like: Mahindra XUV700 Gives BMW X5 Run for Its Money in Drag Race
Vlogger Uses BMW X7 As Uber – Watch Public Reaction
For the first ride, she picked up a woman who was not able to believe what was going on. The YouTuber had to get out of the BMW to explain the situation and convince her to take the ride. During the ride, the customer expresses that this is something that has never happened to her. After chatting for a while, though, she got comfortable and understood that the nature of this prank is purely entertaining. There were a few rides that were cancelled too. For the second ride, she received 4 friends who didn't hesitate much and boarded the BMW. Nevertheless, both the riders in the video are visibly happy and pleasantly surprised by the prank.
You may also like: Imran Khan Takes Away Official BMW X5 On Losing PM-ship
BMW X7
The luxury SUV comes with a 3.0-litre 6-cylinder diesel engine that outputs 265 hp and 620 Nm and a 3.0-litre 6-cylinder petrol mill that produces 340 hp and 450 Nm of peak power and torque. Both these engines come mated to an 8-speed automatic transmission. The diesel variant achieves a 0-100 km/h acceleration in 7 secs, while the petrol mill does it in 6.1 secs. The power is sent to all four wheels via BMW's xDrive system. Both these versions of the X7 cost around Rs 1.20 Crore, ex-showroom.
You may also like: BharatPe Lures TCS Employees with BMW Bikes, Latter Fights Back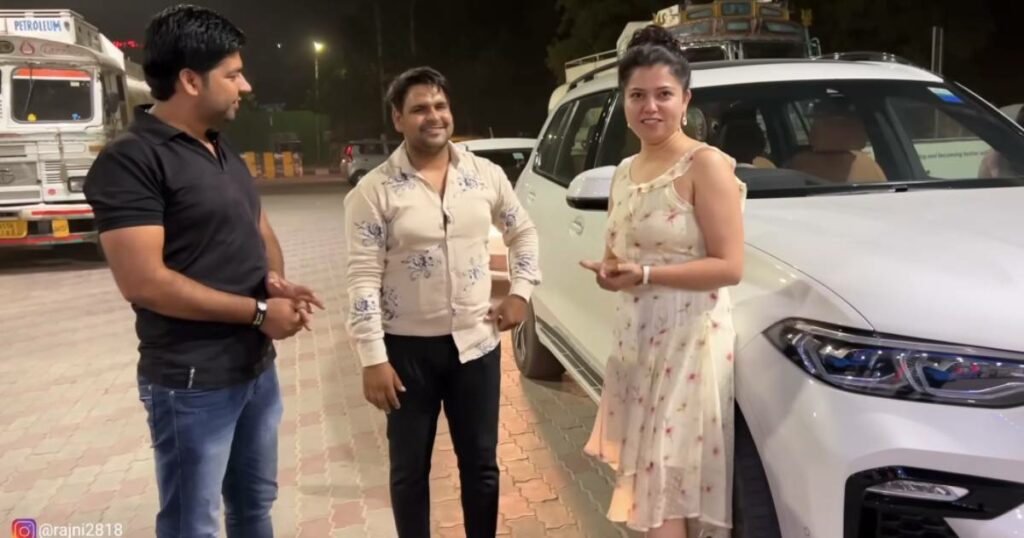 This video of the famous vlogger offering her BMW X7 as an Uber and Ola garnered quite a positive reaction from the unsuspecting customers. We also noted that the women felt more comfortable with a woman driver which could be an interesting observation and the way ahead to generate employment promote women drivers.
Join our official telegram channel for free latest updates and follow us on Google News here.