People are beginning to venture on incomprehensible journeys on electric scooters breaking away from the issues attached to electric vehicles.
In some unbelievable news, a vlogger travelled from Kanyakumari in Tamil Nadu to Khardung La in Leh on a Bounce Infinity E1 electric scooter. This comes as a total contradiction to the established image of EVs that they are unreliable and the charging infrastructure is an issue to undertake long journeys. Although, this was an effort of a team which carried spare batteries on the ride and kept swapping them when the electric scooter run out of juice.
You may also like: Ola S1 Pro Undergoes Water Crossing Test- Will It Survive?
You may also like: Owner of 2 Ola S1 Pro Scooters Shares Pros & Cons
Vlogger Travels From Kanyakumari to Ladakh
Bounce Infinity electric scooter has a real-world range of around 55 km in the most sporty Power Mode (65 km in Eco Mode). In this mode, the EV has a top speed of 65 km/h. The length of this marathon trip was around 4,400 km. The vlogger was able to complete this trip in just 19 days. Needless to say, he encountered massively varied terrains, weather conditions, elevations and other factors as he crisscrossed through 11 states. In total, the team swapped the batteries 83 times. They carried 6 batteries in the escort car.
You may also like: Electric Scooters Being Carried on Petrol Bikes Shows Grim Reality of EVs
These are 2 kWh Lithium-Ion batteries. The team ensured that the batteries are charged during the night wherever they stayed. During the day, the team would simply swap the battery that was used up and installed a new one. This might sound simple, but there are a lot of uncertainties involved, especially because you are on the road and can't predict everything. Nevertheless, the team managed to travel from Tamil Nadu to Ladakh on an electric scooter with swappable batteries. This is submitted to the India Book of Records.
You may also like: Can Ola S1 Pro Tow 1175 kg VW Vento? – Watch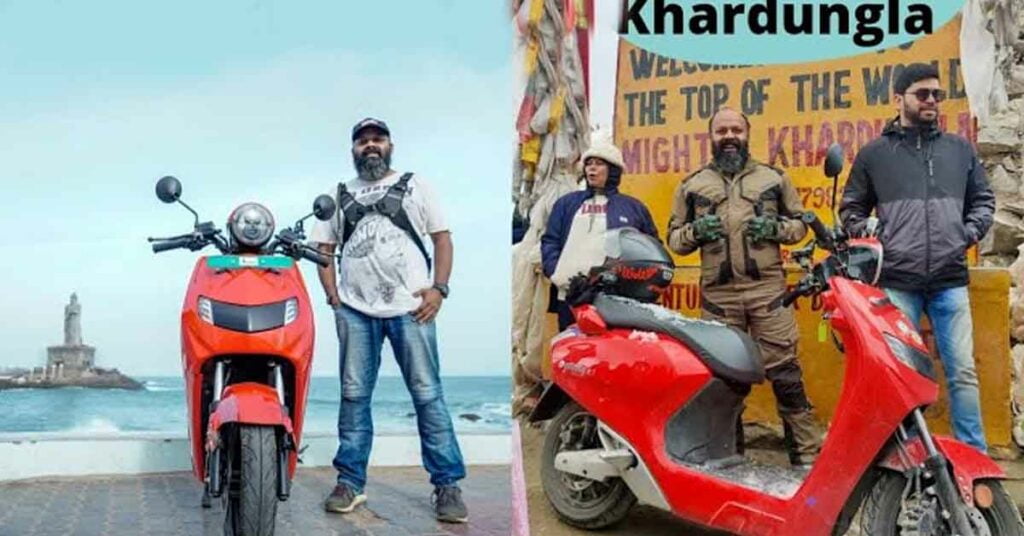 Bounce Infinity E1
The Bounce Infinity E1 retails from Rs 60,000 to Rs 80,000 depending on the state subsidies and taxes. More than 1,200 units of the electric scooter have been registered across the country. Bounce aims to acquire 35 lakh swappable batteries in the network by 2025 in order to promote such kinds of journeys and rid the customers of range anxiety. By the end of this year, Bounce targets to introduce 3 new models to its existing lineup offering the customers more options in the EV space. Do share your thoughts about this incredible feat on an electric scooter.
Join our official telegram channel for free latest updates and follow us on Google News here.