The electric Ola S1 Pro scooter is famous for its incredulous performance in the Sport and Hyper modes but wait until you see what it can do in the normal mode.
The question posed by this video is whether or not the Ola S1 Pro electric scooter can tow the 1175 kg, VW Vento. While this might seem like an unthinkable task at first glance, the YouTuber warms up the S1 Pro by trying to pull the Royal Enfield Bullet first. We all know that instant torque delivery is a typical characteristic of EVs. Also, they produce way higher torque than regular motorcycles. For instance, this Ola S1 Pro produces 58 Nm of maximum torque which is also what our beloved Maruti 800 used to produce. Hence, trying to pull a Vento might not be that illogical after all.
You may also like: Side Stand of Ola S1 Pro Breaks Off; Repair Takes 3 Days
You may also like: Want to Win Ola S1 Pro Gerua Edition? Here's What to do
Can Ola S1 Pro Tow VW Vento?
In the beginning, the YouTuber ties a rope to the Bullet and his electric scooter. He puts the S1 Pro in Normal mode to see the response. Once the event began, it was able to pull the 195 kg bike + 95 kg person effortlessly. There was even a patch of an uphill slope but the need for engaging the Sport or Hyper mode never arose. For the second attempt, the YouTuber brought a VW Vento which weighs around 1175 kg. Needless to say, the odds were not in favour of the S1 Pro and the rider decided to start with Normal Mode yet again. He was sure that this task would require the Sport or Hyper Mode.
You may also like: Indian Army Goes on Himalayan expedition with Ola S1 Pro
However, to the utter surprise of everyone, the electric scooter began moving forward from a standstill in Normal Mode itself. Everyone thought that it might struggle when the lope increases but that was not to be. The electric scooter continued to pull the Vento sedan all the way through even reaching speeds up to 18 km/h. This is a testament to what EVs are capable of. Surely, there are some issues with the EVs like range anxiety and battery safety. But the fact that these have incredible performance can't be denied.
You may also like: Honda Activa User Books Ola S1 Pro, Cancels It- Read Why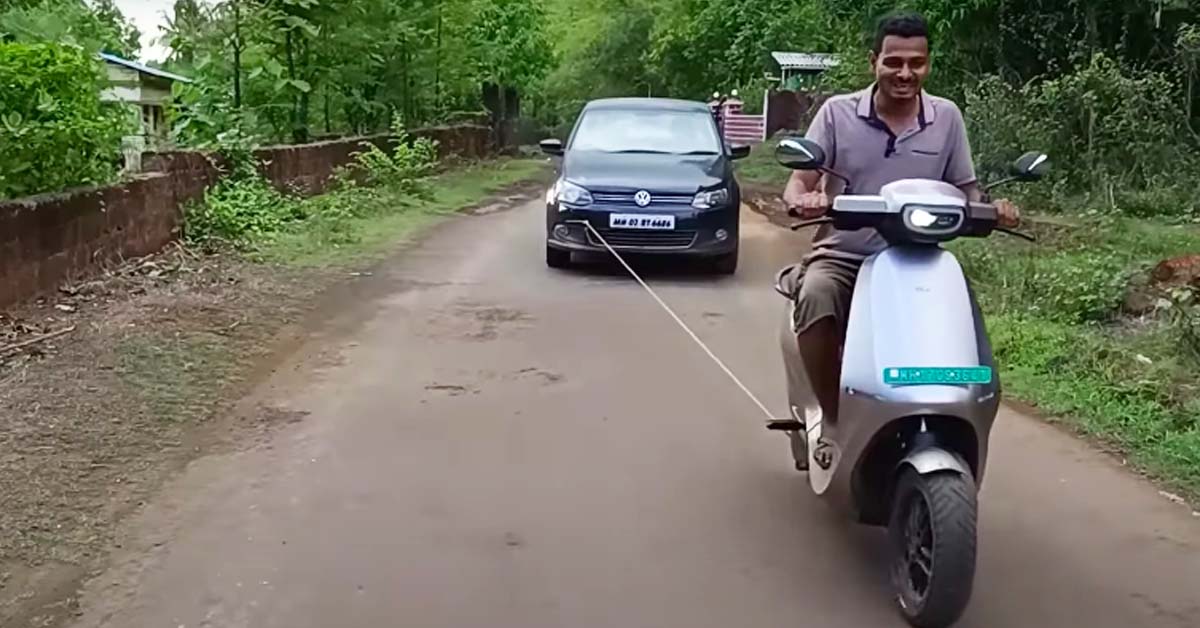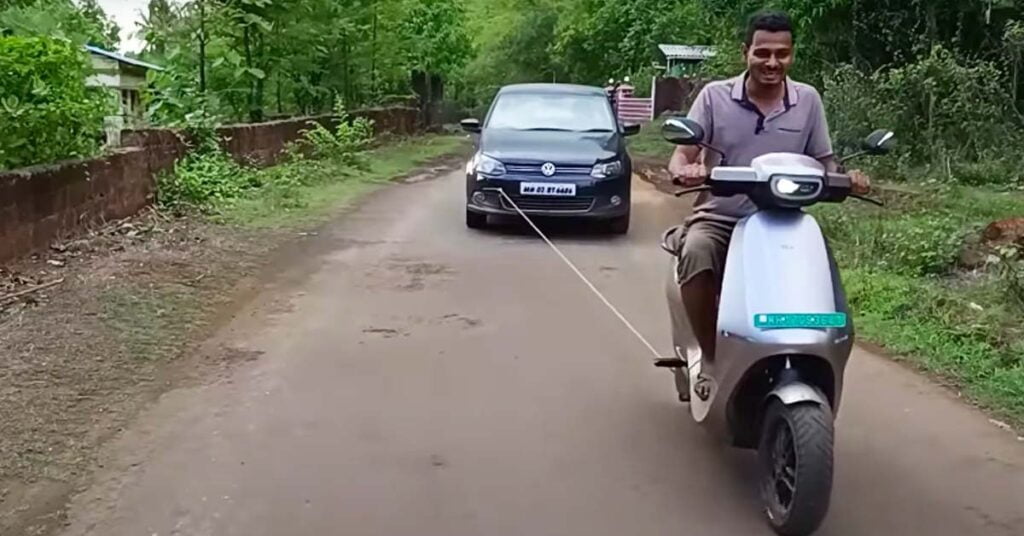 In the end, we would like to warn our readers to not try to attempt anything of this sort on your own. As a matter of fact, the YouTuber gives a disclaimer at the beginning of the video as well. They are YouTubers and have to do these stunts for content. They take precautions which may not be visible on camera. But you must not try to imitate them.