A decommissioned Navy ship is being transported to the Port Museum. The huge ship is loaded onto the massive 106-wheeled multi-axle trailer.
Decommissioned military equipment is often donated to museums and schools to motivate the young generation. However, transferring most tanks and ships is not an easy task. A couple of years ago, a navy warship was spotted being transported on a truck. Passing through a Keral village, it was captured on mobile cameras by many onlookers. The massive Fast Attack Craft (I N FAC) T-81 ship being carried the equally massive 106-wheeled multi-axle Volvo trailer was certainly a sight to behold.
You May Also Like: India's Largest Truck Has 452 Tires, 4 Engines – Video
Headed to Port Museum
Under Alappuzha Heritage Project, the Fast Attack Craft (I N FAC) T-81 ship was allotted to the Port Museum. The massive ship was transported totally by road. For this Herculean task, a Volvo FM 400 was put into duty. Powering the truck is a huge 12.8-liter D13A turbocharged diesel engine that outputs 400 bhp of max power and a peak torque of 2,000 Nm. On reaching the destination, the Navy ship was put on display at the Port Museum's seaside front.
"The plan was to begin the journey on Thursday. The craft has already been mounted on the trailer. As it is a heavy load, we do not want to take any chances. Some additional welding works are being done to ensure that the vessel is fitting tightly on the trailer. The trailer carrying the craft will start moving on Friday morning. If things go as planned, it will reach its final destination by Saturday," said P.M. Noushad, managing director, Muziris Spice Route Heritage Project.
Crew Walks Alongside Slow-Moving Truck
In terms of planning, this transfer was a huge project. The truck reached Kerala from Mumbai in 8 months. The 106-wheeled vehicle moved at such a slow speed, the crew members walked alongside the truck to keep an eye on everything. To further increase safety, the 60-tonne vessel was welded to a platform. The project manager was always ready for all kinds of challenges on the way. These included managing electric lines. They coordinated with electrical companies to disconnect electrical lines on the way.
You may also like: Truck Carrying Train Engine Caught Overspeeding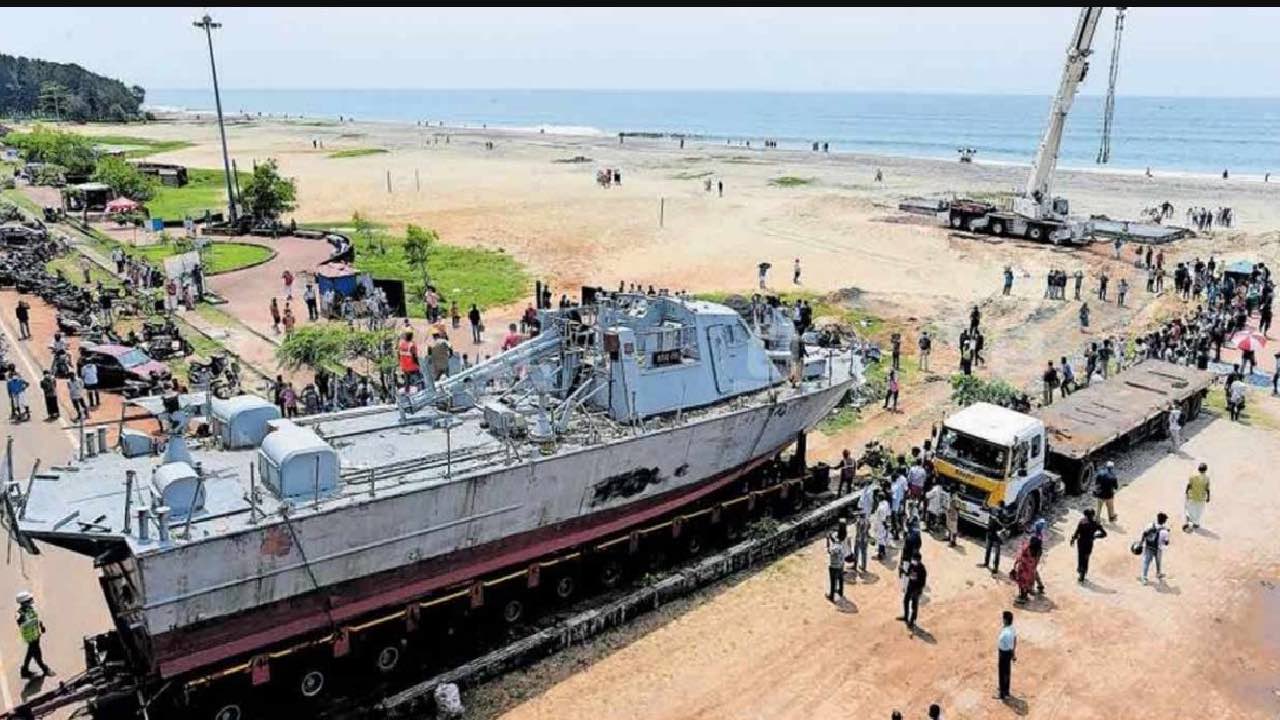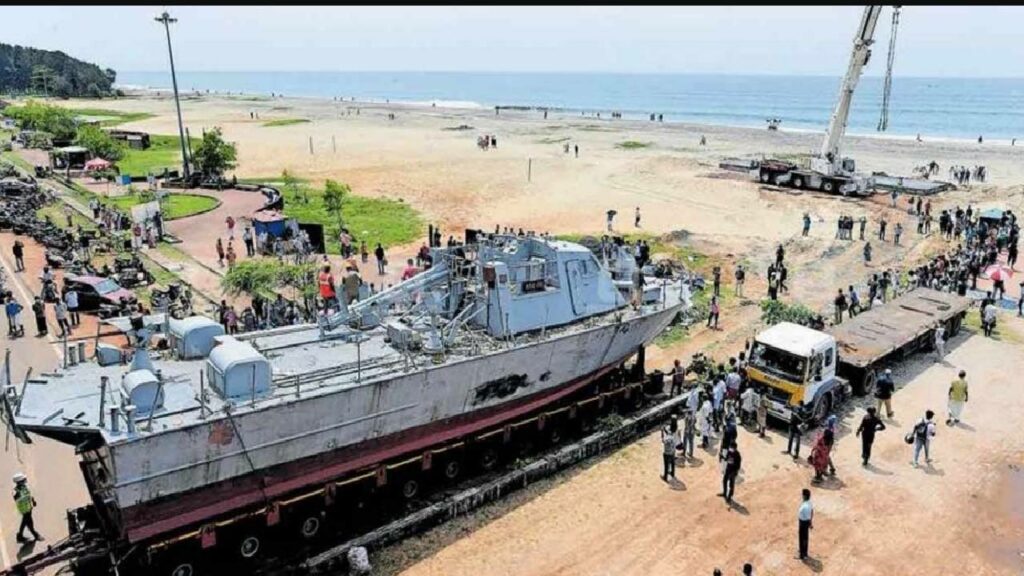 You may also like: Video Captures Truck with 320 Tyres Carrying Industry Equipment
Fast Attack Craft (I N FAC) T-81 Ships
The Fast Attack Craft (I N FAC) T-81 was commissioned to the Indian Navy in June 1999. It has a range of 600 nautical miles (approx 1110 km) and a top speed of 45 knots (85 kmph). The massive ship measures 25 meters in length and weighs 60 tonnes. It is fitted with OERLIKON 20 mm gun with a Typhoon system. The state-of-the-art ship features a hydrodynamic design that allows it to swim in shallow waters as well. It is said to have served on surveillance duties, rescue operations, and more. high-speed interception of small craft. The FAC T-81 was decommissioned on 28th January 2021 and allotted to the museum in September.
You may also like: 250 ft Long Truck Requires 2 Drivers at All Times!
Join us for FREE NEWS Updates on our Whatsapp Community or our official telegram channel.