Holi festival warrants some unique and hilarious incidents while people are engulfed in the spirit of the festivities. Here is one such example that could've turned dangerous.
In a bizarre incident in Uttar Pradesh, an auto overturns after a person threw a Holi balloon on it. The festival vibe brings with it some inexplicable actions by people. This is a prime example of such a scenario. On the occasion of Holi, it is a common sight to see people throwing colours at each other, as well as water in the form of balloons. People go out on the streets in groups and enjoy using such practices. No one seems to be bothered by it under the banner of the festival. However, things could turn perilous quite quickly.
You may also like: Actor Shanaya Kapoor Buys The Latest Audi Q7
You may also like: Maruti Suzuki Genuine Accessories Now Available Online at 100+ Cities
Auto Overturns After Getting Hit By Holi Balloon
The short video clip has been uploaded on YouTube by NDTV. It shows a highway where people are playing Holi. They are ready to take aim at anyone who is crossing the road with water-filled balloons. Just then, an auto crossed by and they take a shot at the auto-rickshaw. However, the driver of the auto was taken by surprise and lost control. The auto full of people is seen overturning immediately afterwards. The video captures the auto toppling a mere 100 m away. The guilty party is seen concerned and not approaching the auto directly. Fearing the consequences, they pick up their stuff and enter the premises from where the recording is being made.
Bystanders are seen gathering around the auto and helping people out. There are no details or reports on how many of these suffered injuries. However, in the video, it looks like people might have been lucky and escaped unscathed. This could have been a lot worse. We would like to urge our readers to be cautious of such acts of stupidity. Irrespective of what occasion it is, road safety must never be compromised. There are a ton of road accidents that happen every year in India due to preventable causes. We must ensure that we are not a part of the problem and discourage others from doing so too.
You may also like: How About a Homemade Self-Balancing One-Wheeled Yamaha FZ EV?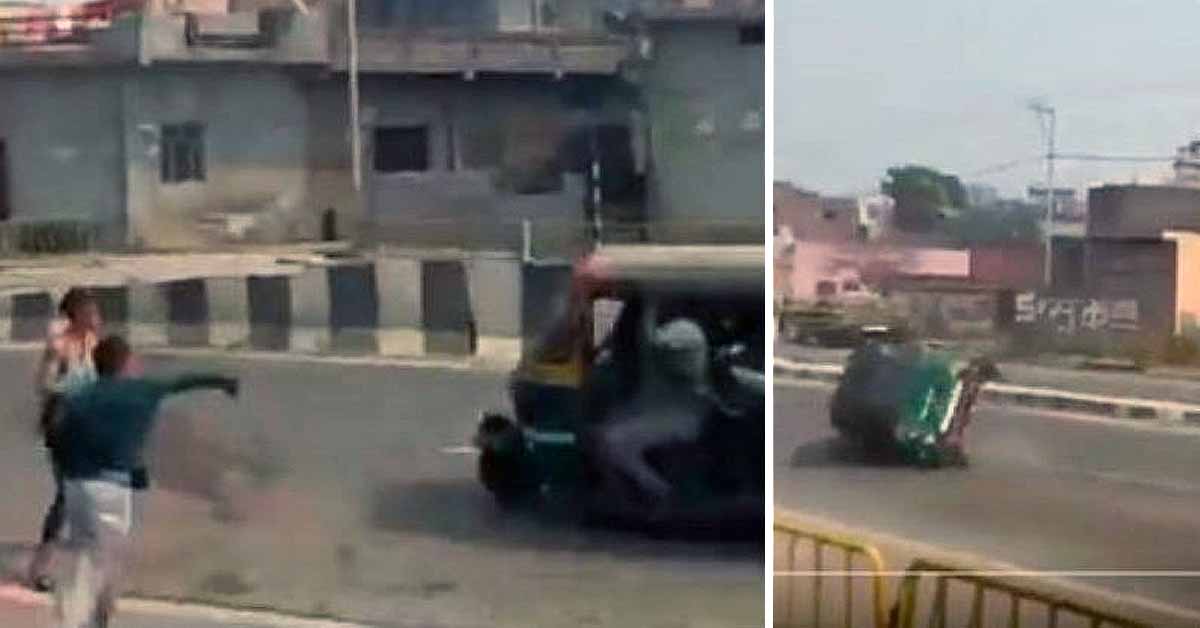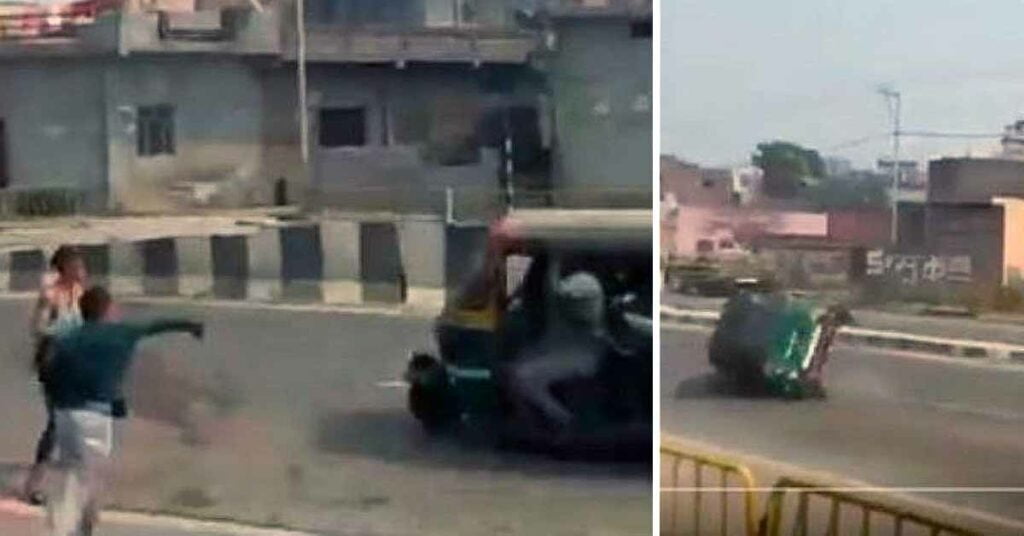 In inference, we would like to ask our readers to enjoy and celebrate special occasions in a responsible manner. The safety of you and your loved ones must always be beyond compromise.
Join us for FREE NEWS Updates on our Whatsapp Community or our official telegram channel.