India Yamaha Motor continued to show an upward trend in the sales for the month of February 2012 by registering a growth of 23% in its overall sales as compared to February 2011. In the domestic market, the company clocked sales of 27,050 units in February 2012 vs. 23,384 units in the same month last year, registering a 15.7% growth. The export figures stood at 13,605 units in February 2012 while 9,662 motorcycles were exported in February 2011. The overall sales recorded were 40,655 units in February 2012 vs. 33,046 units in February 2011.
The major drivers for the sales of Yamaha India were the new Yamaha R15 Versions 2.0 and the stylish FZ and SZ series which start out in terms of quality and design when compares to the competing bikes in their respective segment. The USP of Yamaha bikes in India is their build quality, style and refined engine and handling characteristics. Though Yamaha bikes may not the the most affordable bikes or most powerful bikes in the price segment, but they come with a quality and style quotient which is much better compared to the nearest competitors.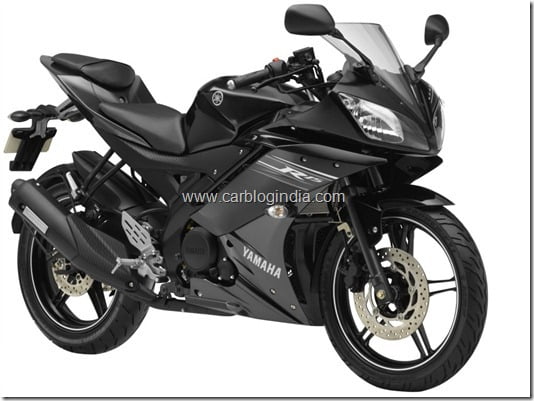 image – Yamaha R15 Version 2.0
Speaking on the results, Mr. Roy Kurian, National Business Head, India Yamaha Motor Pvt. Ltd., said,
"We are very pleased with the sales growth that we've witnessed in the past month on account of our strong product portfolio and high customer confidence in us. Our accolade models such as the YZF-R15, FZ series and SZ series have been very well accepted. We are also planning to implement our Best 3S (Sales, Service & Spares) set up in tier-2 & tier-3 cities and increase sub-dealers in the rural areas as well to further boost our sales."
Yamaha recently received two prestigious awards – the "Variant of the Year – Bike" for the YZF-R15 by Car India & Bike India Awards 2012 and the "Two-Wheeler Manufacturer of the Year" by NDTV Car & Bike Awards 2012.
check out more-
More Related News