Czech carmaker Skoda has had a rocky ride in India, while people have loved products like the Octavia, Laura, Rapid and the Superb other products like the Fabia and Yeti have not raked in the moolah for the company. The carmaker is notorious for its bad aftersales servicing and that really takes away the shine from their well-engineered prodcuts. Apart from that Skoda India has not launched a new product in a long time too. All that is set to change, Skoda is expanding its dealership network and working on improving customer experience and it will also be launching a slew of products in the near future. one of them will be the new Skoda Octavia, the other is the 2014 Skoda Superb.
The Skoda Superb has been known for being a car with a perfect blend of comfort, performance and value for money. The 2014 Skoda Superb promises to be better than the current car, the good news being that it has been spotted testing in India, which implies that its launch is not very far away.
What's new?
The 2014 Skoda Superb spied testing was devoid of any camouflage, the car has been revealed internationally and there was not much the company could hide anyway.  Design wise the 2014 Skoda Superb is actually an evolution over the current car, Skoda wanted the new car to be easily recognised. The new car will have a completely revamped set of headlights with integrated daytime running lights, a new family grille with Skoda's new corporate logo, and a touched up front bumper.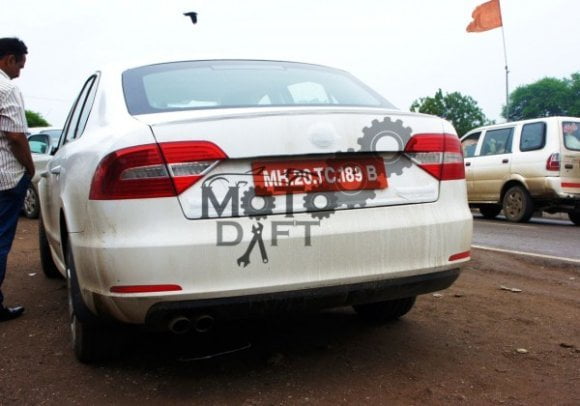 Move to the sides and there is no difference betwenn the current car and the upcoming car at all, the silhouette is the same and the body panels look the same too. The changes at the rear are more apparent, the slightly looking tail-lamps on the current car get replaced by smart LED equipped ones in the new car. The number plate housing has been shifted from the bumper on to the bootlid. The rear looks less fussy now because of these design changes.
Get in the car and you will notice that the 2014 Skoda Superb gets a new four-spoke steering wheel with the company's new logo. Internationally, there are 9 different designs of the steering wheel itself on offer. While the basic design of the dashboard is retained, the color combinations have been altered for a more premium feel.
Skoda India could retain the current engine lineup of a 1.8-liter TSI petrol and a 2.0-liter TDI diesel.  The focus right now is on launching the all-new Octavia, which should happen in the coming weeks. Skoda is expect to launch the Superb at the Indian Auto Expo in February 2014.
2009 Skoda Superb vs. 2014 Skoda Superb