We are getting closer and closer towards the coveted launch of the 2015 BMW M3 saloon here in India which could take place in few months time. As of now there is no official date so as to when the company will finally take off the wraps off M3 in India but Mr. Philip von Sahr, president of BMW India, said at a recent press meet that 2014 "would be the year of the 'M' models." Currently the company offers only two models with the in-house sports badge – the BMW M6 Gran Coupe and the BMW M5 Sedan – and is learned that the BMW M4 would also be introduced in a short while. BMW India had earlier said that these high performance models will be brought to customer experience centers to be driven by prospective customers, and kindle interest ahead of their introductions. Clearly BMW wants to catch up with its other German rivals ergo Mercedes-Benz and Audi.
Expected Price
Prices for the saloon start at GBP 56,175, which is Rs. 55.44 Lakh when directly converted. The company hasn't revealed the Indian market price for the M3, but we expect it to retail above to Rs. 1 Crore when launched.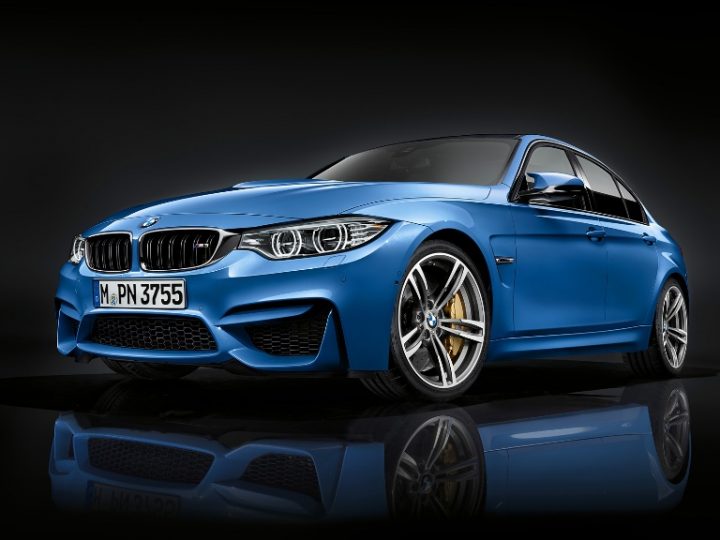 Even at a glance, it's clear that the BMW M3 Saloon has been built for maximum performance. The striking large air inlets and the sporty LED headlights adds to the car's iconic design. The car's motorsport origins are then made perfectly clear by the black double slats on the kidney grille, complete with the distinctive M emblem. Its black carbon roof gives the vehicle a low-slung look, reduces its overall weight and lowers its centre of gravity – for even sportier driving.

Though it's lost a pair of cylinders from the previous versions (which we Indians haven't seen), this is the most powerful M3 in history. It pack a 3.0-litre straight six with a pair of mono-scroll blowers (aka Twin-turbos), breathing 431 BHP and producing a whopping 550Nm of torque. The 2010 BMW M3 had a naturally aspirated V8 which produced 414 BHP and 400 Nm of torque. Hit the gas pedal hard on a straight stretch and the 2015 M3 will do 0-100 KMPH in 4.3 seconds (4.1s with the DCT 'box) and go on up to an electronically restricted top speed of 250 KMPH. Even fuel-consumption and emissions are down by 25 per cent, giving 11.3 KMPL and releasing 204 g/km of CO2.
The new M seats with their shell shape and illuminated M logos offer perfect ergonomics and side stability. This, combined with the high-quality aluminium surfaces, creates an ambience of sportiness and technological progress that's sure to get every driver's pulse racing. M seats deliver perfect ergonomics and body support during dynamic driving. Several features contribute to M seats' motor sport character: contoured sides, integrated headrests and pronounced raised elements in the backrest and seat, as well as seat-width adjustment and lumbar support.
For this performance saloon lightweight construction has been the highest priority. Ultra-light materials like magnesium, aluminium and CFRP (carbon-fibre-reinforced plastic) are used in many components. This has restricted the kerb weight tot just under 1600 Kg mark. The lightweight construction also allows for greater agility, and improves acceleration and braking. Adaptive suspension which is another highlight of this beauty, constantly adjusts to road conditions and driving style with electronically controlled shock absorbers. This guarantees optimal road contact, the best possible traction and even more agile handling. The suspension settings can be adjusted from comfortable to sporty-dynamic via the Comfort, Sport and Sport+ modes.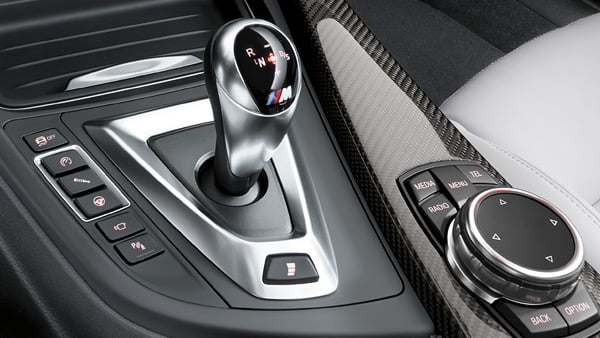 The M Double Clutch Transmission is an innovative seven-speed system, specially designed for the BMW M high-revving engines. The system boasts a traction-optimised automatic gear selection, Launch Control, Low-speed Assistant and Auto Start-Stop. This technology makes it possible to change gears extremely quickly without an interruption in tractive force. Two sub-transmissions, each with its own clutch, continuously relay the power of the engine to the rear wheels. Drivelogic can be controlled automatically (D mode) or manually (S mode), and in each mode three shifting options are available: extremely sporty, comfortable or efficient. Auto Start-Stop switches the engine off when the vehicle comes to a temporary standstill (e.g. at traffic lights or in a traffic jam) to reduce fuel consumption. When the driver presses down on the clutch (manual transmission) or takes their foot off the brake (M DCT Drivelogic), the engine automatically starts up again in a fraction of a second.
A key feature of the BMW M3 Saloon driving experience is the braking system. With their unbeatable precision, the Carbon Ceramic brakes and the M compound brakes ensure unrivalled dynamics and performance. In its endeavour to bring to its customer a true motorsports feeling, the brakes are picked up right from the race tracks.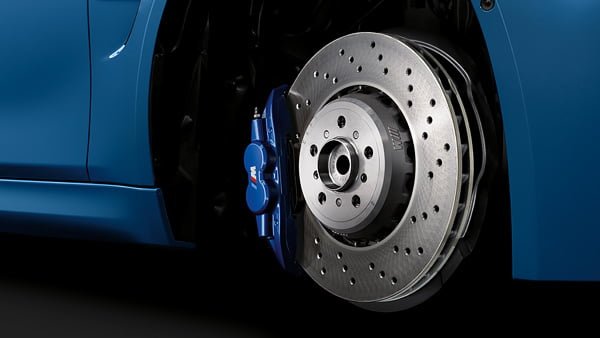 Some of the other features include:
Active and passive safety
Comfort Access
Adaptive LED headlights
M driver orientation
Park assist
iDrive touch controller
M Heads-up display
Dynamic safety
Real time traffic information
BMW M Laptimer app
BMW Emergency call
BMW has finished the homologation of the M3 in India, and it is expected to be launched here soon. The iconic sports sedan is sure to make auto-enthusiasts in India go nuts.
And we'll be keeping a close eye on it,  untill then do let us know what you think of this drift-king!