Some parents think that it is an impressive feat that their under-aged children are able to drive cars.
But it couldn't be further from the truth.
Kids driving cars is not just dangerous for them but also for others on the road.
Here is a video clip of an around 10-year-old child driving the mighty Toyota Fortuner. Unfortunately, such incidents are rather common in our country. People take pride in handing over cars to their ineligible children jeopardizing the safety and health of everyone around. Needless to say, it is a criminal offence. But people take it in a completely different context. They are in a race to establish their children are better than others and can do things that no one else can.
You may also like: Little Kid Driving The Huge MG Gloster on Public Road is as Stupid as it's Scary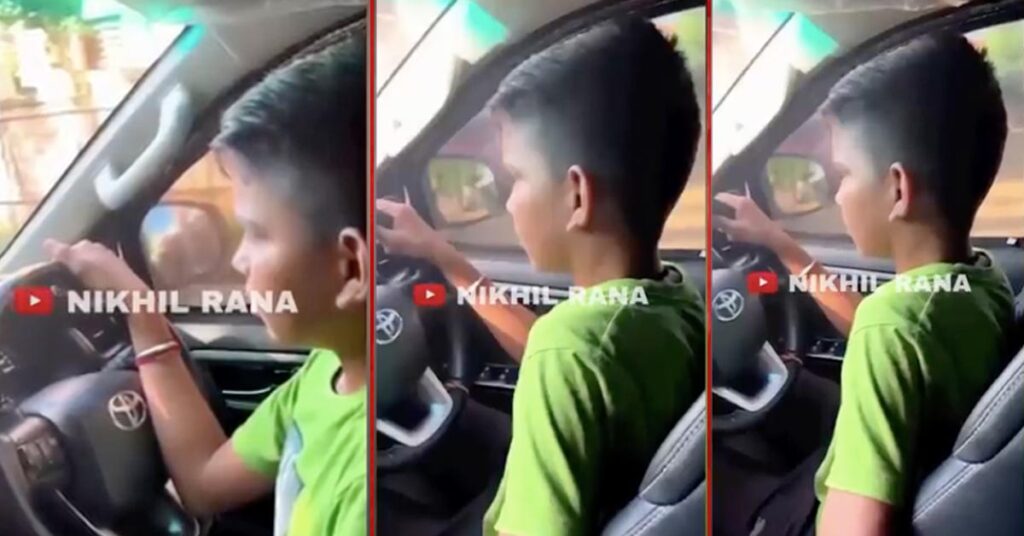 You may also like: Mahindra Thar Mowing Down Pedestrian Shows What's Wrong with Our Drivers
Child Driving Toyota Fortuner
The video clip has been shared by Nikhil Rana on his YouTube channel. He posts such content in order to raise awareness among Indian car buyers regarding the importance of investing in cars with high safety ratings. This time around, a video clip has emerged where a little kid is seen in the driver's seat of a Toyota Fortuner. Fortuner is already a massive SUV. But that is beside the point. According to the laws, children under the age of 18 are not legally allowed to drive on the road.
You may also like: Influencer Eats Lunch While Mahindra XUV700 Drives on its Own at 81 km/h, ADAS Misused AGAIN
There is a reason for that. While an 18-year-old is physically capable of learning and driving a car, he/she also develops enough mental awareness about following traffic regulations and discerning between what is wrong and right. That is the prime reason for setting the age to 18 years. We have seen tons of cases where children have caused accidents and harm to others just to show off their skills.
You may also like: Tata Harrier's Dashcam Shows SCARY Driver's POV of Contact With Truck
Parents Responsible
In such cases, the parents are the ones responsible for this. They must be penalised harshly to deter them from allowing their children to drive on roads. Being under, let's say 15 years of age, it is completely the responsibility of their parents to stop them from attempting such acts. We can only advise our readers to not allow your children to go for such stupid and careless acts. If you see a young child driving a car on the road, make sure to report them to the authorities because they are putting the lives of everyone in danger.
You may also like: Using Hyundai Verna to Plough Field While Sitting on Roof is All Sorts of STUPID
Disclaimer- The embedded videos/ external content is/are being used as a convenience and for informational purposes only; they do not constitute an endorsement or approval by Car Blog India of any of the products, services, and /or opinions of the corporation or organization or individual. Car Blog India bears no responsibility for the accuracy, legality, and/or content of the external site or for that of subsequent external videos/ external content. Contact the external publisher for answers to questions regarding its content.
Join our official telegram channel for free latest updates and follow us on Google News here.