Andrew Tate is finally under the law's hands. Now, prosecutors have said that his £5 Million Bugatti supercar is set to be seized by cops.
Andrew Tate is one of many people who have become famous for his controversial statements and lifestyles. Now, the infamous influencer has been arrested by the Romanian cops. He is being investigated for trafficking and rape charges. Now, the prosecutors have said that the cops want to go after pricey assets of Tate. This includes the super-expensive Bugatti supercar. Interestingly, Andrew Tate used the same car to taunt Great Thunberg on Twitter a few days before his arrest.
You may also like: Andrew Tate's Bugatti Chiron to be Seized Along with Dubai Villa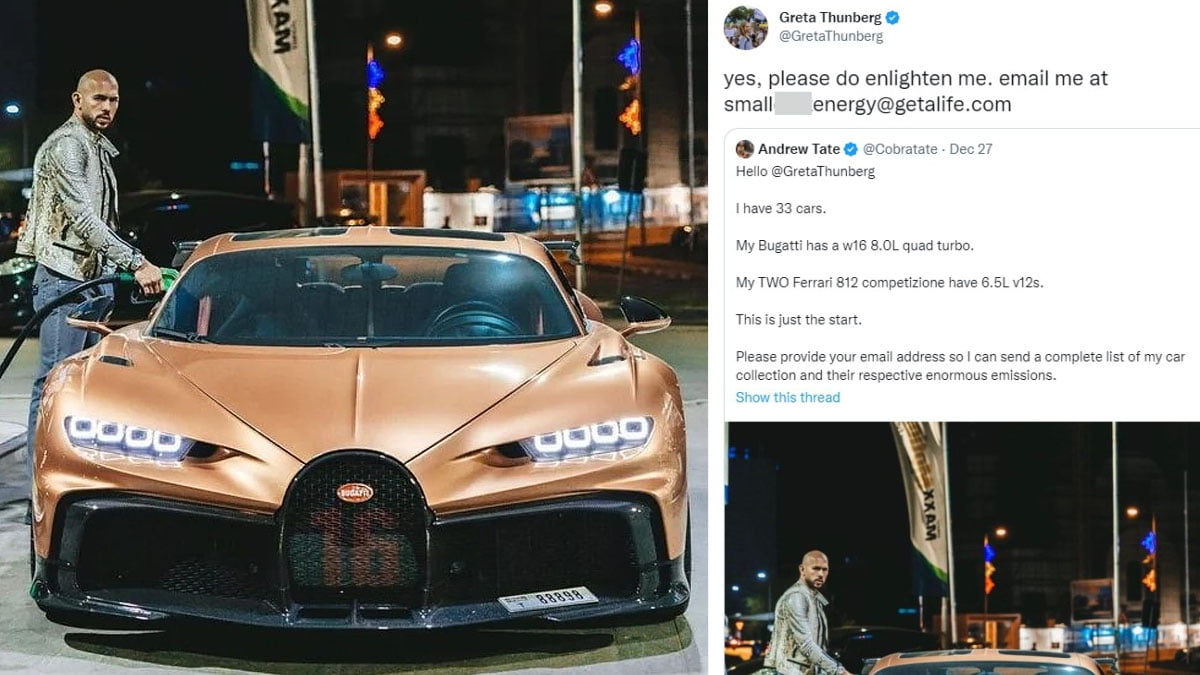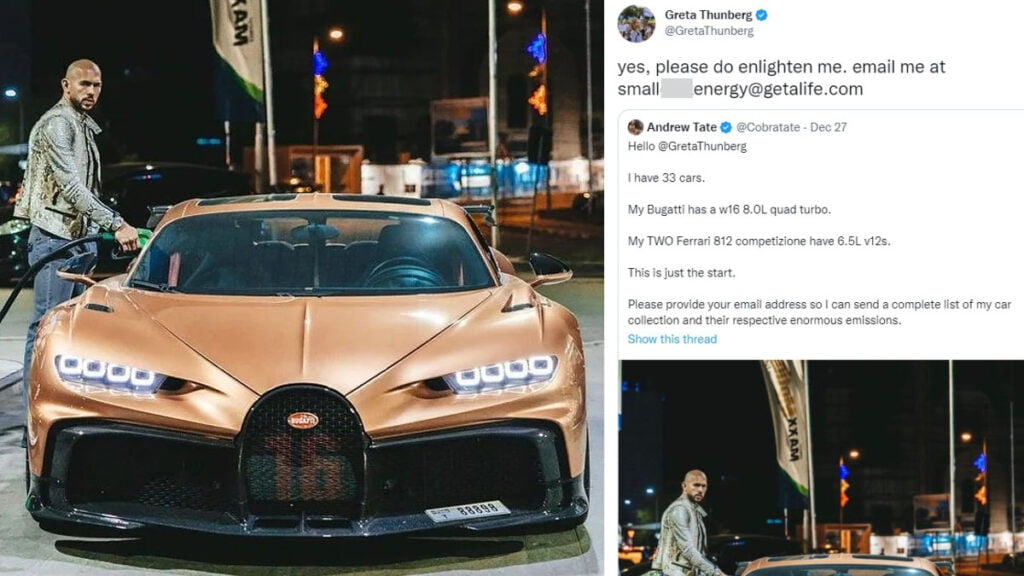 You May Also Like: Andrew Tate's Cars Seized by Romanian Authorities – VIDEO
The Bugatti Chiron Pur Sport comes with a massive price tag of £5 Million. It is one of the fastest and most luxurious supercars in the world. Mr. Tate's unit is one of just 60 such cars in the market. The Bugatti Chiron Pur Sport is capable of going from 0 to 60mph in just 2.4 seconds. It comes with a top speed of 305mph. The popular supercar is powered by an 8.0-liter quad-turbo W16 engine that offers 1,479 horsepower of max power and 1,180 lb-ft of peak torque.
Andrew Tate is said to have purchased his unit in 2022. He even used it to taunt eco-activist Greta Thunberg in the famous Twitter brawl. He followed this by sharing pictures of himself with a pizza on Twitter. Eventually, he ended up being arrested by the Romanian police. Now his assets are being seized pending the criminal investigation. Ironically, the Bugatti Chiron Pur Sport is the first asset on the list. Additionally, the cops plan to seize Mr. Tate's property on the exclusive artificial island of Palm Jumeirah in Dubai.
You May Also Like: Andrew Tate's 11 Cars including Bugatti Chiron Seized in Romania
The expensive villa is said to bear a £20 Million price tag. Andrew Tate is said to have purchased this mansion in the summer of 2022. It offers a view of the city and backs onto a golf course. The huge villa has six bedrooms, a pool, a gym, and numerous reception rooms. There is also a home cinema covered in posters of James Bond. His neighbors include the likes of football legend David Beckham and Putin crony Ramzan Kadyrov. The luxurious villa has been spotted in many videos including the one in which Mr. Tate flew a hairdresser from Canada to give him a haircut. Apparently, the barber was paid a sum of £8,000.
You may also like: Andrew Tate's Car Removed from Official Bugatti Instagram Page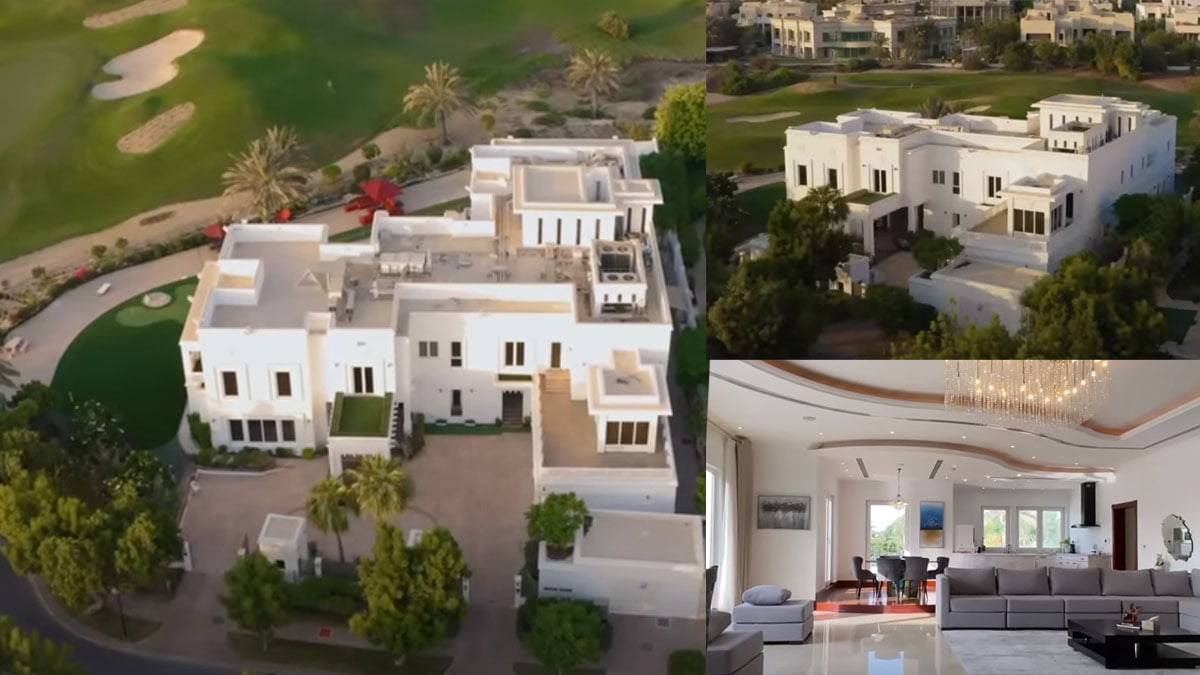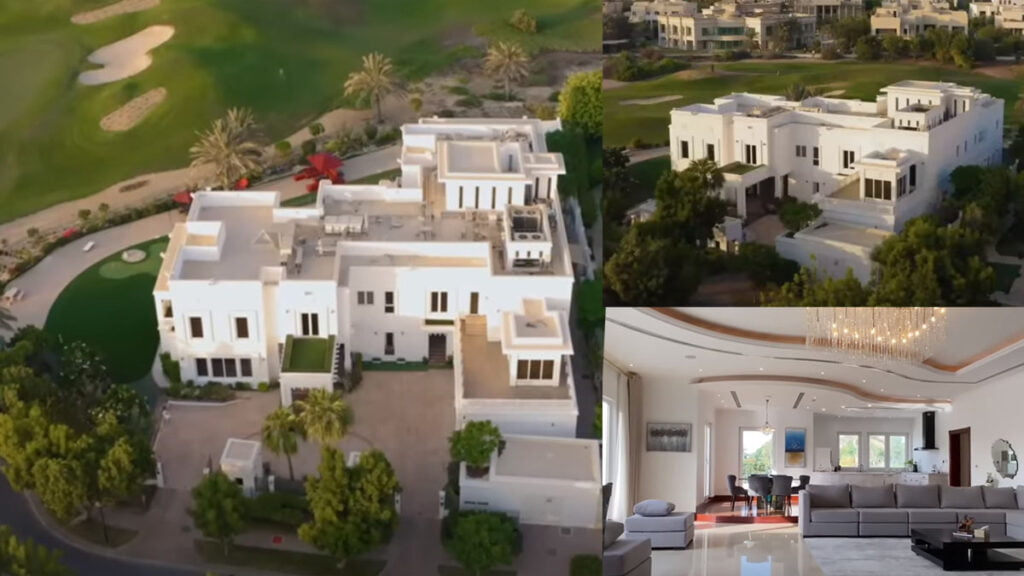 The current seizure of Andrew Tate's money and assets is being handled by Romanian organized crime-busting cops, DIICOT. It is part of the wide-ranging probe. The officials have already seized many assets from his compound in Romania. This includes supercars like Rolls Royce, Aston Martin, and Lamborghini (worth £6 Million). The cops have also reportedly found many expensive watches and guns. If Mr. Tate is convicted, all these assets will likely be auctioned off. Romania's National Agency for the Management of Seized Assets has already now made requests to authorities in Dubai.
You May Also Like: REVEALED- 10-Years Ownership Cost of Bugatti Chiron
Andrew Tate built a huge fan following as a lifestyle coach. However, his advice promotes highly sexist attitude and violence against women. With initial fame from a short-lived appearance on Big Brother, Mr. Tate has built a huge online empire by appealing to teenage boys. He is one of the most searched people on Google. Many teachers and politicians shave accused him of "brainwashing" children. His influence amongst young men and boys has been worrying. Tate was banned from a range of other social media sites last year.
You May Also Like: Andrew Tate Lets His Assistant Drive His £2.7million Bugatti Chiron Pur Sport
Mr. Tate was dumped from Big Brother after alleged footage of him beating a woman emerged online. He followed this with a wave of warped misogynist content online. He has been arrested on the accusation of sex trafficking and organized crime. His brother Tristan was also arrested with him. It is to be noted that both Andrew and Tristan Tate deny all allegations against them. They have made multiple appeals for release. However, Romanian authorities have rejected all applications for their release as they are considered a flight risk. Since his arrest at the end of 2022, they remain detained.