Drag race videos perform exceedingly well on YouTube these days which is why many YouTubers bring up races between popular motorcycles.
This drag race between a Bajaj Pulsar N250 and a KTM Duke 200 is bound to be exciting. Even though the Pulsar has the larger engine, the performance of the Duke has the capability to beat it on a drag strip. Pulsar has always been the crowd's favourite bike irrespective of which segment we are talking about. It offers a combination of affordability, mileage, styling and performance. KTM bikes are known for their exquisite riding dynamics and powerful engines. What happens when these two meet on a drag strip?
You may also like: Bajaj Pulsar N160 vs NS160 Drag Race – Shocking Result
You may also like: Suzuki V Strom SX 250 Vs Yamaha R15V4 Drag Race
Bajaj Pulsar N250 vs KTM Duke 200 Drag Race
The YouTuber takes the Duke in the first round and his colleague ends up with the Pulsar. In the beginning, the YouTuber claims that the clutch release was not ideal which gave the Pulsar a small lead straight out of the launch. However, the Pulsar was not able to maintain that lead for long and the Duke swiftly overtook it with authority. The YouTuber allowed the Pulsar to overtake again. But within a few moments, it overpowered to take the lead. It became quite clear very soon that the acceleration of the Duke was just too much to handle for the Pulsar in any case.
You may also like: Honda H'ness 350 vs RE Bullet Electra 350 Drag Race
Finally, Duke trounced the Pulsar with relative ease. For the second round, the riders were swapped. This ensures that the results are consistent, accurate and take into account various driving mannerisms. So, our YouTuber gets the Pulsar this time around. He warned his colleague about the clutch of the Duke beforehand. Resultantly, the Duke stayed ahead from the very beginning giving the Pulsar no chance at all. KTM Duke 200 was declared the clear winner.
You may also like: Drag Race- KTM RC200, RS200, Bajaj F250, N250, Yamaha R15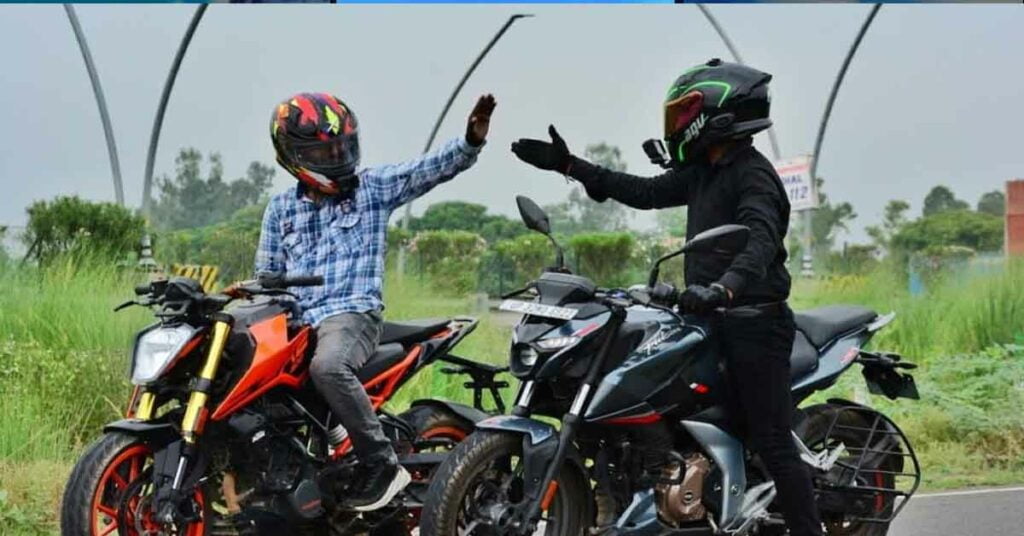 Specs Comparison
The Bajaj Pulsar N250 is powered by a 249-cc BS6 engine (with air and oil-cooled motor) that outputs 24.5 PS and 21.5 Nm of peak power and torque. It is paired with a 5-speed gearbox and comes with a slipper clutch. On the other hand, the KTM Duke 200 comes with a 199-cc liquid-cooled single-cylinder engine that produces 25 PS and 19.3 Nm of peak power and torque. It is mated to a 6-speed manual gearbox. Let us know your feelings about this drag race between the Pulsar and Duke.
Join our official telegram channel for free latest updates and follow us on Google News here.