As is the tradition with the beginning of every new month, we bring to you the car sales report of the month gone by. This is an important parameter to keep track of where our Indian automobile industry is headed. This has become additionally relevant after last year to gauge the recovery rate of our industry, following the aftermath of the pandemic. We are happy to report that the industry has shown sustained growth on a year-on-year, as well as a month-on-month basis. We understand that the YoY comparison makes little sense from now on because the country was in complete lock during this time last year. Hence, a month-on-month sales report will make more sense for the next few months and that is what will we do. The industry, overall, grew by around 4% from last month. The total number of passenger vehicles sold in February 2021 was just over 3.08 lakh and this number grew to over 3.20 lakh in March 2021. This is an extremely encouraging sign for the industry. Let us take a look at the sales of individual OEMs.
Also read: Sales Report of Electric Vehicles in February 2021!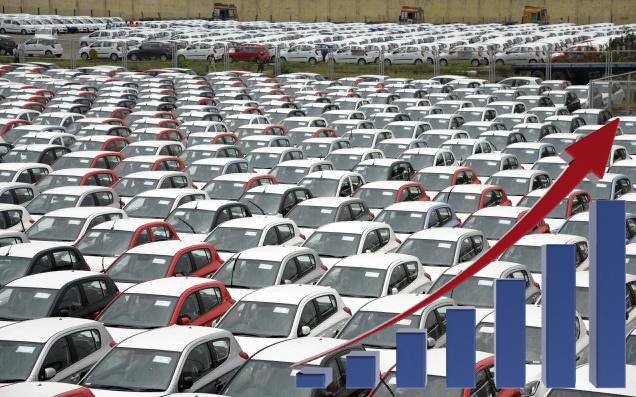 Maruti Suzuki – 1% Growth
The largest carmaker in the country continued to grow marginally on an MoM basis. In February 2021, it sold over 1.44 lakh cars in the country as compared to over 1.46 lakh in March 2021. This marks a 1% rise in sales and indicates the popularity of the brand despite so many new players entering the market.
Also read: Over 80% sales in February came from Petrol powertrains!
Hyundai – 2% Growth
The second-largest carmaker in the country also keeps growing strongly and posed a decent 2% growth in sales. Whereas in the month of February this year, Hyundai sold over 51,000 units, in March, it managed to surpass that figure by selling just over 52,000 units. It will be an interesting year for Hyundai as the launch of 7-seat Alcazar is just around the corner. For the rest of the year, there are more launches planned, for instance, a micro-SUV named AX and the N Line version of the i20.
Tata Motors – 9% Growth
Tata Motors has been operating on a different tangent altogether for quite some time now. It is probably one of the fastest-growing automakers in the country as shown by the impressive 9% MoM growth in sales. In February of this year, Tata sold over 27,000 units of its especially safety-oriented products in comparison to over 29,500 units in March. This growth has been a consequence of new products like the iconic Safari and Altroz iTurbo. One of the major launches planned for this year by Tata will be the micro-SUV named Hornbill (HBX).
Also read: Luxury Car Sales Report for February 2021!
Kia – 14% Growth
The new player in India has grown significantly within a couple of years of operations in our market, which is no small feat. The Korean car manufacturer has been leading the charge with its very popular SUVs, the Seltos and Sonet. In February 2021, Kia had sold over 16,700 units in comparison to March 2021, where it sold over 19,000 units.
Mahindra – 8% Growth
The other homegrown carmaker has also shown some promising signs with an MoM growth in sales of 8%. In February of this year, Mahindra sold over 15,000 units, compared to over 16,500 units in March. This year will also be exciting for Mahindra with launches like Scorpio, XUV500, XUV300 Sportz planned.
Toyota – 6.6% Growth
Toyota has been growing significantly over the past couple of months. That is after the launch of the updated Fortuner. In February 2021, it sold a little over 14,000 units and in March, this number rose to just under 15,000. A lot of sales for Toyota come from Maruti Suzuki products in the form of Glanza and Urban Cruiser.
Also read: Car Sales Report for February 2021 – Brief overview!
Renault – 12% Growth
Renault has been growing very strongly with very popular budget products in our market. Recently launched Kiger has garnered tremendous traction from potential customers. Overall sales for Renault in February stood at just over 11,000 compared to over 12,000 in March, marking a healthy 12% growth rate.
Ford – 34%
The American carmaker has posed a serious growth rate of 34% on an MoM basis. The reason for this could be the shuffling of the variants of Figo, Aspire and Freestyle along with the launch of SE variants for the EcoSport. In February 2021, Ford managed to sell just over 5,500 units, which rose to over 7,500 in March.
Honda – 24% Degrowth
One of the few carmakers to record a decline in sales has been Honda with a substantial 24% decline in sales on an MoM basis. The two sales drivers are AMaze and City. Total sales in February for Honda were over 9,300, which fell down to just over 7,000 in March. There are no assured new products from the brand this year.
Also read: EV sales report for FY21 – Difference between Mild, Full and Plug-in Hybrid powertrains!
MG – 28%
Another relatively new carmaker in the country which has been riding the SUV-only wave has grown by 28% in March over February 2021. MG recorded its highest ever sales of over 5,500 units in March in comparison to around 4,300 units the month before. MG has planned to launch the mid-size SUV, Astor soon which will compete in Creta-segment.
Nissan – 5.5% Degrowth
Nissan has finally recorded declining sales of around 5% after the high that it enjoyed after the launch of Magnite at the end of last year. In February 2021, it sold over 4,200 units compared to just over 4,000 units in March 2021. It will be interesting to see if Magnite can propel the brand toward growth in the coming months.
Volkswagen – 7% Degrowth
The legendary German carmaker has also marked a decline in sales of about 7%. In February 2021, VW sold just over 2,100 units compared to just over 2,000 units in March of this year. We are quite confident that, this statistic will change dramatically after the launch of Taigun. VW has been in a transition phase and is bringing new products into our market to grab market share.
FCA (Jeep)- 23% Growth
The launches of the updated Compass and locally assembled Wrangler have contributed to the growth in sales of FCA to achieve 23%. In February of this year, FCA managed to sell a little over 1,100 units compared to over 1,300 units in March. Jeep had announced the launch of 4 new SUVs before the end of FY22.
Skoda – 36% Growth
The Czech carmaker has also shown very positive signs with a growth rate of over 36% on an MoM basis. In February 2021, Skoda sold a mere 853 units in India, which rose to over 1,100 units in March. The future looks very promising for Skoda with plenty of new launches planned including, Kushaq, Kodiaq and the new Rapid.
Also read: Maruti Suzuki NEXA record over 13 lakh sales in India!
Join us for FREE NEWS Updates on our Whatsapp Community or our official telegram channel.