A special CBI court has finally sentenced Ram Rahim to 10 years imprisonment in the rape cases on the 'Messenger of God'. The self-proclaimed Godman enjoys a great fan following and has many businesses across the country. A part of his life to catch our attention are the rather weird and wacky set of cars owned by Baba Ram Rahim. Honestly, his car collection is as weird as his preaching is controversial. The cars of Ram Rahim include everything from a Bugatti Veyron Replica to a Maruti Gypsy.
Also See- Cars of Ambani Family | Cars of Sachin Tendulkar
The head of a social organization that goes by the name of  Dera Sacha Sauda has a really strange car collection. Gurmeet Ram Rahim Singh Insan has always been known for his colourful tastes in terms apparels. As we have a look at the cars of Ram Rahim, we realize his taste in cars is as garish. The man is also known for his movie called the MSG – The Messenger of God. Not only this, the man has also come up with a new music genre – religious rock. Anyway, our reason to feature this guy here is his car collection, which comprises of cars designed by the man himself. So without further ado, let's have a look at the cars of Ram Rahim.
Also See – MS Dhoni's Car Collection | Indian Cricketers and Thier Cars | Car of President of India 
Cars of Ram Rahim – Chariot of God, a Bugatti Veyron Replica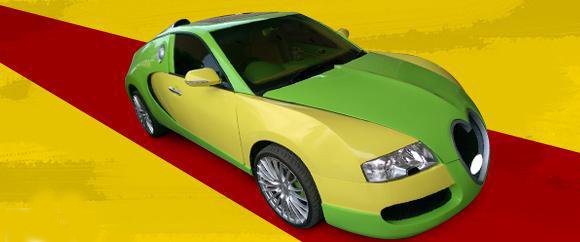 Definitely among the less insane cars of Babaji is Charriot of God, a Bugatti Veyron Replica. Actually, this car started his life as a Honda Accord V6, before it went under Babaji's scalpel. There are no mechanical changes. While it looks much like a Veyron, there's a heart-shaped grille at the front. The man is known to drive around in his Veyron replica along with Z-level security provided by the government.
Cars of Ram Rahim – AgroJetter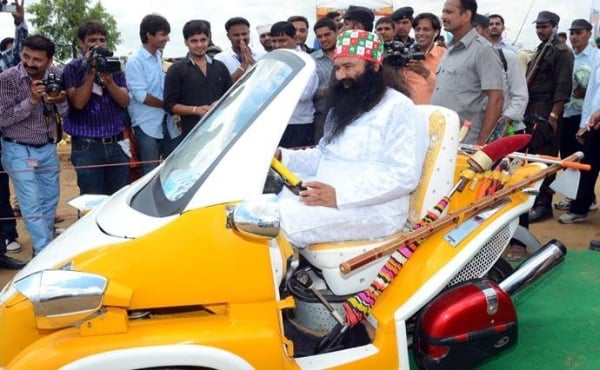 The Agrojetter is basically a modified Hero Honda Karimza that wanted to become the Piaggio MP3 scooter. Frankly, this doesn't really qualify to be called a car, but we have still decided to include it in our list of cars of Ram Rahim as it's a really interesting contraption, if nothing else. The Agrojetter was said to have been developed with an aim to provide medical surfaces in rural areas by helping the doctor and medical supplies reach the peasants. We really don't know what finally became of this contraption.
Cars of Ram Rahim – Modified Hyundai Santro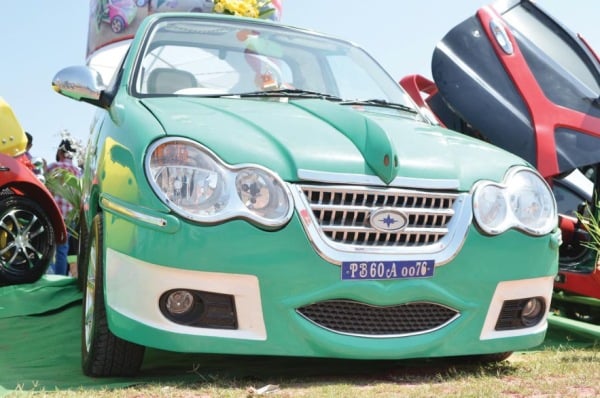 Okay, this car started its life as a Hyundai Santro. Somewhere down the line, it got 'blessed' the 'messenger of God' and got a really weird paint scheme and headlights from the Mercedes C Class.
Cars of Ram Rahim – Modified Maruti Gypsy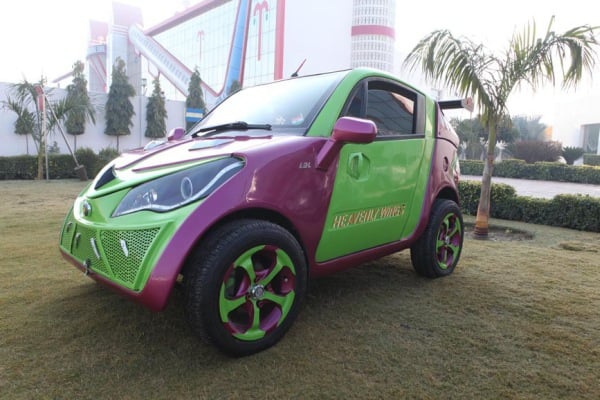 Another contraption, this car is based on a Maruti Gypsy. We feel really sorry for the donor vehicle.
More Cars of Ram Rahim Car Collection – Photos
What do you think of cars of Ram Rahim? Do share your views on Baba Ram Rahim's car collection by penning them down in the comments section below.
Editor Rating

Rated 1 stars

Really Bad
---
Cars of Ram Rahim

Reviewed by:

Published on:

Last modified:
---