In continuation to our car comparison series we will compared Skoda Rapid Diesel with the Maruti SX4 Diesel , we have already compared the Skoda Rapid petrol with Maruti SX4 petrol. Also read – Skoda Rapid Petrol Vs Honda City Petrol
Skoda Rapid Exteriors Vs Maruti SX4 Exteriors
The Rapid. as we mentioned in our previous comparison post, is a tweaked Vento. By this we mean that the overall body is that of the Vento whereas the front is of Skoda Fabia. This is no surprise as Volkswagen also did the same with Volkswagen Polo and converted it to Vento.

image – Maruti SX4 (Left) and Skoda Rapid (Right)
The SX4 has been one of the most loved cars and still manages to attract many. The built, the aggressiveness, road presence is appreciable but the Rapid feels a little more impressive.
Skoda Rapid Dimensions:
Length = 4386 mm
Width = 1699 mm
Height = 1466 mm
Wheelbase = 2552 mm
Maruti SX4 Dimensions:
Length = 4490 mm
Width = 1735 mm
Height = 1550 mm(VXi/VDi) and 1560(ZXi/ZDi)
Wheelbase = 2500 mm
The Rapid, although has a longer wheelbase, falls short in terms of length, width and height. The SX4 is wider, longer and taller meaning it provides more room for your shoulders and head.
For detailed Exterior comparison click here.
Skoda Rapid Interiors Vs Maruti SX4 Interiors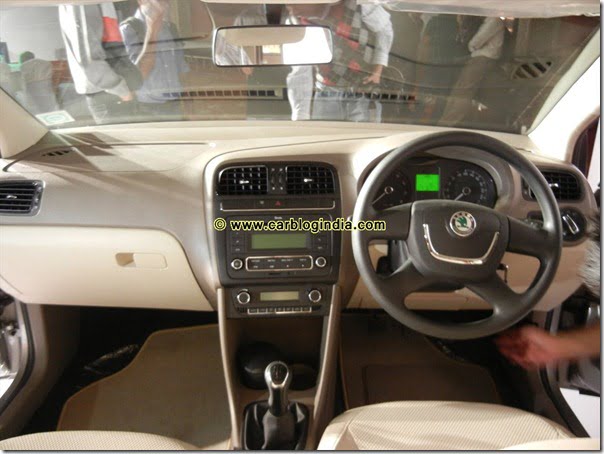 image – Skoda Rapid Interiors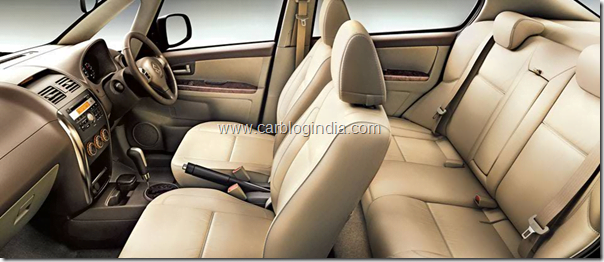 image-Maruti SX4 sedan Interiors
Both the cars come with interesting features like dual airbags, brake assist, ABS, fog lamps, audio system with AUX-in support etc. The fabric used and comfort offered by Rapid is unmatched and SX4 definitely feels dull in front of it. The plastic quality of Rapid is also better.
For detailed Interior comparison click here.
Skoda Rapid Diesel Vs Maruti SX4 Diesel Engine
Skoda Rapid Diesel Engine Specifications
Engine Type- 1.6 Litre TDI high pressure direct injection
Max Power- 105 BHP @ 4400 RPM
Max Torque – 250 Nm @ 1500-2500 RPM
Transmission Options – 5 Speed Manual Transmission
ARAI certified mileage of 20 KMPL
Kerb Weight = 1205 Kg
Maruti SX4 Diesel Engine Specifications
Type: 16 Valve DOHC, DDiS
Displacement: 1248 CC
Maximum output: 89 BHP @ 4000 RPM
Maximum Torque: 200 Nm @ 1750 RPM
Transmission Options:- 5 Speed manual transmission
Kerb Weight: 1225 Kg VDi and 1245 Kg ZDi
ARAI certified mileage of 21.5 KMPL
The Rapid is offered with a 1.6 Liter diesel engine which is much bigger than the 1.3 Liter one of SX4. Owing to the larger capacity, the Rapid pumps out more power and torque. It delivers 105 BHP of power and 250 Nm of torque in the range of 1500-2500 RPM. The SX4 delivers 89 BHP and 200 Nm of torque at 1750 RPM. In spite of a bigger engine the Rapid delivers an impressive mileage of 20 KMPL which is 1.5 KMPL less than SX4's 21.5 KMPL mileage.
Skoda Rapid Diesel Performance & Handling Vs Maruti SX4 Diesel Performance & Handling
The Skoda Rapid has a stiff suspension which might feel slightly disappointing in front of SX4 but the amazing engine power and torque outputs make up for this. The car will definitely impress you and drives well. The SX4 diesel has been benchmark setter in the diesel category but the Rapid is a tough competition to it in terms of performance and handling.
Prices of Skoda Rapid Diesel Ex-showroom Delhi
Skoda Rapid Active 1.6 TDI CR : Rs 7.95 Lakhs
Skoda Rapid Ambition r1.6 TDI CR : Rs 8.29 Lakhs
Skoda Rapid Elegance 1.6 TDI CR : Rs 9.19 Lakhs
Maruti Suzuki SX4 Diesel Price Ex-Showroom Delhi
MARUTI SX4 VDI: Rs.7.88 Lakhs
MARUTI SX4 ZDI: Rs. 8.76 Lakhs
MARUTI SX4 ZDI, LEATHER: Rs.9.11 Lakhs
The pricing of the Rapid and SX4 are quite close it would really interesting to see who offers the best value for money.
Skoda Rapid Active Vs Maruti SX4 VDI
Between the two there is a price difference of 7,000 INR only. The Rapid Active base variant does not offer alloy wheels, ABS, airbags, chrome inserts on the inside and outside, fog lamps, audio system, remote control, automatic air conditioner.
So is the case with the SX4 which also lacks some features, though less in number than Rapid. They are airbags, ABS EBD, steering mounted audio controls, gear shift boot ring, alloy wheels and fog lamps.
Skoda Rapid Ambition Vs Maruti SX4 ZDI
Interestingly the SX4 leads once again in pricing as Maruti is offering the top of the line ZDi for just 8.76 Lakh INR whereas the top of the line Rapid Elegance is nearly 35,000 INR more expensive.
The Ambition mid range variant is low at features and is priced at 8.29 Lakh, nearly 47,000 INR cheaper than SX4 top end ZDI. So one should go for the SX4 ZDi if features are a concern.
Skoda Rapid ZDI(leather) is a more upmarket offering with loads of leather incorporation on the inside. So if you want a car with extra comfortable leather interiors then you can opt for ZDI leather instead of going with the top end Rapid Elegance.
Car Blog India Verdict- Skoda Rapid Diesel Vs Maruti SX4 Diesel
Wonderful cars with wonderful engines but the Rapid has a slight edge in terms of performance, thanks to its powerful engine. In pricing the SX4 and Rapid are quite close and its hard to choose from the two. Now diesel cars are known for their driving characteristics and therefore you must test drive both before taking a decision. If you want a cheap to maintain car and tried and trusted name, SX4 will be a better options, however if you want a robust, high quality and classy car with German engineering and high quality, Skoda Rapid will be a better bet.
check out more-