Yesterday Skoda launched its much awaited Skoda Rapid sedan and now the time has come to compare the same with existing market rulers. Maruti SX4 is a well known car in this segment. In continuation to Car Comparison Series on Car Blog India, in this post we will be comparing the petrol version of the SX4 with that of Rapid. Also read – Skoda Rapid Petrol Vs Honda City Petrol
Skoda Rapid Exteriors Vs Maruti SX4 Exteriors
Skoda, acting the way Volkswagen did with the Polo, has produced Rapid out of Fabia. Being a part of Volkswagen Group, the Rapid is heavily influenced by the Volkswagen Vento's looks. The front does remind you of Skoda Fabia, but the side and rear profile make you believe its a tweaked Vento. One might notice slightly restyled tail lamps but the overall appearance is all the same. Although nothing seems so strikingly different about the car, it manages to attract you with its elegance and solid built.

image – Maruti SX4 (Left) and Skoda Rapid (Right)
The SX4 is a popular car which rides high and looks quite brutal. The stocky appearance and simple styling can influence you to an extent to buy this car. The top end model with sporty skirting and spoiler looks quite attractive and in fact more attractive than Rapid.
Skoda Rapid Dimensions:
Length = 4386 mm
Width = 1699 mm
Height = 1466 mm
Wheelbase = 2552 mm
Maruti SX4 Dimensions:
Length = 4490 mm
Width = 1735 mm
Height = 1550 mm(VXi/VDi) and 1560(ZXi/ZDi)
Wheelbase = 2500 mm
SX4 has always surpassed most of the other sedans in terms of proportions and so is the case now. SX4 is significantly longer, wider and higher. The rapid falls short by a good margin but has a longer wheelbase to back it up. In terms of looks i am confused as SX4 gives a better headroom and shoulder room whereas Rapid offers better leg room. In looks Rapid is slightly ahead as it looks different whereas the SX4 has its own legacy.
Skoda Rapid Interiors Vs Maruti SX4 Interiors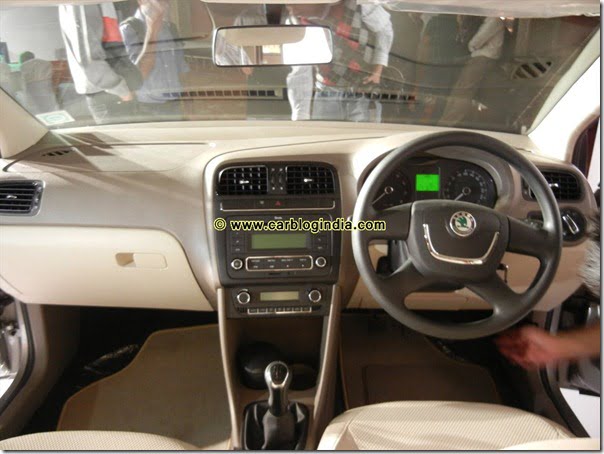 image – Skoda Rapid Interiors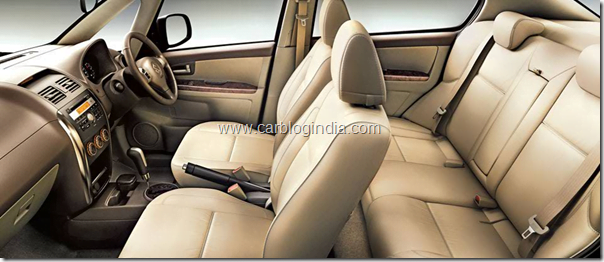 image-Maruti SX4 sedan Interiors
On the interior front Skoda has always amazed its customers with good quality plastics as well as comfortable interiors. The fabric used, the comfort level and the simple design is just amazing and one definitely would not feel any discomfort. The appearance is exactly similar to that of Vento from inside as Skoda has literally borrowed Vento's dashboard and central console. However they have changed the steering wheel to make it look like other Skodas. Highlighting features offered include front and rear fog lamps, rear windscreen defogger, dual air bags, head adjustable front seatbelts and head restraints, ABS with dual brake assist, fuel supply cut-off in crash, Engine immobilizer, front and rear center armrest, 2DIn audio system with password lock and large format display with card reader and AUX-in support, Automatic climate control, dual rear air conditioning vents etc.
Maruti has never impressed us with the plastic quality. The seats are comfortable and there is enough space inside. The central instrument console is again quite simple, alike Rapid's, and is good enough. Features offered include Single zone climate control, rear centre arm rest, dual airbags, 3 point ELR seat belts and force limiters, height adjustable rear seat belts, iCATS, ABS EBD with brake assist, stereo remote, audio system with with 4 speakers and USB port, steering mounted audio controls etc.
Skoda Rapid Petrol Vs Maruti SX4 Petrol Engine
Skoda Rapid Petrol Engine Specifications
Engine Type- 1.6 Litre 4 Cylinder DOHC Petrol Engine
Max Power- 105 BHP @ 5250 RPM
Max Torque – 153 Nm @ 3800 RPM
Transmission Options – 5 Speed Manual Transmission Or 6 Speed Automatic Transmission Option
1.8 Petrol Engine with manual transmission mileage is 15.8 KMPL
Kerb Weight = 1145 Kg (MT) and 1180 Kg (AT)
Power to weight ratio of 90.5 BHP / 1000 Kg
Maruti SX4 Petrol Engine Specifications
Type: 16 Valve DOHC VVT
Displacement: 1586 c
Maximum output: 104 BHP @ 5600 RPM
Maximum Torque: 145 Nm @ 4100 RPM
5 speed manual transmission and 4 speed automatic transmission
Kerb weight: 1170 kg(manual) and 1210 kg(automatic)
ARAI certified mileage of 15.50 KMPL(Manual) and 12.60 KMPL(automatic)
Both the cars have a 1.6 liter engine with similar power outputs at 104 and 105 BHP for Rapid and SX4 respectively. The torque outputs are also marginally different at 145 Nm and 153 Nm for SX4 and Rapid.The SX4 comes with 4 speed automatic transmission whereas Rapid offers 6 speed transmission. In terms of mileage also the Rapid is ahead of the SX4.
Skoda Rapid Petrol Performance & Handling Vs Maruti SX4 Petrol Performance & Handling
The Rapid is stiff and really nice to handle. The 1.6 petrol is good for city driving and the overall behavior of the car is quite impressive. The SX4 is a driver's car and is really impressive. The way it moves around the corners is amazing and it is lovable too.
Skoda Rapid Petrol Vs Maruti SX4 Petrol Price
Prices of Skoda Rapid Petrol Ex-showroom Delhi
Skoda Rapid Active 1.6 MPI Petrol MT is priced at Rs. 6.75 Lakhs
Skoda Rapid Ambition 1.6 MPI Petrol MT is priced at Rs. 7.09 Lakhs
Skoda Rapid Elegance 1.6 MPI Petrol MT is priced at Rs. 7.99 Lakhs
Skoda Rapid Ambition 1.6 MPI Petrol AT is priced at Rs. 8.09 Lakhs
Skoda Rapid Elegance 1.6 MPI Petrol AT is priced at Rs. 8.99 Lakhs
Maruti SX4 Petrol Price Ex-Showroom Delhi
MARUTI SX4 VXI (BSIV): Rs. 7.00 Lakh
MARUTI SX4 ZXI MT (BSIV): Rs. 7.75 Lakh
MARUTI SX4 ZXI MT, LEATHER(BSIV): Rs. 8.09 Lakh
MARUTI SX4 ZXI AT (BSIV): Rs. 8.41 Lakh
MARUTI SX4 ZXI AT LEATHER (BSIV): Rs. 8.75 Lakh
The pricing of the Rapid is extremely competitive and one would definitely get confused when considering the two.
Skoda Rapid Active/Ambition Vs Maruti SX4 VXI
The Rapid Active comes with many features except alloy wheels, chrome inserts on grille, front and rear fog lamps, airbags, multi function display, electrically adjustable outside mirrors, audio system, ABS, remote control key and power windows. The SX4 VXI is loaded enough but does not have automatic climate control, alloy wheels, airbags and ABS.
The Ambition variant of the Rapid is just 9,000 INR more expensive than SX4 VXi but is more loaded and therefore one can opt between Active and Ambition both when considering the SX4 VXI.
Skoda Rapid Elegance Vs Maruti SX4 ZXI(MT)
Both these models are top of the line ones and are offered with all the features. But in terms of pricing, as always, Maruti is ahead with SX4 since it is available at 7.75 Lakh INR, Rs. 24,000 cheaper than the top of the line Rapid Elegance.
Skoda Rapid Elegance Vs Maruti SX4 ZXI Leather
The leather trim of the SX4 features leather interiors with incorporation of leather in every possible place and is priced nearly 10,000 INR higher than the Rapid Elegance. Now its an individual choice whether to go for the leather or the regular one as for SX4's price you can buy the Automatic Rapid Ambition.
Skoda Rapid Automatic Vs Maruti SX4 Automatic
The automatic Rapid comes in Ambition and Elegance variants priced at 8.09 and 8.99 Lakh INR. The SX4 Automatic is available in ZXi only priced at Rs. 8.41 Lakh. Here SX4 takes the lead as for 8.41 Lakh one could take home the top of the line Automatic version whereas the Rapid's top of the line Automatic is 50,000 INR more expensive.
Car Blog India Verdict-Skoda Rapid Petrol Vs Maruti SX4 Petrol
Both the cars have their own advantages and disadvantages. Skodas are quality products but are slightly on the expensive side but the SX4 is value for money car with mediocre quality. The after sales services are definitely better for Maruti than for Skoda. But before picking any of the two you must consider driving them as ultimately its the driving pleasure that matters.
check out more-
Join us for FREE NEWS Updates on our Whatsapp Community or our official telegram channel.