Skoda Rapid is already getting a lot of attention because of its elegant design and competitive pricing. But since its our job to compare the same with other potent competitors, we are all set to make a comparison between the 2011 Ford Fiesta and Skoda Rapid. You can follow more comparisons on our car comparison series on Car Blog India.
Skoda Rapid Exteriors Vs 2011 Ford Fiesta Exteriors
What Volkswagen did to Volkswagen Polo to covert it into Volkswagen Vento, the same strategy has been followed by Skoda to turn Skoda Fabia into Skoda Rapid. The overall exterior styling is very elegant but taking a closer look you would feel it is a Vento from the sides and rear. But since the Fabia is an exceptionally beautiful looking hatchback, the sedan version looks good too.

image – Ford Fiesta 2011 (Left) and Skoda Rapid (Right)
The 2011 Fiesta features a very contemporary design. The design cues, body lines everything looks so beautiful. The posture and ground clearance is exceptional and make you feel quite unique while sitting in it. For looks the Fiesta does have a great edge over the Rapid and the latter stands nowhere near it.
Skoda Rapid Dimensions:
Length = 4386 mm
Width = 1699 mm
Height = 1466 mm
Wheelbase = 2552 mm
2011 Ford Fiesta Dimensions:
Length= 4291 mm
Width= 1722 mm
Height= 1496 mm
Wheelbase= 2489 mm
In proportions, the Fiesta is marginally taller and wider. On the other hand the Rapid is longer and also has a better wheelbase.
Skoda Rapid Interiors Vs 2011 Ford Fiesta Interiors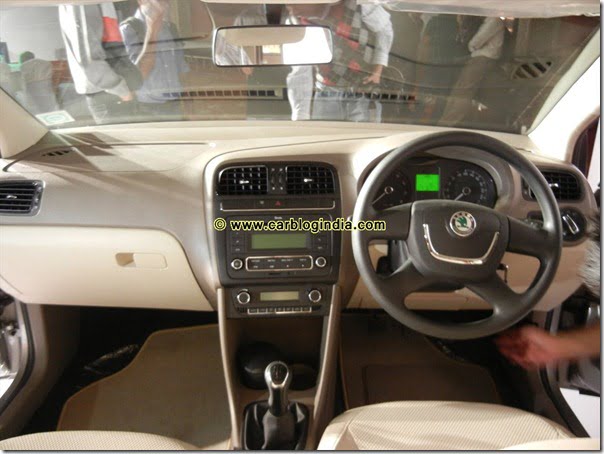 image – Skoda Rapid Interiors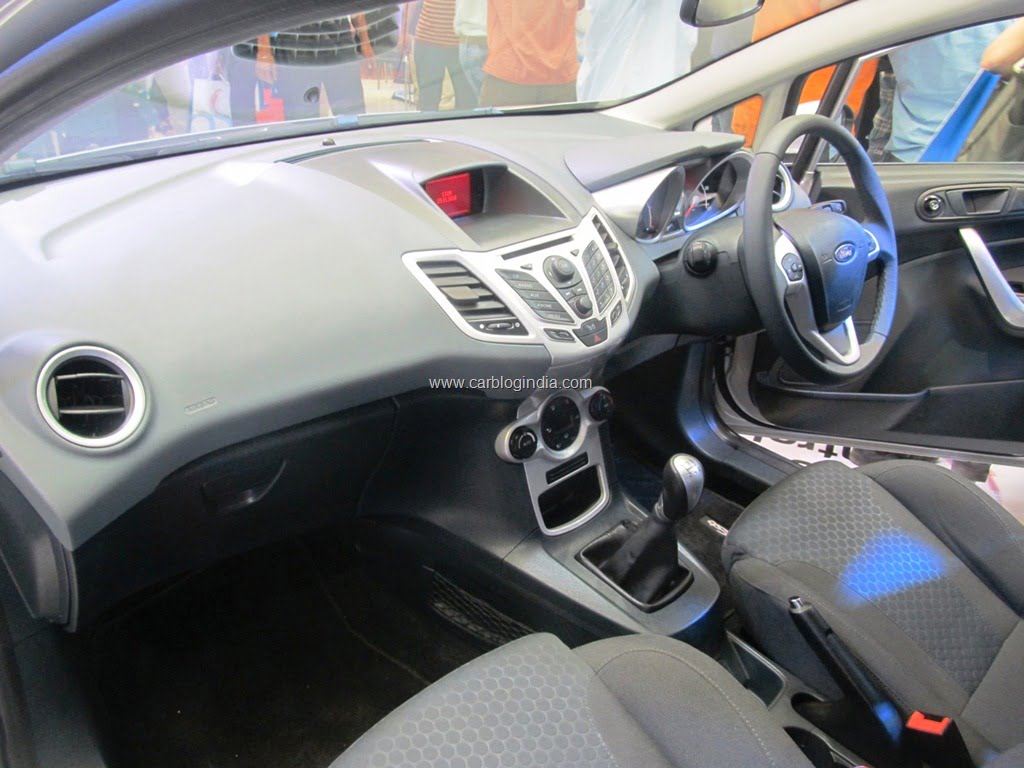 image- 2011 Ford Fiesta Interiors
From the upholstery to the seats all is comfortable and spacious enough. Although the dashboard styling resembles to that of Vento, it is good enough to look at. Highlighting features offered include front and rear fog lamps, rear windscreen defogger, dual air bags, head adjustable front seatbelts and head restraints, ABS with dual brake assist, fuel supply cut-off in crash, Engine immobilizer, front and rear center armrest, 2DIn audio system with password lock and large format display with card reader and AUX-in support, Automatic climate control, dual rear air conditioning vents etc.
The Fiesta looks extremely modern with a robust build on the inside as well.  It is offered with the only in its class Voice control technology which is a voice recognition technology for hands free control over mobile, Radio, CD, USB and iPod. Another very unique and exclusive feature is the Electric Cruise Control available only with Fiesta top variant. Best in class NVH(Noise, Vibration and Harshness) provision making this car a lot quieter on the inside, Automatic Climate Control, Rear parking sensors, Steering mounted audio and Cruise control buttons are other attributes of this car. The company also offers personalization packs for the interior as well as the exterior so that one can customize it as per his or her liking. Leather or illuminated gear knob, illuminated scuff plates, weather shield on the doors, side graphics, leather steering wheel, leather vinyl seat covers all come under the special personalization package.
Skoda Rapid Petrol Vs 2011 Ford Fiesta Engine
Skoda Rapid Petrol Engine Specifications
Engine Type- 1.6 Litre 4 Cylinder DOHC Petrol Engine
Max Power- 105 BHP @ 5250 RPM
Max Torque – 153 Nm @ 3800 RPM
Transmission Options – 5 Speed Manual Transmission Or 6 Speed Automatic Transmission Option
ARAI certified mileage of 15.8 KMPL
Kerb Weight = 1145 Kg (MT) and 1180 Kg (AT)
Power to weight ratio of 90.5 BHP / 1000 Kg
2011 Ford Fiesta Petrol Engine Specifications
4 Cylinder Inline 16 Valve DOHC MPFI Petrol Engine
Ti-VCT (Dual VVTI system)
1499 CC Displacement
Max power output of 107.5 BHP@ 6045 RPM
Transmission options – 5 Speed manual and 6 speed dual clutch automatic (launch in January 2012)
Max Torque of 140 Nm @ 4500 RPM
All Aluminium Engine construction
Kerb weight: 1117 kg to 1124 kg
ARAI certified mileage of 17 KMPL
The Rapid is powered by a 1.6 L engine which delivers 105 BHP and 153 Nm. Contrastingly the Fiesta's 100 CC smaller engine produces 107.5 BHP and 140 Nm of torque. In terms of mileage the Fiesta defeats the Rapid as it offers 17 KMPL as against the latter's 15.8 KMPL.
Skoda Rapid Petrol Performance & Handling Vs 2011 Ford Fiesta Petrol Performance & Handling
Though the work done by Skoda engineers is praiseworthy, the Fiesta has an unmatched driving pleasure. The way it turns around corners, brakes, the stability etc. all are exceptional. The Rapid is a good car and offers satisfactory driving pleasure but the Fiesta definitely has an edge.
Skoda Rapid Petrol Vs 2011 Ford Fiesta Petrol Price
Prices of Skoda Rapid Petrol Ex-showroom Delhi
Skoda Rapid Active 1.6 MPI Petrol MT is priced at Rs. 6.75 Lakhs
Skoda Rapid Ambition 1.6 MPI Petrol MT is priced at Rs. 7.09 Lakhs
Skoda Rapid Elegance 1.6 MPI Petrol MT is priced at Rs. 7.99 Lakhs
Skoda Rapid Ambition 1.6 MPI Petrol AT is priced at Rs. 8.09 Lakhs
Skoda Rapid Elegance 1.6 MPI Petrol AT is priced at Rs. 8.99 Lakhs
2011 Ford Fiesta Petrol Price Ex-Showroom Delhi
Ford Fiesta 2011 1.5 TiVCT Petrol Style : Rs. 8.23 Lakhs
Ford Fiesta 2011 1.5 TiVCT Petrol Trend : Rs. 8.77 Lakhs
Ford Fiesta 2011 1.5 TiVCT Petrol Titanium : Rs. 9.17 Lakhs
Ford Fiesta 2011 1.5 TiVCT Petrol Titanium+ : Rs. 9.42 Lakhs
Ford Fiesta 2011 1.5 TiCVT Petrol Automatic: Rs. 10.2 Lakhs (estimated price- launch in Jan 2012)
Both the models have their own unique features and different pricing.
Car Blog India Verdict-Skoda Rapid Petrol Vs Maruti SX4 2011 Ford Fiesta Petrol
It is quite difficult to compare the two solely because of the not so close pricing. The base Fiesta is for 8.23 Lakh whereas the base Rapid Active comes for 6.75 Lakh. A similar appreciable difference is there in all the variants and the reason is the type of features.
The Fiesta comes loaded with extra cool features which are not present in most of the closest competitors. Even the top end variant of Rapid falls no close to Fiesta in terms of features but for these features you need to pay an extra amount as well. Come to driving pleasure, the Fiesta amazes you with all its engineering and is superior to Rapid.
Very clearly if you want to own a Skoda product that is a good value for money car, you must opt for the Rapid. In case you are going for the top end Rapid variant then do consider Fiesta as well. The Automatic variants of the two are again quite differentiable because of the pricing. The reason for the difference is that the twin-clutch PowerShift transmission used in Fiesta is much more advanced and fuel efficient along with high performance because of its unique design. So do test drive both the cars and alter your budget accordingly.
check out more-