We have already compared the very new Brio with the Wagon R and now its time to continue with our car comparison series on Car Blog India and compare the same with other small cars  as well. The next tough competitor for Honda Brio , though not much high on sales yet potential, is the Maruti Ritz. Both the cars have a compact shape but we need to find an answer to which car is better in terms of features and pricing.
Honda Brio Exteriors Vs Maruti Ritz Exteriors
image – Honda Brio (left) and Maruti Ritz (right)
The Ritz is a fairly old model but still manages to be liked by buyers. The upright stance, tall body design, flared wheel arches, stout built make it look distinct. The rear of the car is most distinguishable portion as it is not conventional in shape and features a boomerang shaped design. The car does not have any chrome on it to give it a little extra oomph and the design itself is powerful enough to draw your attention. The wheels have been taken from the Maruti Swift which are big and look in proportion with the bulky figure of the car.
The Brio is a cute car with possibly the most modern look. The rear glass boot door, chrome grille, triangular tail lamps give a meaning to the car. The fender has a large portion in black which adds sportiness to Brio. All in all the appearance of the car is much better than the Ritz.
Maruti Ritz Petrol Exterior Dimensions :
Length = 3715mm
Width = 1680mm
Height = 1620mm
Wheelbase = 2360mm
Honda Brio Petrol Exterior Dimensions
Length 3610 mm
Width 1680 mm
Height 1500 mm
Wheelbase 2345 mm
The Ritz is significantly longer and taller than the brio and also has a marginally longer wheelbase whereas the width of the two is exactly the same. Coming to the conclusion based on looks and size I would definitely go with Brio as it is actually a small car whereas the Ritz looks bulky. Also the design and concept of Brio is better, so my vote goes to the Brio.
Honda Brio Interiors Vs Maruti Ritz Interiors
The Brio has got a very refreshing design and it feels so modern on the inside. The two tone interiors, smart looking central console, new seats, are some of the noticeable things as far as the interiors are concerned. Other features include Silver Inside Door Handles, Immobilizer, Front Driver i-SRS and Passenger SRS Airbags, ABS with EBD, power windows, fog lamps, integrated audio system with AUX input, iPod and USB support(no CD support), 100 % foldable rear seats, etc..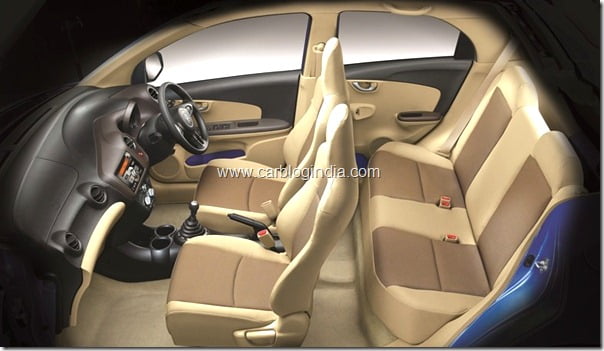 image- Honda Brio Interiors
The Ritz has a nice two tone dashboard design with waterfall type central console, dashboard mounted gear level, capsule shaped ac vents, tachopod etc. The interiors do appeal to an extent but if you go with the overall quality, fit and finish one will definitely not be that impressed. Coming to the features of the car, one would get ABS with EBD, iCATS engine immobilizer, central locking, front fog lamps, dual airbags, rear window defogger, rear wiper, tilt steering, steering mounted audio controls, radio and CD player with speakers, 60:40 split rear seats etc..
image- Maruti Ritz Interiors
In terms of room the Ritz is definitely ahead as it huge and the seats are also far apart but if you talk about comfort then there is no competition with Honda. Going by all the above said things I would like to go with the Brio once again as I can sacrifice some space for comfortable, better looking interiors and better features.
Honda Brio Petrol Engine Vs Maruti Ritz Petrol Engine
Honda Brio Technical Specifications
1.2 Litre 4 Cylinder i-VTEC Engine
Engine Displacement 1198 CC
Max power of 86.8 BHP @ 6000 RPM
Max torque of 109 Nm @ 4600 RPM
5 Speed Manual transmission
ARAI certified mileage of 18.4 KMPL
Engine Specifications of Maruti Ritz Petrol:
1.2 Litre 4 Cylinder Water Cooled Engine
Displacement 1197 CC MPFI Engine
Max Power – 85 BHP @ 6000 RPM
Max Torque – 113 Nm @ 4500 RPM
5 Speed Manual transmission
ARAI certified mileage of 17.7 KMPL
Both the cars have a 1.2 Litre engine but the Brio's engine produces a little extra power but the torque figure is less than that of Ritz. So in terms of power and torque both are quite comparable. Also when the mileage is concerned the Brio is slightly ahead at 18.4 KMPL as compared to Ritz's 17.7 KMPL. A 5 speed manual transmission comes with both the cars.
Honda Brio Petrol Performance & Handling Vs Maruti Ritz Petrol Performance & Handling
The Ritz has a KB series engine which is powerful enough to impart the car with driving dynamics but the Brio isn't less either as the engine derived from Jazz does wonders. The refinement levels of the Brio are just astonishing and it's a very comfortable and good to drive car.
The Ritz also has a good suspension and drives well on the road but the comfort level are not as impressive as of Brio. Concluding the engine, performance and handling section I would once again go with the Brio.
Honda Brio Petrol Vs Maruti Ritz Petrol Price
The prices of Honda Brio Ex-Showroom Delhi are as follows:
Honda Brio E is priced at Rs.3.95 Lakhs
Honda Brio S is priced at Rs. 4.35Lakhs
Honda Brio S (Option Pack) is priced at Rs. 4.90 Lakhs
Honda Brio V is priced at Rs. 5.10 Lakhs
Maruti Ritz Petrol Prices are as follows:
RITZ LXI BS IV : Rs. 4.03 Lakh
RITZ VXI BS IV: Rs. 4.38 Lakh
RITZ VXI (ABS) BS IV: Rs. 4.62
RITZ ZXI BS IV: Rs. 5.00 Lakh
Pricing wise the Brio leads the Ritz marginally as the base model Brio E starts at 3.95 Lakh and ends at Brio V priced at 5.10 Lakh. The Ritz base LXi is priced at 4.03 Lakh and the top end ZXi comes at 5.0 Lakh which is 10 k cheaper than the top end Brio V. In terms of pricing both the cars are competitive and there is not much difference in any of the models except for the Ritz VXi with ABS and Brio S with optional pack. These two have a price difference of Rs. 28,000 which is enough to deviate your decision but if you consider Honda's efforts in the car and the refreshment you would receive with this new car,then Rs. 28,000  isn't much.
Car Blog India Verdict: Honda Brio Petrol Vs Maruti Ritz Petrol
There is certainly not much to talk about these two machines as the Ritz is an old and much loved model whereas the Brio is a new one which still needs love from the buyers. The overall appeal of both the cars is quite different as the Ritz is aggressive and mean and the Brio is cute. Feature wise also both the cars are quite competent except at places where the Brio takes the lead. In terms of comfort and convenience again the Brio is better.
Pricing is quite close but just looking at the overall package in the form of these cars, the Honda has been proving itself for years and yet again there is no doubt that the Brio is better than the Maruti Ritz in most of the aspects and if you are willing to go with comfortable car which does not compromise on features then Brio is your choice. On the contrary if you are more inclined towards Maruti  Brand and can have a low on feature yet spacious car then you should go with the Ritz.
check out more-