While this is not the ideal way of testing the build quality of cars, this collision between the two SUVs brings out intriguing results.
In this video, a last-gen Mahindra Bolero is captured testing the build quality of a Range Rover Evoque. Now, these two SUVs belong to the complete opposite ends of the spectrum. Bolero is a popular product from Mahindra that finds application mostly in the semi-urban and rural areas due to its tough built and go-anywhere character. It has been around for years and the sales are still strong. On the other hand, the Range Rover Evoque is seen on people looking for an ultra-luxury premium cabin and modern features with striking looks. What happens when these two are involved in a bit of a tussle?
You may also like: Mahindra Bolero Owner Reveals How Mahindra Delivered his SUV Despite Lockdown
You may also like: Man Buys Rs 12 Lakh Mahindra Bolero Using Only Re 1 Coins
Bolero Tests Build Quality of Evoque
The video has been shared by Prateek Singh on YouTube. He posts such content to showcase the performance of popular cars during unfortunate incidents. This particular case has been reported from Odisha. A Mahindra Bolero and a Range Rover Evoque were coming from the opposite directions when they collided with one another. There are not too many details but the impact indicates that the incident could have taken place at high a speed scenario. The SUVs collided from the front and have sustained quite severe damage.
You may also like: Mahindra Bolero Pik-Up Converted Into Luxurious Caravan
The right sides of both the SUVs are deformed. The Bolero has clearly experienced more damage that extends to the bumper, headlights, tyre assembly and front fascia. The Evoque, on the other hand, has its front right side damaged a bit and the tyre coming off. This is what was expected considering the fact that the price difference between the two SUVs is around Rs 70 lakh. Not to mention, the Bolero is a decade-old vehicle when there was not too much stress on the safety regulations. Additionally, it was always designed for the semi-urban and rural environments where practicality, utility and affordability are the only rules for mass adoption.
You may also like: This Nissan Jonga is Actually a Mahindra Bolero Modified Beyond Recognition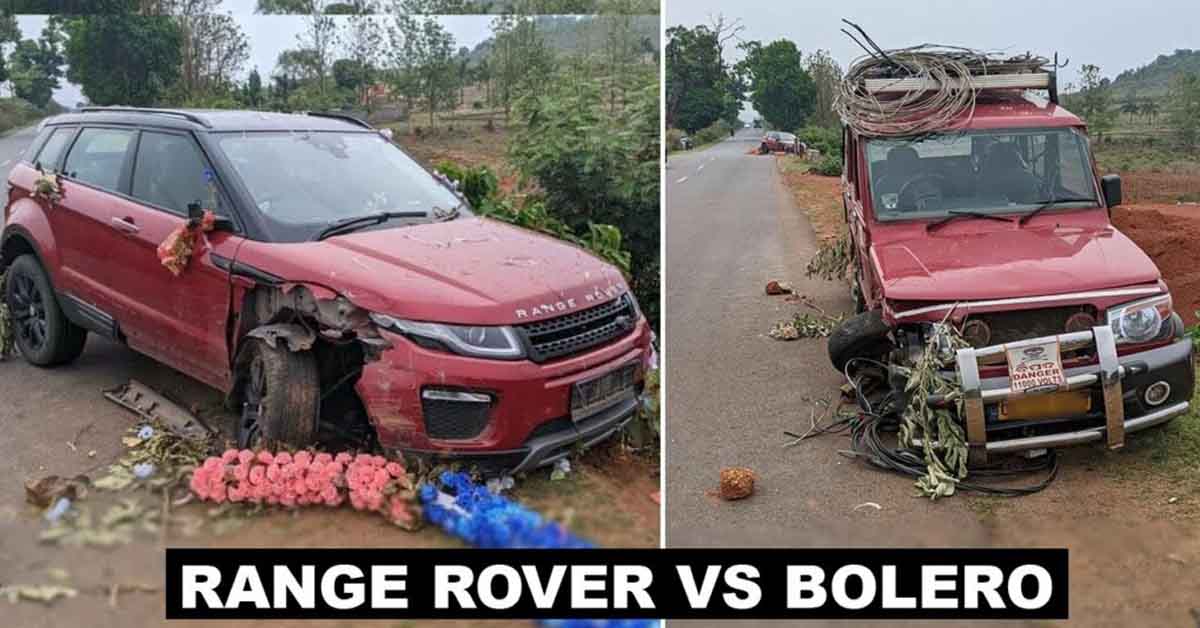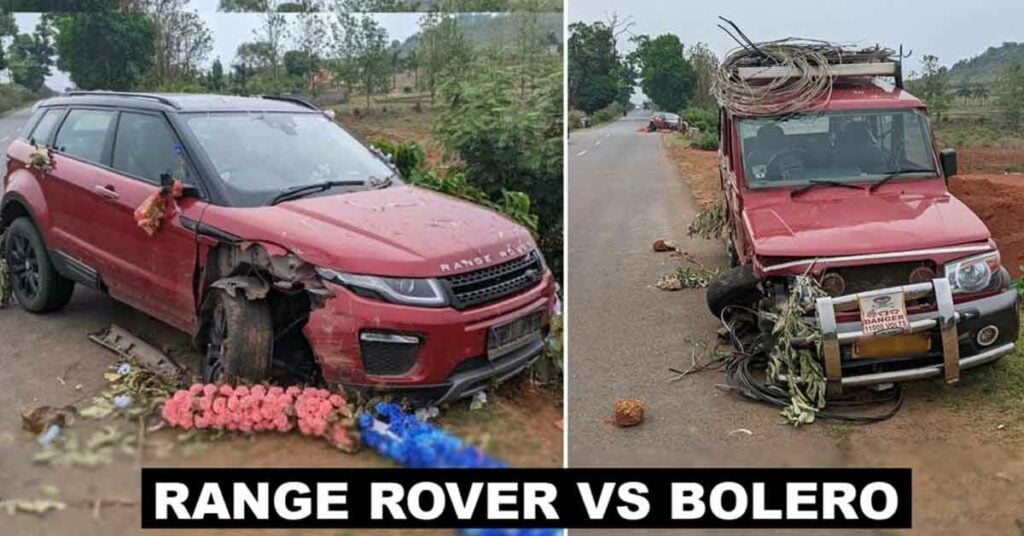 We urge our readers to drive safe and not overspeed because that is the most prominent reason for such incidents on the road. The safety regulations by the government have also been positive and encouraging. We hope that road safety becomes a relative topic in times to come.
Join us for FREE NEWS Updates on our Whatsapp Community or our official telegram channel.