In a completely bizarre turn of events, a man decided to buy a Mahindra Bolero and pay with only Re 1 coins.
A man buys a Mahindra Bolero and decides to pay with Re 1 coins only. Yes, you heard that right! A famous YouTuber has uploaded a video where he is seen with sacks of Re 1 coins which he wants to use to buy a car. Judging by the comments, we can't confirm or deny the veracity of this video. Nevertheless, it looks like a fun experience not just for the viewers of the video, but also for the staff at Mahindra. Here are the details.
You may also like: Mahindra Bolero Pik-Up Converted Into Luxurious Caravan
You may also like: Anand Mahindra Gifts Bolero To Man Who Built Jeep From Scrap For Son
Man Buys Mahindra Bolero Using Re 1 Coins
The hilarious video has gone viral on the internet. This YouTuber keeps coming up with innovative and engaging ways to hook the audience. In this case, he starts shooting the vlog outside a Mahindra showroom. He mentions that he has collected a ton of currency in coins to buy a car. He talks to the dealership staff and asks them if he could pay for the car entirely in cash. The Manager at the dealership agrees to sell the Mahindra Bolero to the vlogger. He announces that the on-road price for this variant of the Bolero will be Rs 11.51 lakh. The YouTuber had already collected Rs 12 lakh in coins. He instantly agrees to buy the car and goes out to get coins which he didn't tell the Manager.
The YouTuber returns to the showroom after getting sacks full of Re 1 coins from his car. He starts emptying the bags of coins on the dealership floor. The Manager realises what he had signed up for. He was uncertain of how to react to this bizarre payment method. He tells the vlogger that he needs to talk to the higher officials to ask if taking Rs 11.51 lakh in Re 1 coins is possible. After a few minutes, the dealership agreed to take this unique payment. The next few minutes of the video shows the entire showroom staff counting the coins. Employees from every department had to get involved in achieving this seemingly impossible task of counting 11.51 lakh coins.
You may also like: This Nissan Jonga is Actually a Mahindra Bolero Modified Beyond Recognition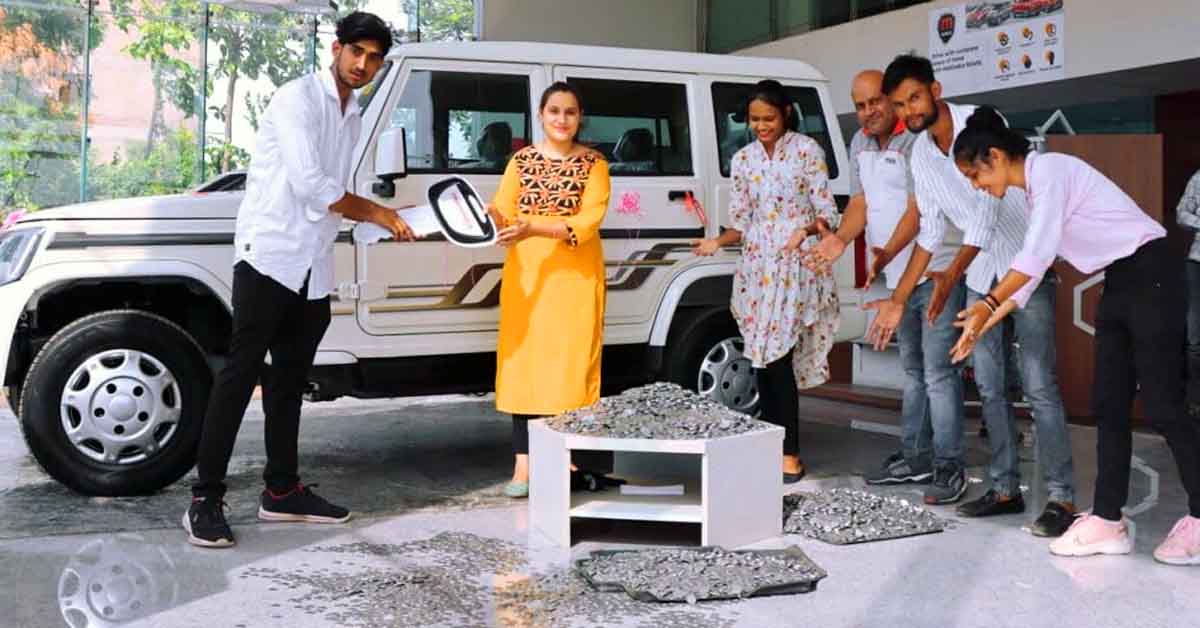 You may also like: Mahindra Bolero Neo Becomes Cop Car in Coimbatore 
In the end, however, they managed to do it and the dealership hands over the brand new Mahindra Bolero to the vlogger. Watch the video to figure out what you think about this unique idea.
Join us for FREE NEWS Updates on our Whatsapp Community or our official telegram channel.