Danny Haberer is currently on an India tour in his Mahindra Scorpio. However, his SUV is also a Home On Wheels.
SUVs are known for the comfort they offer. Along with spacious cabins, users get the latest features. However, car enthusiasts are always looking to get more out of their vehicles. It is quite common for US citizens to travel across the country in their cars. Some of them have also turned their four-wheelers into fully-equipped homes. Now, you can see once such a car home on the Indian roads. Danny Haberer is currently on an India tour in his Mahindra Scorpio. Let's take a closer look at the Mahindra Scorpio Home On Wheels
You May Also Like: Mahindra Scorpio N Looks BADASS In Off-Roader Livery
You May Also Like: India's 1st Mahindra Scorpio Classic with 24-inch Aftermarket Alloy Wheels
Danny Haberer landed in India back in 2014. However, the pandemic motivated him to travel across India in his modified Mahindra SUV. The Dutchman has been traveling in his car since the first lockdown was lifted. Since the hotels were scarce, he decided to transform a simple Scorpio into a motorhome. Mr. Danny Haberer quickly customized a diesel-engine powered 2008 SUV model. You can see the walkaround of his 2008-model Mahindra Scorpio motorhome in the above video.
As you can see in the video above, the Mahindra Scorpio is essentially a fully-equipped 1BHK. The seating area doubles up as a stool to climb to the upper floor. A re-modeled cabinet stores a portable gas stove with utensils, a medical box, and a fridge. For ventilation, there are four fans in the car (powered by a reserve battery). There's adequate room on the 'first floor' to sleep two. The customized sleeping area is retro-fitted on top of the car. Haberer even runs a software company from the 'ground floor of the Scorpio.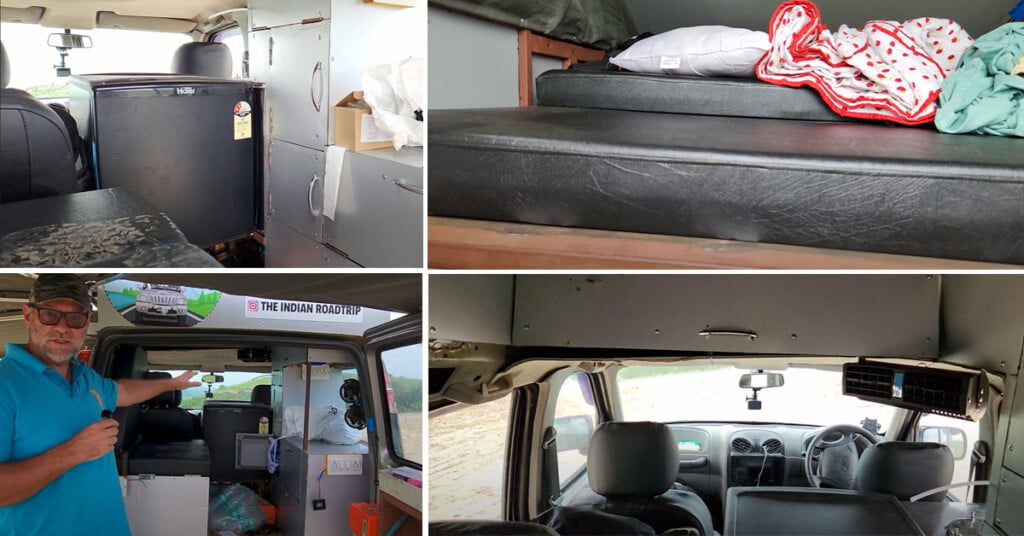 You May Also Like: India's only Mahindra Scorpio with GIANT 28-inch Alloy Wheels
The modified SUV has a foldable tent, charging points, medical kit, oxygen cylinder bottles, emergency vehicle tools, and more. He carries three SIM cards. For cooking, he carries a stove burner and drinks bottled water. There is also a fridge to store several food items. Harber carries a quick-pitch toilet tent as well. For laundry, the car is fitted with a 75-liter water tank. While there's a tank specifically for washing purposes, Haberer occasionally checks into a hotel or homestay to wash up. The traveler also carries his action cameras along with other essentials.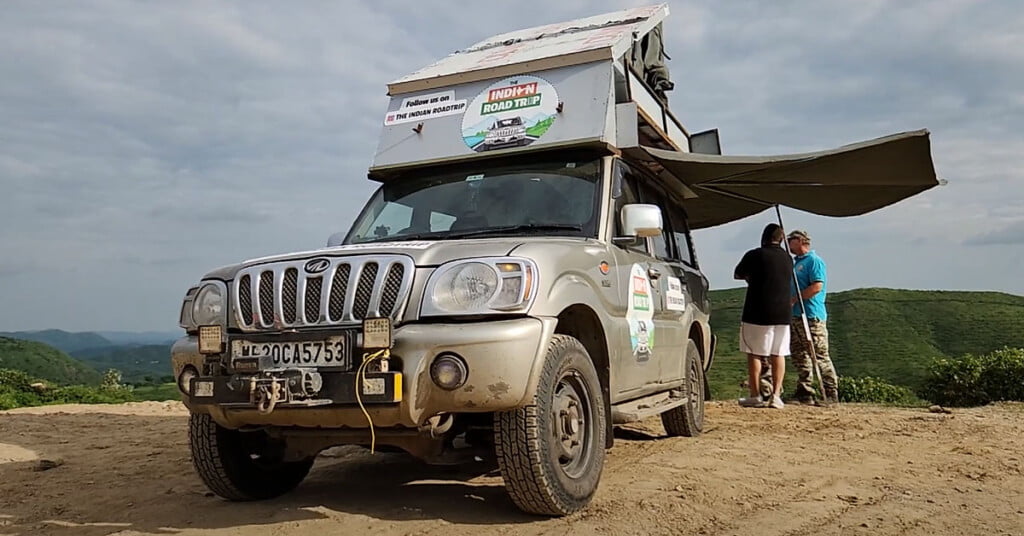 Danny Haberer found the Scorpio in a yard sale. He chose the Mahindra model because it can be easily fixed across India. The parts are widely available. Fortunately, he has not had much trouble so far. So far, the Dutchman has gone from Indore and towards Udaipur. He plans to move down the western coastline before moving up towards the eastern coastline. The next cities on the map are Mumbai and Pune, before entering the southern states throughout the winter. Haberer plans to travel the north and north-eastern parts in the summer next year. You can check out the highlights of the road trip on his Instagram channel called 'The Indian Roadtrip'.
Join us for FREE NEWS Updates on our Whatsapp Community or our official telegram channel.