Floods are an unfortunate reality of the monsoon season and the lack of adequate drainage systems in many cities causes a massive accumulation of water leading to challenging situations.
In a shocking video, cars like Maruti Ertiga and Ford EcoSport were spotted floating on water in Jaipur at Sikar Road. It wasn't a magic trick but the wrath of nature as the city experienced heavy rains for 24 hours. During the monsoon season, many parts of the country experience water accumulation leading to dangerous situations for people. At times, the water levels become fatal as a result of which cars are often seen being washed away due to the force of water. This is one such case too.
You may also like: Maruti Alto Makes it Through Bonnet-Deep Water – Why You Shouldn't Try This
You may also like: Ola S1 Pro Undergoes Water Crossing Test- Will It Survive?
Ertiga & EcoSport Seen Floating On Water
The short video clip has been uploaded on Instagram by Jaipurtalks. The city in the visuals is Jaipur, the capital of Rajasthan. As per the caption of the post, it received heavy rainfall in the last 24 hours leading to the filling up of the streets. As a result, the water levels have risen so much that the parked cars are being washed away by the current of the water. In this clip, a Maruti Ertiga, Ford EcoSport and others are seen floating on the water aimlessly. This is an unfortunate scene for the car owners, as one would imagine.
You may also like: Waterlogged Road Swallows Honda Activa with Passengers After First Shower of Season
In the monsoon months, it becomes critical to be extra cautious regarding the flood situation in your city. You must avoid taking your personal vehicle out in such areas because the road underneath the water becomes invisible. This has resulted in some cars going into the potholes on the sides of the roads on many occasions. Secondly, the fear of the hydrostatic lock is real in cars where the doors of the cars could get locked and the electronics could experience short circuits, causing danger to the lives of the occupants.
You may also like: What Happens If Water Enters Fuel Tank of Tata Nexon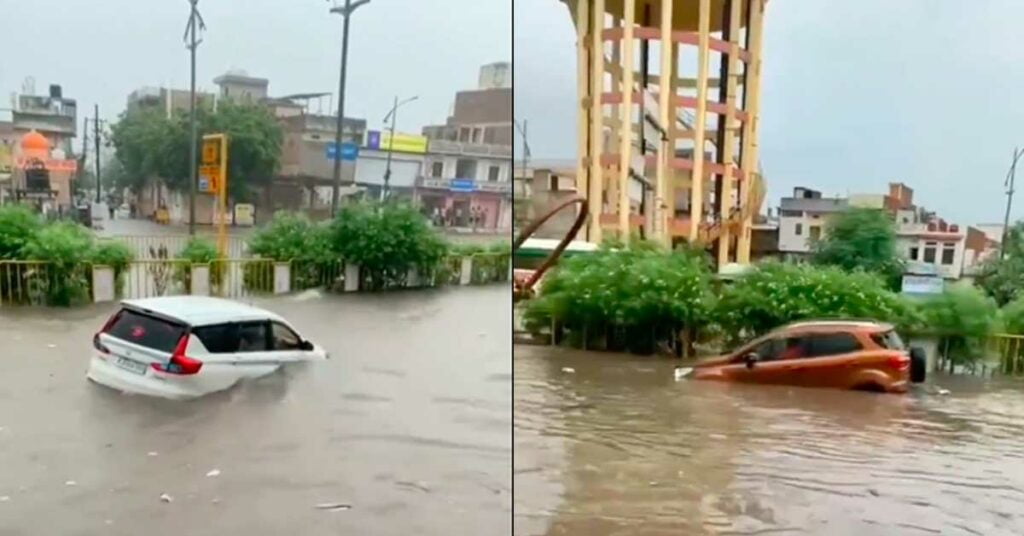 Finally, the question has to be asked from the government for not planning or creating proper drainage systems in the city to tackle this issue. This situation arises every year but the sheer lack of preparation from the authorities is concerning. Floods are such natural disasters for which one can prepare well in advance. However, challenging situations keep arising every year during the monsoons. We could only advise our readers to be careful and keep your safety in mind before taking any decision to travel during the monsoons.
Join our official telegram channel for free latest updates and follow us on Google News here.