The pre-monsoon season is upon us and with it gets our road ventilation and water drainage capabilities exposed every year.
Two passengers on a Honda Activa fell into a hole in the ground amidst a waterlogged road in Aligarh, UP. The pre-monsoon season has arrived and the water drainage systems of various cities across the country are being exposed. Unfortunately, we experience such terrible road conditions and tragic incidents every year. But the conditions of our streets remain the same. Here are the details of this latest event.
You may also like: Honda Activa Makes Royal Enfield Crash- Why Our Roads Are So Unsafe?
You may also like: WATCH Honda Activa Hybrid Kit Installation and Ride Impression
Waterlogged Road Gulpes Honda Activa Passengers
The news report was uploaded on YouTube along with the video captured on the CCTV camera near the incident. A Police Constable was attempting to park his Activa on the side of the road. His wife was accompanying him as his pillion rider. However, the streets were filled with water after rainfall in the area. As a result, many two-wheelers are other vehicles got stuck in many parts of the city. The water was gathered up to knee height on the roads making it practically impossible to see the road. That is exactly what happened with the rider couple as well.
You may also like: Toyota Fortuner Owner Fined Rs 50,000 for Off-Roading in Ladakh
The video shows the bike hitting an obstruction and then getting swallowed by the hole in the ground filled with water. Thankfully, the bottom is not too deep and the two passengers are able to stand in the water without sustaining injuries. The bystanders rapidly came into action and pulled the couple out of the water in no time. Nevertheless, this incident brings to light the preparations of the administration to deal with such situations in the monsoon season.
You may also like: Fake Salman Khan Makes Reels on Public Roads, NABBED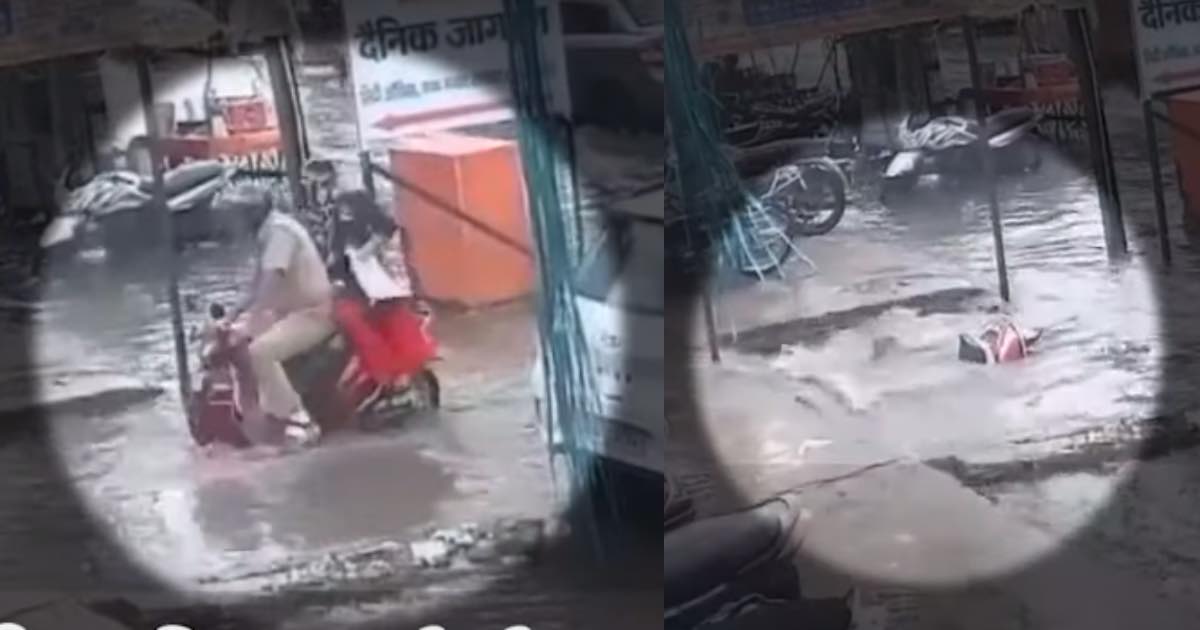 We suggest our readers to be extra careful while driving in such conditions. Firstly, you must avoid taking your vehicle out if so much water has been blocked on the road. Things could get very dangerous not only for the vehicle but also for you. During the monsoon season, don't attempt to take your cars to places where you are not familiar with the surroundings. Even if you are, make sure to drive extremely slowly if you don't see the road in front of you. Stay safe and drive slowly is the mantra to get through the monsoon rains.
Join us for FREE NEWS Updates on our Whatsapp Community or our official telegram channel.