Off-late we have seen numerous heavy mIachinery equipment being transported by road to various parts of the country.
In this video, the mega trucks are constructed to carry the reactors to an oil refinery. We have reported earlier how a monstrous truck assembly with 256 tyres was used to transport power plant equipment and 3 Volvo trucks were used to rescue a 200-ton transformer. Lately, we have seen plenty of such instances where videos of these massive transportation tasks show just how difficult it is. This latest challenge to carry 2 reactors to the oil refinery is yet another example of that.
You may also like: 250 ft Long Truck is India's Longest – Requires 2 Drivers at All Times!
You may also like: Indian Truck Drivers in North America: Here's How Much They Earn
You may also like: Transport Official Openly Displays Vulgarity to Truck Driver
Mega Trucks Carry 2 Reactors
The video has been uploaded on YouTube by Manoj Vlog. It captures two trucks connected together in order to pull a massive reactor. This trailer created to tie and carry the reactor has hundreds of tyres and is currently being pulled by just 2 trucks. Due to the ginormous size of the reactor, this mega truck assembly is able to cover just around 7-8 km every day. That is clearly visible in the video clip as it takes a lot of time to manage everything. For instance, here, the assembly is crossing the border from Gujarat to Rajasthan.
You may also like: WATCH – Rs 3 Crore Kenworth Truck Imported From America Plying on Indian Roads
However, the entire barricades and police setup on a border crossing have to be removed to free up enough space to accommodate these massive packages. The video shows just one of the two reactors being transported to the Barmer Refinery in Rajasthan. The weight of one of these reactors is a whopping 1,148 metric tons, while the other one is a bit lighter at 760 metric tons. Nevertheless, the sheer size of this is enough to cover the entire road. The reactor even touches the trees as it moves along. The narrator also mentions that new bridges had to be constructed at a few places to allow this heavy machinery to pass through.
You may also like: 3 Volvo FM400 Trucks Rescue 200 Ton Transformer
Funnily enough, toward the later part of the video, a regular-sized truck is seen overtaking the parked mega truck assembly. It looks like a small car is passing by in comparison to this colossal assembly highlighting its actual size. The narrator tells that there has been a tyre burst which is why the entourage had to be stopped. As seen in the video, it has taken up the entire road barely leaving any room for other cars to travel. What are your thoughts on this mega truck assembly?
You may also like: Indian Truck Driver Makes Rs 1.5 Lakh in 4 Days in Canada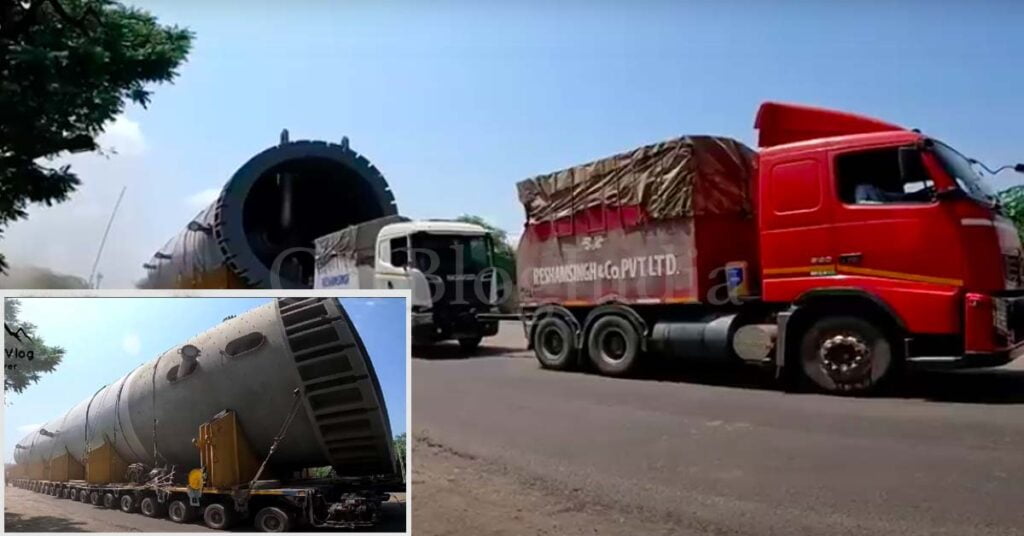 Disclaimer- The embedded videos/ external content is/are being used as a convenience and for informational purposes only; they do not constitute an endorsement or approval by Car Blog India of any of the products, services, and /or opinions of the corporation or organization or individual. Car Blog India bears no responsibility for the accuracy, legality, and/or content of the external site or for that of subsequent external videos/ external content. Contact the external publisher for answers to questions regarding its content.
Join us for FREE NEWS Updates on our Whatsapp Community or our official telegram channel.