Nirmala Sitharaman is currently the Indian Finance Minister. Recently, she was spotted in a Skoda Octavia sedan.
Indian celebrities are often spotted in luxury cars and SUVs. In fact, many have an expensive car collection in their garage. However, Indian politicians also travel in special cars. Usually, the SUVs are surrounded by a large convoy of security vehicles. This is a necessary part of their lifestyle. It is pretty rare for a big leader to travel in a private car. Recently, Nirmala Sitharaman was spotted in a Skoda Octavia sedan. This moment was cap[tured in a video.
You may also like: Cars Used by Finance Minister Nirmala Sitharaman – Maruti Ciaz to Skoda Octavia
You May Also Like: Citroen C5 Aircross' Head-on Crash With Skoda Octavia Shows Its Tank-Like Built
You May Also Like: Skoda Octavia Owner Buys Kushaq 1.5, Faces EPC Issue in Just 2 Days!
Sitharaman Uses Last-gen Skoda Octavia
Nirmala Sitharaman is currently the Union Minister for Finance and Corporate Affairs in India. She can often be seen in different parts of the country. Recently, the minister was spotted at a railway station (believed to be in Maharashtra). This moment was captured on camera. @IESofficer shared this video on their YouTube channel with the tagline – FM Nirmala Sitharaman Royal Entry #upsc #motivation #bjp #ias #ips #bharatsarkar #modi #minister.
As you can see in the above video, a bunch of security vehicles arrives at a railway station. Clearly, the police had completely cleared the area and moved the civilians. You can even hear one of the officers asking a biker to move the vehicle out of the way. First, a Tata Sumo arrives as a pilot vehicle of the convoy. This was followed by Nirmala Sitharaman's car. However, she is not using an expensive or luxury car. The Finance Minister arrived in a Skoda Octavia sedan and quickly went inside the station.
You may also like: PM Modi's Brother Meets with an Accident in his Rs 1.19 Crore Mercedes GLS Luxury SUV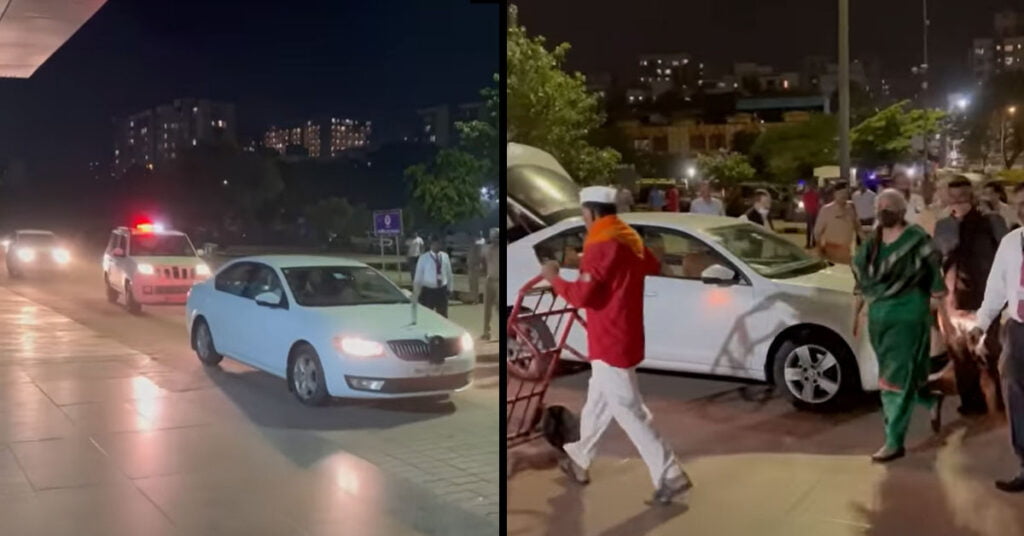 Just like most politicians, Nirmala Sitharaman's Skoda Octavia also comes in a White color finish. It was driven by a chauffeur who opened the door for the minister. He also opened the boot and took out the luggage. The on-duty officers instructed the porter to carry the luggage from the minister's car. The Skoda Octavia was followed by a Mahindra TUV300 and a couple of Toyota Innova Crysta MPVs. These cars belonged to the security team following the minister.
Octavia to be Discontinued from April 2023
You May Also Like: Skoda Octavia Airbags Deploy Without Accident, GoDigit Denies Insurance
Skoda Octavia is one of the best premium sedans in the Indian market. Currently, the company offers the fourth-generation model in the country. It is a significant part of Skoda's sedan portfolio which includes Slavia, Octavia, and Superb. Several reports claim that Skoda will discontinue the Superb and Octavia sedan from India this year. This is due to the new Real Driving Emission (RDE) norms coming into effect from 1 April 2023. The new norms require car manufacturers to make many changes. These upgrades would increase the price of the car.
Join our official telegram channel for free latest updates and follow us on Google News here.