Here is a new Mahindra Thar that recently went through serious damage after trying off-roading for the first time itself.
2020 Mahindra Thar has just received a 4-star safety rating in the global NCAP crash tests, proving its capability. Even roll-over tests were done where Thar passed the obstacles easily. Many of its buyers have already started off-roading with the SUV and have come highly impressed it with. Here is an interesting angle to it.
This owner of the new Thar tried off-roading after taking out the front bumper. So, if seen, the the radiator and engine bay is completely exposed over here. With this setup, the owner has tried many off-roading obstacles. After successfully passing through different obstacles, the water wading test damaged the underbody of Thar.
Also Read: Check Out The Performance Of 2020 Mahindra Thar In Snow – Video
The new Thar, here, managed to scrape off its bottom and that damaged the coolant storage unit. It was broken and you can see the coolant leaking. This will setback the owner by a couple of thousands because the whole unit will be changed. If the owner is lucky enough, he can drive it for a couple of kilometres otherwise it needs to be towed.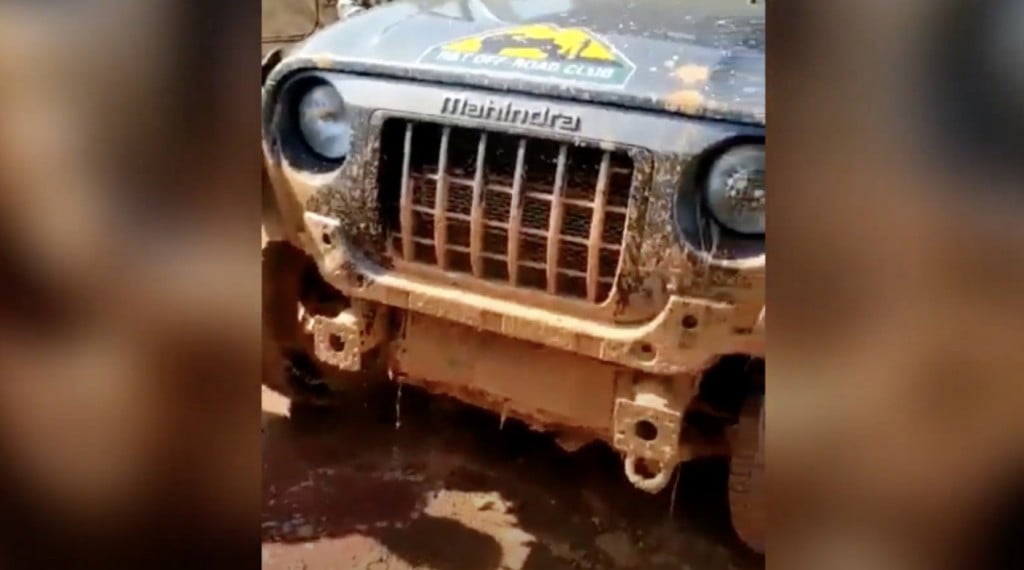 The approach angles of the Thar are designed taking the bumper into account. So, removing the bumper was definitely a bad idea. For better approach and departure angles, many buyers equip their SUVs with aftermarket bumpers. They also help in increasing the overall ground clearance of the SUV by a small amount.
2020 Mahindra Thar is currently facing a waiting period of more than 6 months in most of the cities. Many buyers have already started cancelling their bookings due to increasing waiting period. Prices now start at Rs 11.80 Lakhs up to Rs 13.75 Lakhs (ex-showroom). It gets a 2.0 Litre petrol engine and a 2.2 Litre turbo-diesel engine paired with a 6-speed MT and a 6-speed AT.