Recently, a trend took off on the internet where a post was doing rounds supposedly highlighting the need to put bottle on the tyres of parked cars.
Car owners have always been a target of miscreants and thieves who try to make easy money by stealing vehicles of unsuspecting owners. A few posts that went viral on social media recently inform us about a trick that is suddenly the choice of many vehicle lifters around the globe. The process these car-lifers use is pretty simple but most unsuspecting vehicle owners easily fall prey to it.
You may also like: Ola Electric Receives Flak For Not Respecting User Privacy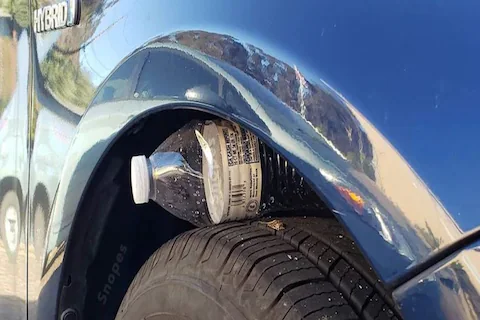 You may also like: Foreign Police Forces That Use Mahindra Scorpio, XUV500 & Bolero
What is the Plastic Bottle trick of car thieves?
After some digging around, we found out that car-lifters around the globe use the same trick for attempting to steal all sorts of vehicles. It's fairly easy for the thieves to execute this trick. What happens is that they leave an empty plastic water bottle in a way that it gets stuck between the tyre and the fender. Also, this is done on the front passenger-side wheel. So, what happens is that the car owner/drivers walks to the driver's side without noticing the bottle stuck in the wheel-well near the co-driver's door.
You may also like: 10 Exotic Cars of Our Politicians- Modi's Maybach to Thackerey's Range Rover
Once the driver starts the vehicle and moves in forward or reverse direction, the empty plastic bottle starts making loud sound. Of course, the driver is quick to hear the crushing sound of the plastic bottle and pulls over to check what's wrong. As he's prone to be quite startled, chances are he would leave the car turned on or at least leave the key inside the vehicle. As he inspects his car to find the source of the sound, the car-lifter, gets inside the vehicle and drives off.
You may also like: WATCH Jeep Compass 4xe Electric Hybrid Review
So, this plastic bottle trick is a simple attempt to simply make the driver get out of the vehicle to check what's the source of the sound. This gives the thief an opportunity to speed off with the car as it would take at least a few moments for the driver to figure out the entire plot. So, these days, while you walk to your car, keep an eye open to see if there's a bottle stuck between the fender and the tyre. Also, if you notice a crushing sound while driving, ensure you lock the car once you get off it. In case you're in a secluded place, simply pull over and dial 100 to seek help from police.
Join our official telegram channel for free latest updates and follow us on Google News here.