Indian streets are full of interesting events as informed by this latest video.
Here's a video of a police officer stopping a man who has 5 kids on a bike. Now, accommodating more than 2 people on two-wheelers in India is quite common, albeit illegal. While it may be the norm in the rural parts of the country due to a lack of means and policing, if done in the cities, it is bound to get you challaned. But not every police officer can think outside the box which makes this particular video quite interesting indeed. Let us check out the details here.
You may also like: Lucknow Youth Cuts Cake on Road, Police Makes Him and His Friends Clean the Mess
You may also like: Did Chandigarh Traffic Police Slap Challan on a Judge for No Parking?
Man with 5 Kids on a Bike Stopped by the Police
This video has been shared on YouTube by Decode Trend. As per the information in this video, this incident took place somewhere in Noida, UP. The visuals capture a man on a bike with 5 kids. These are his children and he is seen taking them to the school nearby. However, a Police officer stops them on the road. Needless to say, having more than 2 riders on a bike is prohibited. On top of that, no one on the bike is wearing a helmet. Hence, the safety of the riders is jeopardized too.
You may also like: Traffic Policeman Challans Another Cop for Half Helmet, Video Goes Viral
Under normal circumstances, such acts would attract a hefty fine. But in this case, the Police officer does something really heart-warming. He stops the bike and a rickshaw that was passing by. He points for the children to get off the bike and sit in the rickshaw instead. Moreover, he is seen making the rider understand why such situations could be dangerous not only for him but also for his children and other road users. He didn't challan the man.
You may also like: India's Biggest Car Thief Arrested by Delhi Police – Stole Over 5,000 Cars
We need such understanding and innovative Police personnel. It is because the situations of people in our country are quite varied. Hence, it makes sense to analyse each case with sensitivity and devise customized solutions for them. That is the only way for people to start trusting the Police and removing the fear in their hearts. Do share your opinions on this.
You may also like: Delhi Police New Traffic Advisory Is Inspired By Our Trucks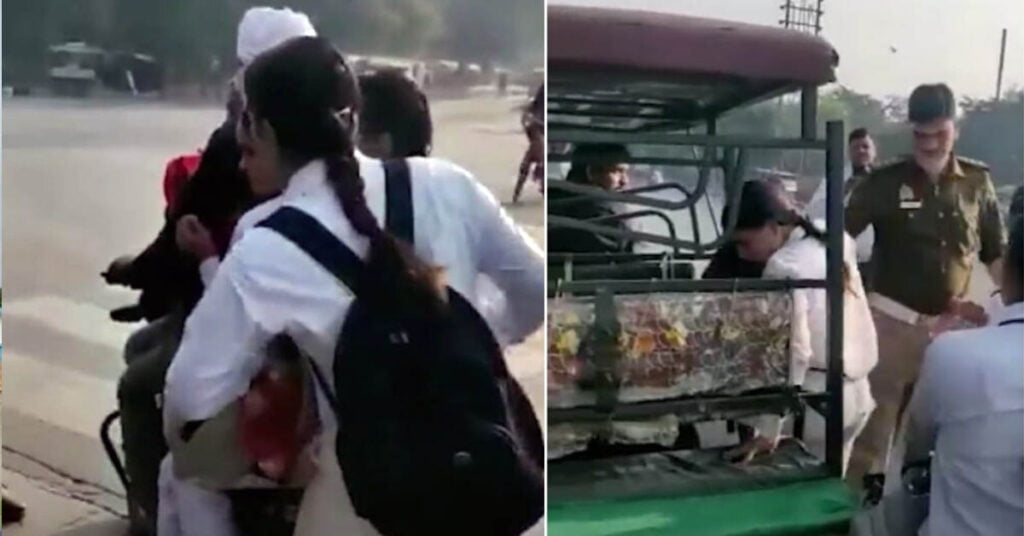 Disclaimer- The embedded videos/ external content is/are being used as a convenience and for informational purposes only; they do not constitute an endorsement or approval by Car Blog India of any of the products, services, and /or opinions of the corporation or organization or individual. Car Blog India bears no responsibility for the accuracy, legality, and/or content of the external site or for that of subsequent external videos/ external content. Contact the external publisher for answers to questions regarding its content.
Join our official telegram channel for free latest updates and follow us on Google News here.