Commonly regarded as the most prominent political figure in world politics, the US President has a convoy with incredible secrets to maximize safety.
Needless to say, there are tons of secrets of the motorcade of US President to ensure that the safety of the President is not compromised. The ride of the President of the USA is called 'The Beast' which is a Cadillac One. There are myriad modifications made to this automobile in order to make it capable of withstanding almost any attack from the enemy. The attention to detail regarding the safety and health of the President in The Beast is simply unimaginable.
You may also like: These 10 LEGENDARY Cars Are ILLEGAL In USA
You may also like: 7 Best Electric Cars in USA Under $60,000 – Tesla Model 3 to VW ID.4
Secrets of the Motorcade of US President
The motorcade that the President travels with, has over 100 personnel and over 50 vehicles. It is regarded as the most expensive motorcade in the world with a 1-hour ride costing around $150,000. The Beast is a part of The Secure Package which consists of other vehicles that could jam any remote explosives using 2 antennas to block any bomb activation signal. It also has electronic warfare sensors that detect anti-tank missiles. Then there are 3 SUVs around The Beast that have security personnel ready to shoot any unusual suspect from the open windows. One of these SUVs carries the doctor.
You may also like: Vladimir Putin vs Joe Biden – Who Has The Better Car?
At the front, there is a route car, pilot car and lead car along with a fleet of motorcycles (Sweepers) that are deployed to clear the road in front of the convoy. If there are any issues, they are responsible for choosing an alternate route along with ensuring that it is safe. Behind the Secure Package, there are cars like ID car (connection with other surveillance authorities), road runner (mobile communication centre) and hazardous materials mitigation car (for chemical, nuclear and biological attacks), and more secret service agents, other politicians and members of the press.
You may also like: An 'Everyday Rider' in USA Reviews Royal Enfield Himalayan
Presidential Limousine weighs 9 Tons!
The President's limousine is touted to weigh somewhere around 7,000 kg – 9,000 kg due to all the armour additions made to it. This includes things like bulletproof windows that are made up of 5 layers of glass and polycarbonate that could even prevent the armour piercing bullets, concealed pump-action shotguns, tear gas cannons, blood bags for defensive purposes, a GPS tracking centre, the body of the car is made using 5-inch thick military-grade armour (made from titanium, aluminium and steel) capable of withstanding grenade attacks, the front section has a tear gas grenade launcher, night-vision cameras, the car could be driven on a flat tyre, satellite phone with direct connection to the vice-president and pentagon, 8-inch thick doors that could seal in President from any chemical attack.
You may also like: Here's A Look At The Humble Car Collection of Barack Obama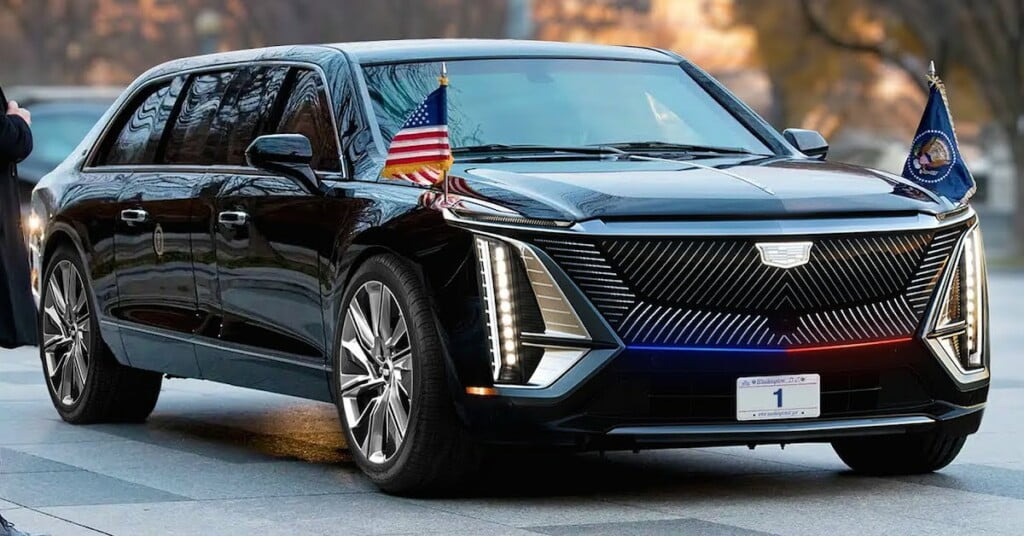 You may also like: Here's The Opulent Car Collection of Yo Gotti
Disclaimer- The embedded videos/ external content is/are being used as a convenience and for informational purposes only; they do not constitute an endorsement or approval by Car Blog India of any of the products, services, and /or opinions of the corporation or organization or individual. Car Blog India bears no responsibility for the accuracy, legality, and/or content of the external site or for that of subsequent external videos/ external content. Contact the external publisher for answers to questions regarding its content.
Join us for FREE NEWS Updates on our Whatsapp Community or our official telegram channel.