Here's a video that went viral recently showing how a speeding Ford Figo and an irresponsible biker damaged an ambulance.
Ford Figo is another hatchback in India which has received a highly positive review when it comes to safety. There's no safety rating for it in India as of now, but Figo-based Aspire received a 4-star rating in the Latin NCAP. There have been many incidents where Figo has saved lives of the passengers despite being in a major accident.
As you can see this video, the driver of Figo is driving at a high speed and overtaking on a 2 lane road. From the front, an ambulance is coming but is suddenly disturbed by a biker who cuts it and comes in front. As a result, the driver of ambulance could lost control and its side portion was crashed by the Figo.
While the owner of Figo walked away without any injuries, the biker and passengers in ambulance were hurt. Luckily, there was no patient in the ambulance. If you see the biggest mistake comes from the biker, who without giving any indicator or honking, directly gets into an opposite lane. Because he got in a lane at wrong time, the ambulance driver lost control and could not apply brakes.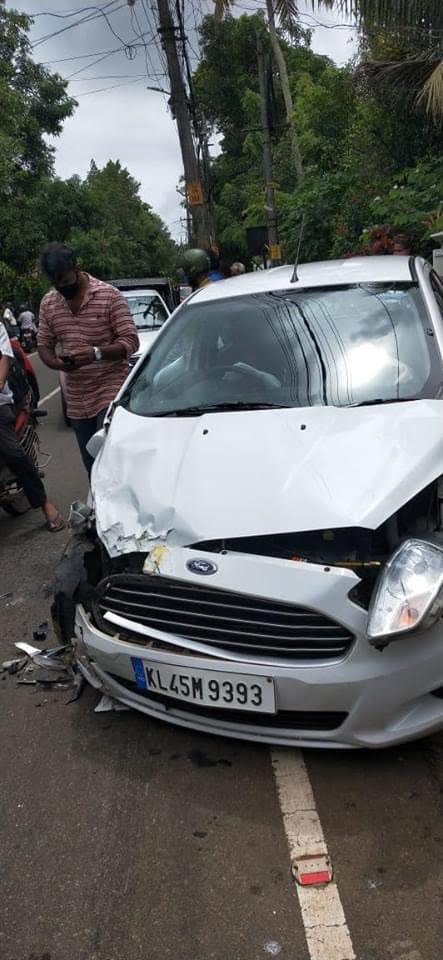 Going by the video, it looks like the driver of Ford Figo realized the mishap late. If he would have been alert, he could have applied the brakes in time. The front portion of the hatch has been damaged with impact on the front bumper, side fender, front grille and the bumper. Even the airbags have been deployed which shows that the speed was above 40 km/hr on such a narrow road.
The driver of Figo will get a huge bill because the whole front portion will be changed. We cannot say if the engine components have been damaged, but by the looks of it, they are not. While the image does not show the driver side portion, looks like even the wheels have received an impact and the tyres are damaged.
Join us for FREE NEWS Updates on our Whatsapp Community or our official telegram channel.